Hakata Traditional Performing Arts Centre

"Tastes of JAPAN by ANA" is a regional vitalization project that collaborates with the different prefectures in Japan to present the Land of the Rising Sun in all of its diverse glory.
In November 2017, the "Hakata Traditional Performing Arts Centre" was launched as a new sightseeing spot to "touch" and "experience" Hakata's traditional culture in front of its guardian, the Kushida Shrine of Hakata. This facility also serves as the "Hakata Kenban Office/Rehearsal Hall."*1
*1 There are no routinely scheduled performances.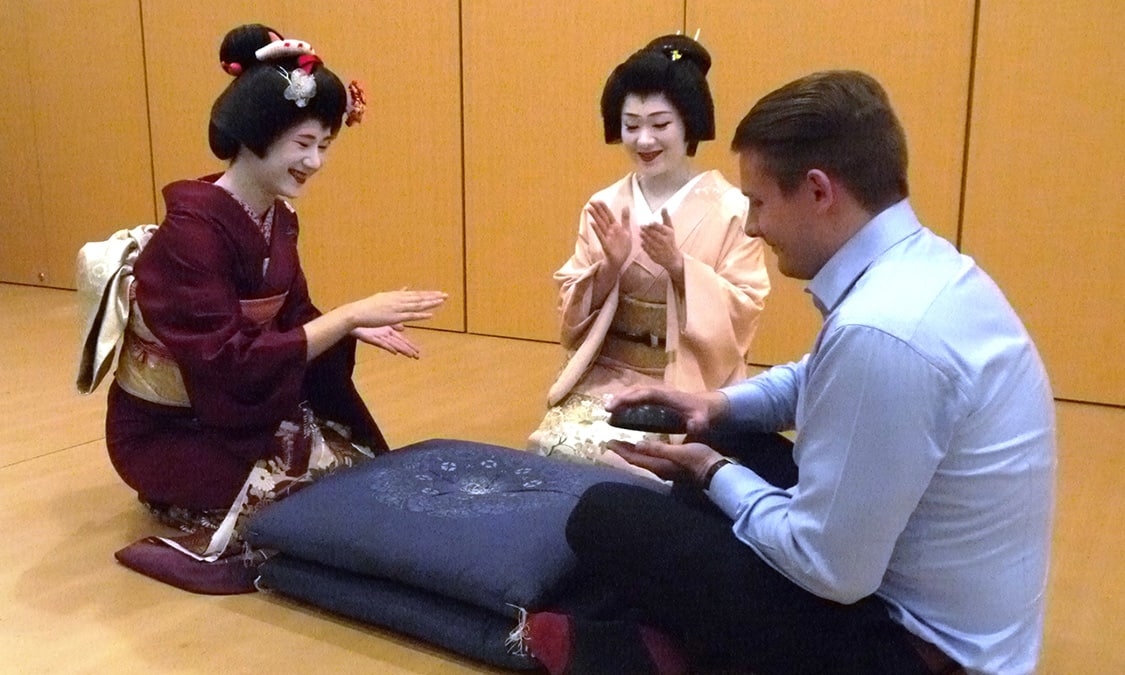 This facility holds performances about two or three times a month to express the charm of the traditional arts of Hakata, such as Japanese dance, folk dance, Hakata Koma, etc., to citizens and tourists.
After having enjoyed watching the performance by Hakata Geigi (geisha), the Fukuoka Folk Dancer "Shiki no kai, " Tsukushi-Mai, Hakata Koma, etc., there's time for a simple ozashiki experience, including question time and commemorative photos with the geigi.
Location
Name
Hakata Traditional Performing Arts Centre
Web Sites
(In Japanese) https://www.fukunet.or.jp/area/hakata_traditional/
Address
2-20 Reisen-machi, Hakata-ku, Fukuoka-shi (Kushida Shrine Seido-mae Fukuya bldg. 1st floor)
Access
5 minutes on foot from "Gion" and "Nakasu-Kawabata"subway stations
5 minutes on foot from "Kawabata-machi, Hakataza-mae" bus stop
2 minutes on foot from "Canal City Hakata-mae" bus stop
Business Hours
Business Hours 10 a.m - 6 p.m*2
Holidays to be determined (year end/new year, Obon)
*2 There are no permanent events.
Inquiries
TEL: 092-441-1118 (the Secretariat of Hakata Traditional Performing Arts Promotion Organization (Fukuoka Chamber of Commerce & Industry, Regional Promotion Department))
Admission
5,000 Yen (per person)