Ozegahara is a beautiful mountain marshland blessed with abundant nature that straddles the three prefectures of Gunma, Niigata, and Fukushima. Surrounded by 2,000-meter-high mountains, Ozegahara features well-maintained elevated boardwalks laid out between marshlands so that hikers can enjoy hiking from May to November. Moreover, Ozegahara is a repository of alpine flora, with white skunk cabbages in June, daylilies in July, and the autumn foliage in October.
Ozegahara is one of Honshu's largest high-elevation marshlands that extends two kilometers north to south and six kilometers east to west. Nestled between two mountains, the majestic Mount Shibutsu and Mount Hiuchigadake, this expansive marshland is noted for its cool summers due to its high altitude and is a highly desired hiking destination. Visitors are awestruck by the resplendent scenery unique to Ozegahara, such as snow-capped Mount Shibutsu behind the pretty white skunk cabbages; the blooming yellow daylilies that cover Ozegahara; and the golden and deep red autumn landscape.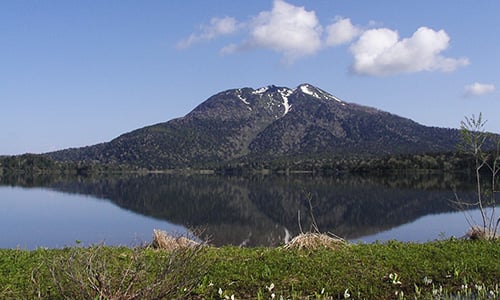 Situated east of Ozegahara, Ozenuma Pond was created when a river was dammed by a rock avalanche on the south side of Mount Hiuchigadake. Although not as expansive as Ozegahara, Ozenuma Pond is a lake-view area with large and small wetlands. The path that circles the pond takes approximately three hours to complete, making for enjoyable casual hiking. Ozenuma Pond is full of must-see attractions, including the northern shore with various small and large wetlands and the eastern shore where the pond reflects Mount Hiuchigadake.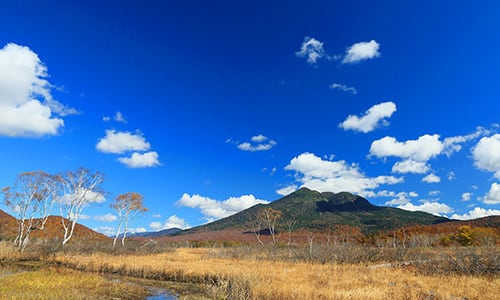 Autumn in Oze Covered with Autumn Marsh Grass
Autumn arrives early in Oze. In September, the marsh grass turns golden and deep red and the trees gradually begin to change colors. In the short remaining time before the arrival of a long winter, the vegetation turns red and shines like gold. Why not go there at this time of the year and take a leisurely walk when there are fewer people compared with in summer?
Location
Name
Ozegahara
Website
https://oze-katashina.info/en/area/oze/
Address
Tokura, Katashina-mura, Tone-gun, Gunma
Access
Approximately 110 minutes' bus ride from Numata Station on the JR Joetsu Line (Change buses at Hatomachi-Toge Bus Office)
Approximately 90 minutes' drive from the Numata IC on the Kan-etsu Expressway
Please confirm in advance regarding restrictions on privately owned vehicles.
Inquiries
TEL: 0278-58-3222 (Katashina Village Tourism Association)