Magnificent scenery selected as one of Japan's Best 100 Waterfalls
Fukiware Falls was named for the way the waters fall as if into a crack ("ware" in Japanese) in the riverbed. Located in Numata, Gunma Prefecture, the scenic site is designed as a national natural monument and ranks among the Best 100 Waterfalls of Japan. From fresh greenery to fall foliage, each season creates the magnificent scenery of nature, and visitors can enjoy the view from different angles along the riverside walking trail as well as from several lookout points.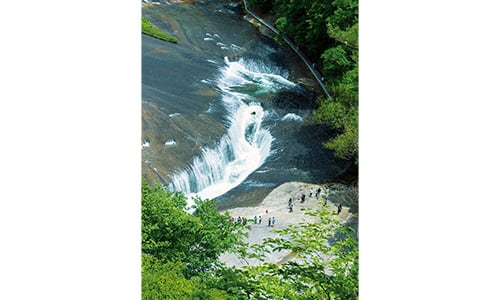 View of the waterfall from the walking trail
Fukiware Falls create magnificent scenery as the stream pours into a crack in the riverbed from both sides, dropping seven meters in a cascade 30 meters wide. From the well-maintained walking trail, you can gaze at the waterfall from upstream in a mesmerizing view that will make you feel as if being swallowed into the basin. Take your time in the hour-long stroll, listening to the soothing sound of the waterfalls and bathing in the forest atmosphere.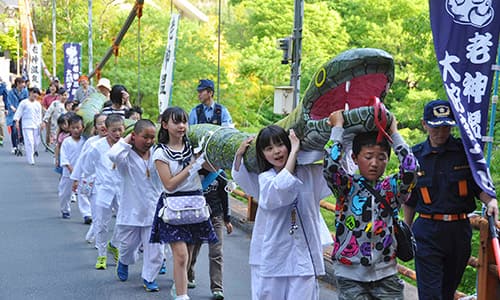 Just a 10-minute bus ride from Fukiware Falls, Oigami Onsen is a beautiful hot spring resort facing the green mountains with inns and hotels along the Katashina Gorge. Legend has it that a giant serpent god pierced its grounds to upwell a hot spring, and to honor the legend, the Giant Serpent Festival is held every spring in which a snake-shaped portable shrine parades through the hot spring town.
Location
Name
Fukiware Falls
Website
https://www.visitgunma.jp/en/sightseeing/detail.php?sightseeing_id=15
Address
Okkai, Tone-machi, Numata-shi, Gunma
Access
Approximately 40 minutes' bus ride from Numata Station on the JR Joetsu Line
Approximately 20 minutes' drive from the Numata IC on the Kan-etsu Expressway
Closed
Closed for the winter from mid-December to late March. Walking trail closed at night.
Inquiries
TEL: 0278-56-2111 (Tourism Office, Numata City Hall Tone Branch)
Admission
Free