"Tastes of JAPAN by ANA" is a regional vitalization project that collaborates with the different prefectures in Japan to present the Land of the Rising Sun in all of its diverse glory.
The entire family can enjoy meeting fantastical sea creatures at the large-scale aquarium facing the Pacific Ocean
One of Japan's leading aquariums, Aqua World Oarai is home to around 68,800 sea creatures spanning 580 species of freshwater and saltwater fish from tropical to polar climates. Its unique features include the dynamic dolphin show and the largest number of shark species housed in Japan. Right as you step inside, you will feel as if you have traveled under the sea gazing at the Encounter Sea tank where 20,000 marine animals of 80 varieties live, such as sharks, sea turtles, mantas, and thousands of sardines.
Dynamic live performances by dolphins and sea lions with the Pacific Ocean as a backdrop
The most popular attraction at Aqua World Oarai is the splendid live performance by dolphins, penguins, and sea lions. While they might make you smile and laugh with their adorable actions, they will continuously astonish spectators with their amazing athleticism. The excitement reaches its peak as the audience gets to participate in a beach ball kick game with the animals and when the front row seats are splashed with water by the dolphins' dynamic jumps. Another fun part of the show is that you can see the animals swimming in the water thanks to the transparent tank. The 30-minute live performances are held three to four times a day.
Encounter over 400 sharks of 53 species
Aqua World Oarai is home to more shark species than any other aquarium in Japan. Since its founding, the aquarium has focused on the raising of sharks, which has also become the institution's symbol mark. Aqua World Oarai has continued to study the ecology of sharks, as they have been on this planet since 400 million years ago, far longer back than even the birth of dinosaurs, and there is still much to learn about them. Take part in the Aquarium Exploration Tour to observe the sharks from a rare angle above the tank. During the feeding time, you can view the hungry sharks in action.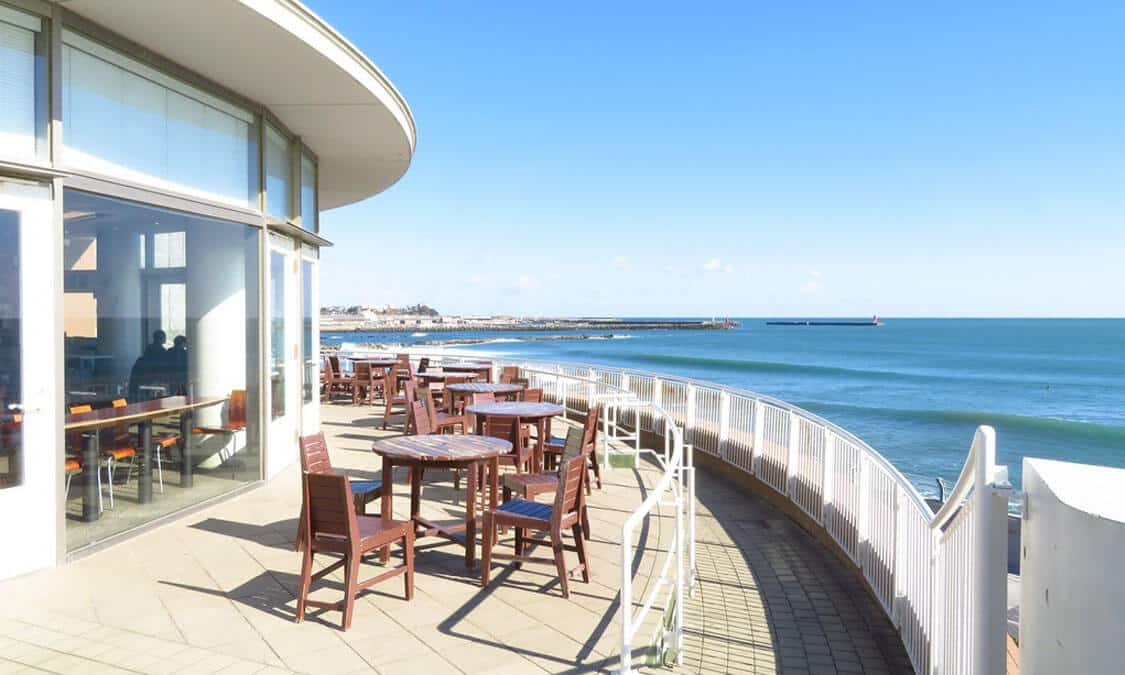 Enjoy seafood in the food court and shopping at the souvenir shop
Aqua World Oarai features a food court with 12 shops. From light meals to Western and Japanese cuisine, you can enjoy the delicious seafood of Oarai in various styles. The terrace seats offer a great view of the Pacific Ocean as you dine. Also, at the souvenir shop located near the entrance/exit, you can find a range of merchandise to bring home memories of the sea creatures you encountered. The adjacent local produce shop offers a variety of tasty seafood products.
Location
Name
Aqua World Oarai
Web Sites
http://www.aquaworld-oarai.com/en/
Address
8252-3 Isohama-cho, Oarai-machi, Higashi Ibaraki-gun, Ibaraki
Access
Approximately 15 minutes' drive from the Mito-Oarai IC on the Higashi Mito Expressway
Approximately 15 minutes' bus ride from Oarai Station on the Oarai Kashima Line
Approximately 6 minutes' bus ride from Nakaminato Station on the Hitachinaka Seaside Railway
Business Hours
9:00 to 17:00 (Last admission: 16:00)
Closed
December 2 to 6
Please see the website for details.
Inquiries
TEL: 029-267-5151
Admission
Adults: 2,000 yen; Elementary and junior high school students: 900 yen; Children (age 3 and over): 300 yen; Under age 3: Free