Walk on air and enjoy the beauty of the four seasons on one of Japan's largest suspension bridges
One of the longest pedestrian bridges in Japan, Ryujin Suspension Bridge is a V-shaped, 375-meter-long suspension bridge that stretches over the beautiful Ryujin Lake in the Okukuji Prefectural Natural Park in Ibaraki Prefecture. While you may cringe at the terrifying height of 100 meters from the ground, the view from the bridge is super, including the mountain ranges of Yamizo and Abukuma in the distance and the village of Suifu below. Especially thrilling is looking down at the Ryujin Dam Lake through the transparent peephole set in the middle of the bridge! Walking in the air surrounded by seasonal natural beauty is a unique experience that can only be enjoyed on such a large suspension bridge.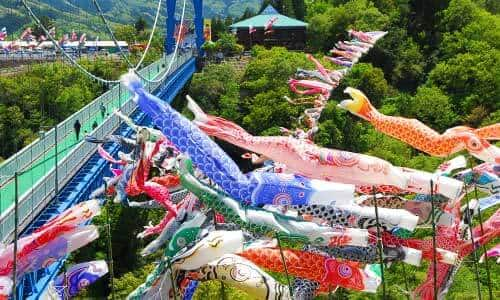 1,000 carps flying in the sky at the Ryujinkyo Koinobori Festival
Ryujinkyo Gorge's most famous event is the Ryujinkyo Koinobori Festival (Carp Streamer Festival) held annually from mid-April to mid-May. Around 1,000 Koinobori, or carp-shaped streamers, spectacularly swim in the air over the Ryujinkyo Gorge, centering on Ryujin Suspension Bridge. The Koinobori are connected to a stretch of wire that is an amazing 1,000 meters long, and the colorful carps swimming in unison against the fresh greenery of the mountains and the blue sky are truly a sight to behold.
Rare 100-meter bungee jump
Challenge yourself to the highest bungee jump in Japan! The thrill and excitement of jumping toward the lake surrounded by beautiful nature that changes every season is something that can only be experienced at Ryujin Suspension Bridge. Another great feature is the winch system: while most bungee jumping will descend you to the ground after the jump, here an electric winch pulls you up to the original jumping position on the bridge. Since you can return right to the bridge, you can immediately share your excitement with all your family and friends.
Feel at ease when canoeing and SUP boarding on the calm dam lake
Ryujinkyo Gorge offers a variety of outdoor activities in addition to camping and bungee jumping. In the calm stream of a dam lake, try canoe touring or stand up paddleboarding (SUP), which are fun and easy outdoor activities beginners can enjoy. Look up at the suspension bridge from below and feel the magnificence of Ryujinkyo's nature as you work under the guidance of the instructor. Enjoy a truly special time surrounded by the colorful mountains, especially in the seasons of lush greenery in the spring and vibrant foliage in the fall.
Location
Name
Ryujin Suspension Bridge
Website
https://english.ibarakiguide.jp/kanko-spot/ryujin-bridge
Address
2133-6 Kegano-cho, Hitachiota-shi, Ibaraki
Access
Approximately 40 minutes' drive from the Naka IC on the Joban Expressway
Approximately 40 minutes' drive from the Hitachi Minami-Ota IC on the Joban Expressway
Approximately 40 minutes' bus ride from JR Hitachi-Ota Station
Tourist rental cars for great deals available.
Business Hours
8:30 to 17:00
Closed
Open all year round
Inquiries
TEL: 0294-87-0375 (Suifu Produce Center)

Admission
Bridge crossing charge:
Adults (high school students and over): 320 yen; Children (age 15 and under): 210 yen *1
*1 Group rates available.
Bungee jumping charge:
1st time: 16,000 yen; 2nd time on same day: 7,000 yen