Globally Important Agricultural Heritage Systems "Shunran-no-Sato"

With over 40 farmhouse inns of Shunran-no-Sato in the Noto Peninsula, Ishikawa Prefecture, you can fully enjoy the Satoyama (mountains) and Satoumi (sea) of Noto that certified as a Globally Important Agricultural Heritage Systems. Each farmhouse inn offers agricultural experiences for one group of visitors a day.
The houses have sunken fireplaces around which visitors can enjoy local cuisine served atop vermillion-lacquered Wajima-nuri. Depending on the season, visitors can also enjoy experiences, such as rice planting, harvesting, picking mushrooms, and pounding mochi rice cakes.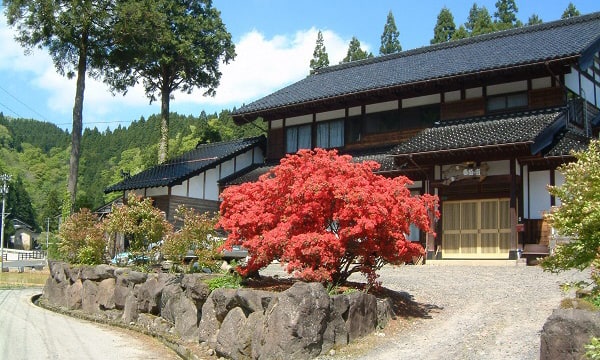 The appearance of the outside of a farmhouse inn. From late April to mid-May, bright red Noto Kirishima azaleas decorate the spring scenery of Noto in vivid hues. The flowers of Noto Kirishima azaleas bloom so densely that you can't see the leaves of the plant underneath. At peak bloom, the flowers cover the scenery in such vivid swathes of red that they can be spotted even from afar.
At Shunran-no-Sato, you can participate in harvest sessions of seasonal agricultural products. You can try mushroom-picking from late September. After the mushroom-picking session, you can cook dishes with the mushrooms, and feast upon the freshly-picked harvest of the mountains.
Location
| | |
| --- | --- |
| Name | Globally Important Agricultural Heritage Systems "Shunran-no-Sato" |
| Web Sites | https://shunrannosatooffic2.wixsite.com/syunranyado |
| Address | 16-9 Miyaji, Noto-cho, Hosu-gun, Ishikawa |
| Access | 7 minutes by car from Noto Satoyama Airport |
| Business Hours | 9:00-17:00 |
| Inquiries | Shunran-no-sato Executive Committee |
| Price | One night with two meals for one person available from 10,260 yen |