Yakushima (Kagoshima Prefecture) is an island 360km south of Fukuoka, which is a small round shape and 90% covered in forest. In the center are mountains of over 1,800m above sea level, including Mount Miyanoura (1,936m), which is the highest peak in Kyushu, and features unique vegetation that changes as the altitude rises.
If you do not feel confident about your physical condition, to go to the Jomon Sugi (cedar) power spot it is recommended that you drive around the island and the World Natural Heritage Site and sightseeing spots using a car rental. Also, get out of the forests on a kayak and travel down river, look up at the mountains and the sky from the sea, explore under water snorkeling and scuba diving, and enjoy many other ways to experience the South Pacific island. Come visit Yakushima. It's closer than you think!
The symbol of Yakushima, "Jomon Sugi", (16.4m circumference at breast height) can be seen deep inside of the forest where gods are said to dwell. The cedar tree's appearance, which has endured harsh weather for thousands of years, overwhelms the viewer.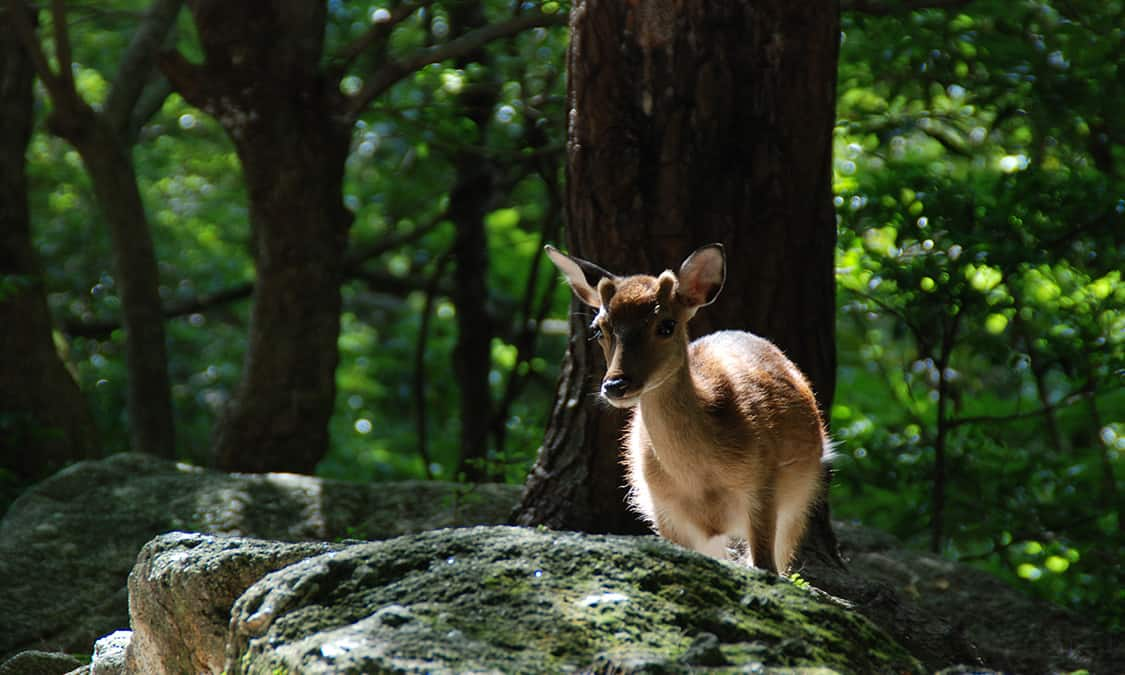 Enjoy nature by encountering wild Yaku deer and Yaku monkeys, or take in the view and the minus ions of a monolithic water.
Yakusugi Land, where you can experience the moss forests and ancient forests of the Shiratani Unsui gorge, which was the model for scenery in the movie "Princess Mononoke." Kigensugi cedars, which can be seen by car, are also recommended.
Location
Name
Oko Waterfall
Web Sites
http://www.town.yakushima.kagoshima.jp/en/
Address
Yakushima Town Commerce, Industry and Tourism Division
469-45 Koseda, Yakushima-cho, Kumage-gun, Kagoshima
Access
1 hour by direct Japan Air Commuter from Fukuoka Airport
1.5 hours from JR Hakata Station on the Kyushu Shinkansen, 2 hours by high speed boat
Business Hours
Shiratani Unsui Gorge Management Building 8:30 to16:30
Yakusugi Land Management Building 8:30 to 16:30
Inquiries
TEL:0997-43-5900