"Tastes of JAPAN by ANA" is a regional vitalization project that collaborates with the different prefectures in Japan to present the Land of the Rising Sun in all of its diverse glory.
Enoshima Island in Fujisawa, Kanagawa Prefecture, is a mysterious island an hour away from Tokyo
Enoshima Island, which is easy to reach from Tokyo, is a scenic tourist spot that has been popular since the Edo period (1603-1868). Don't miss Mount Fuji seen from Enoshima Island, particularly in the evening. The entire island is a power spot, and it has a long history with pilgrims. While looking back on the past, enjoy a day of sea breeze!
Enoshima Island is connected to the opposite shore by a bridge, easy to cross on foot or by car. From Katase Beach, cross the Enoshima Bentenbashi Bridge, and reach Enoshima Island and Benzaiten Nakamise-dori Street lined with many restaurants and souvenir shops. After enjoying special gourmet products, such as tako senbei (octopus rice crackers), pass through the red torii gate and visit Enoshima Shrine (Hetsunomiya, Nakatsunomiya, and Okutsunomiya). Visitors can enjoy a 360-degree panoramic view from Enoshima Sea Candle, a lighthouse observation tower. While looking at the scenery of the beautiful ocean, stroll around Ryuren-no-Kane (Ryuren Bell of Love), Chigo-ga-Fuchi rocky beach and Enoshima Iwaya caves. It is the recommended course in which you can feel the power of history and nature.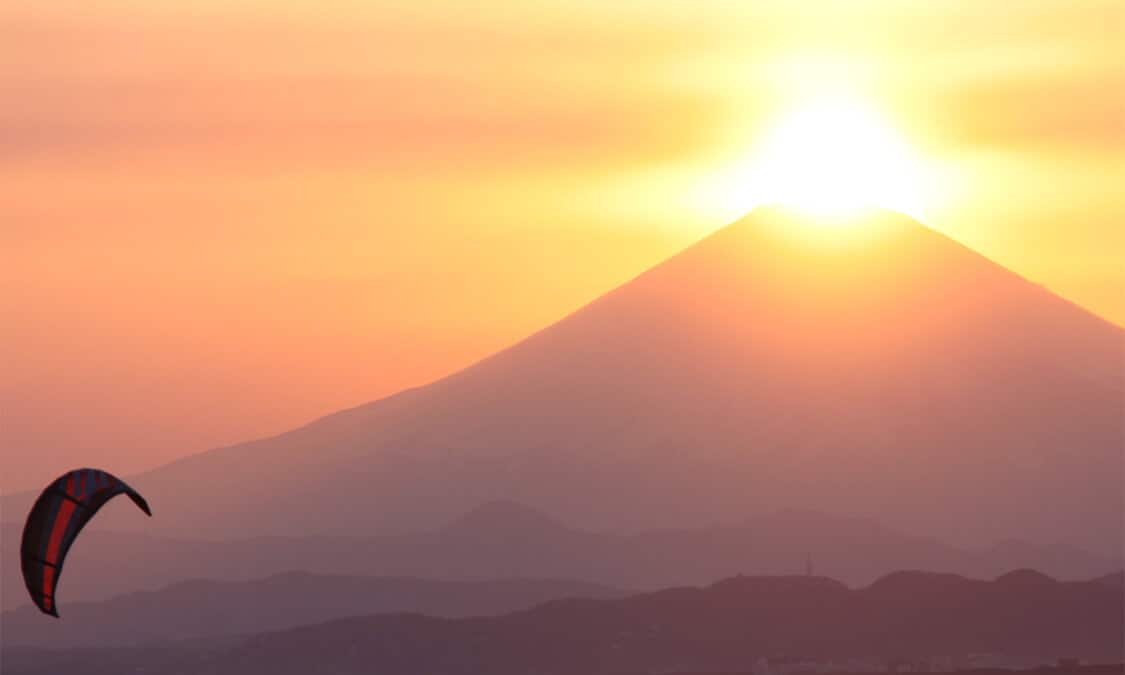 Spot for viewing Mount Fuji from Enoshima Island
Mount Fuji seen from Enoshima Island is one of the best in Japan. Majestic Mount Fuji, which can be seen up to the foot of the mountain across the sea, is colored red in the evening and is simply breathtaking. Diamond Fuji, a beautiful phenomenon that occurs when the rising or setting sun aligns with the peak of Mount Fuji, can be seen in April and at the beginning of September and is simply awesome. The scenery of Mount Fuji that changes every day is unique to Enoshima Island.
Location
Name
Enoshima Island
Web Sites
http://www.discover-fujisawa.jp/
Address
Enoshima, Fujisawa-shi, Kanagawa
Access
From Tokyo Station, take a train to Fujisawa Station on the JR Tokaido Main Line for 46 minutes, and transfer to Odakyu Line. In 7minutes, you will reach Katase Enoshima Station
From Shinjuku Station, take a rapid express on Odakyu Line or the Odakyu Romance Car train, and you will reach Katase Enoshima Station in 69 minutes
From JR Ofuna Station, take the Shonan monorail, and you will reach Shonan Enoshima Station in 14 minutes
Inquiries
TEL: 0466-22-4141 (Fujisawa City Tourist Information Center)