"Tastes of JAPAN by ANA" is a regional vitalization project that collaborates with the different prefectures in Japan to present the Land of the Rising Sun in all of its diverse glory.
Surround yourself with the fragrance of 35,000 plum trees in Odawara, Kanagawa Prefecture
The expansive Soga Plum Grove is the collective name of two plum groves, Bessho and Nakagawara, in the northeastern part of Odawara, Kanagawa Prefecture. Approximately 35,000 white plum trees are in full bloom around mid to late February every year, surrounding the area with their sweet fragrance, and creates stunning scenery of plums blossoming against the backdrop of Mount Fuji. Most of the plums are edible, and around 600 to 650 tons of plums are harvested yearly. The Odawara Plum Festival is held during the season, with various events such as the "shishimai" lion dance and "yabusame" horseback archery.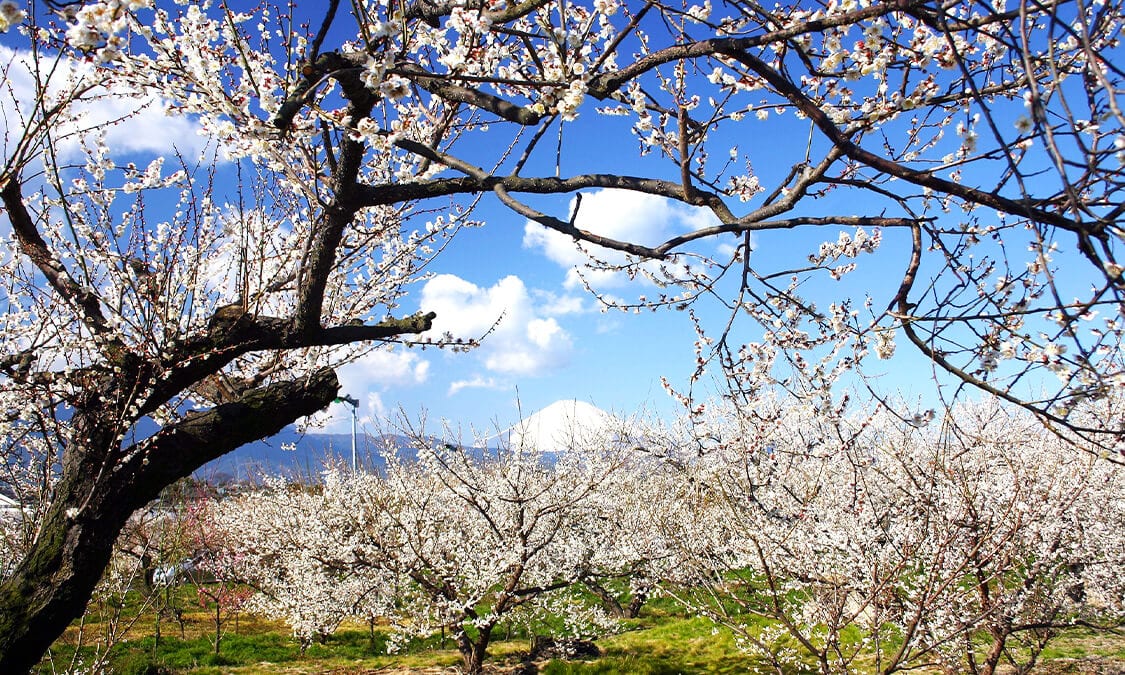 During the plum season, numerous shops open and offer various delicious produce from Soga, including "umeboshi" picked plums and tangerines. In addition to enjoying the breathtaking sight of plums blossoming against Mount Fuji, various events add to the festivities such as the traditional "shishimai" lion dance and Odawara lantern dance, as well as "yabusame" horseback archery.
Location
Name
Soga Plum Grove
Website
http://www.odawara-kankou.com.e.jk.hp.transer.com/event/eventyear/event-feb01.html
Address
Soga Bessho-Nakagawara, Odawara-shi, Kanagawa
Access
Approximately 10 minutes' walk from Shimo-Soga Station on the JR Gotemba Line
Business Hours
Shops: around 9:00 to 16:00 (Only during the Odawara Plum Festival period; around February every year)
Opening hours may be changed or closed depending on weather and visitor numbers. Please see the website for details.
Inquiries
TEL: 0465-22-5002 (Odawara City Tourist Association)
During the Plum Festival period: TEL: 0465-42-1965 (Soga Bessho Plum Festival Tourism Association)
Admission
Free