Kawazu cherry blossoms in Miura Kaigan
"Tastes of JAPAN by ANA" is a regional vitalization project that collaborates with the different prefectures in Japan to present the Land of the Rising Sun in all of its diverse glory.
One thousand Kawazu cherry blossoms line the railway tracks from Miura Kaigan Station in Kanagawa
Kawazu cherry blossoms are known to bloom early in the spring around late February. Since most other cherry blossoms start to flower in March, the Kawazu cherry blossoms bring a prelude to spring. Around 1,000 of these trees line the railway tracks for approximately one kilometer from Keikyu Miura Kaigan Station to Komatsugaike Park. Visitors can enjoy the colorful spring scenery and fragrance in the air as bright yellow field mustard flowers also bloom along the tracks. During the season, various market stalls open in front of Miura Kaigan Station, where you can shop for fresh local vegetables and other specialties of Miura. Don't miss the cherry blossom illuminations at night!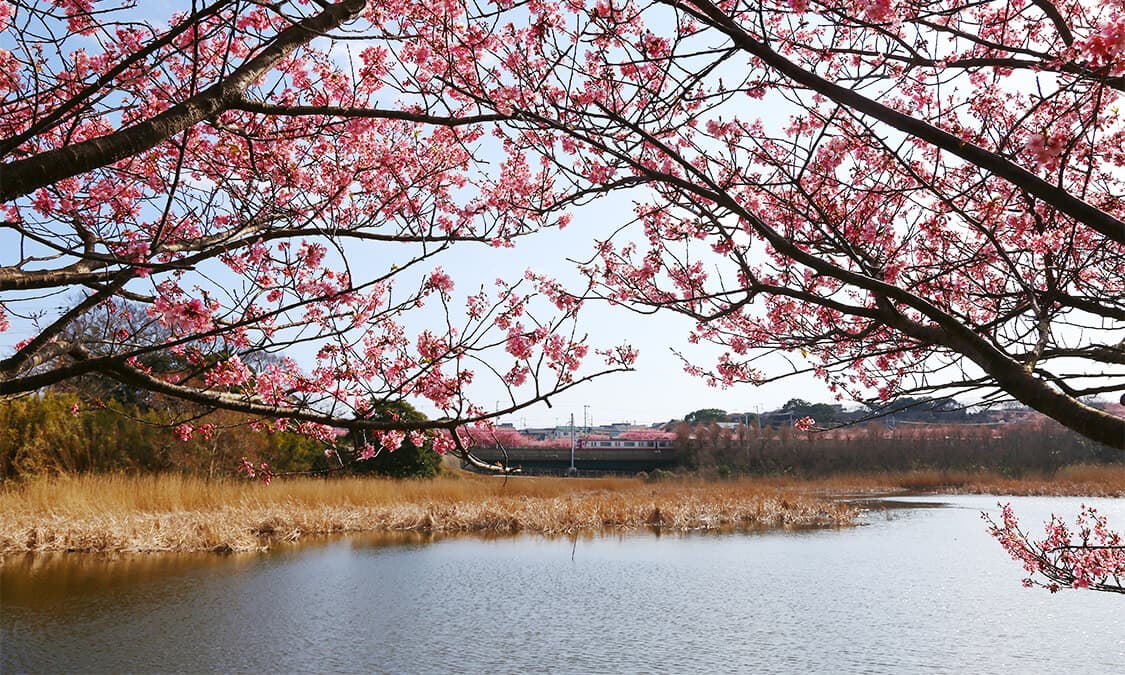 About an 18-minute walk from Keikyu Miura Kaigan Station, Komatsugaike Park includes the 3.69-hectare Komatsugaike Pond, one of the Miura Peninsula's largest stopover sites for migratory birds. You can observe the ecosystems of wild birds such as night herons and little grebes as well as various plant species in this nature park. From February to March, the Cherry Blossom Festival attracts many visitors to the park gathering to view the early Kawazu cherry blossoms. There is an area for picnicking, so relax with a "bento" box lunch and gaze at the beautiful Kawazu cherry blossoms and water birds by the pond.