"Tastes of JAPAN by ANA" is a regional vitalization project that collaborates with the different prefectures in Japan to present the Land of the Rising Sun in all of its diverse glory.
The first among the Five Great Zen Temples of Kamakura, Kencho-ji is Japan's pioneer Zen temple
Kencho-ji Temple is the head of the Kencho-ji school of Rinzai Buddhism. It was established in 1253 by Tokiyori Hojo, the regent of the time, who invited the Chinese high priest Rankei Doryu from Nansong to open one of Japan's first authentic Zen monasteries. On the premises, there is a training hall where monks still undergo rigorous training.
Sanmon Gate (Sangedatsu-mon)
The giant 20-meter gate was reconstructed in 1775 and is designated as an Important Cultural Property of Japan. Named the Sanmon Gate (short for Sangedatsu-mon) after the three ("san" in Japanese) gates crossed on the way to enlightenment, it was created with the hopes to allow visitors to gain a clear mind when worshipping at the temple. In addition, the gate does not have a door, depicting Buddha's deep compassion for never refusing anyone who sought his help.
Kencho-ji Temple's honzon (object of worship), the Jizo Bosatsu statue, is enshrined in the Buddha Hall, which was moved from Zojo-ji Temple in Shiba, Tokyo, in 1647. Originally, the hall was the mausoleum of the wife of the second shogun of the Edo shogunate (1603-1868). The decor is fitting for a shogun's wife, with the interior coated in black lacquer and the ceiling embellished with a gorgeous painting. Besides the honzon, several other statues are enshrined, including a Garanjin statue that is designated as an Important Cultural Property, as well as the Shinpei Jizo and Sentai Jizo statues. The building itself is also an Important Cultural Property of Japan.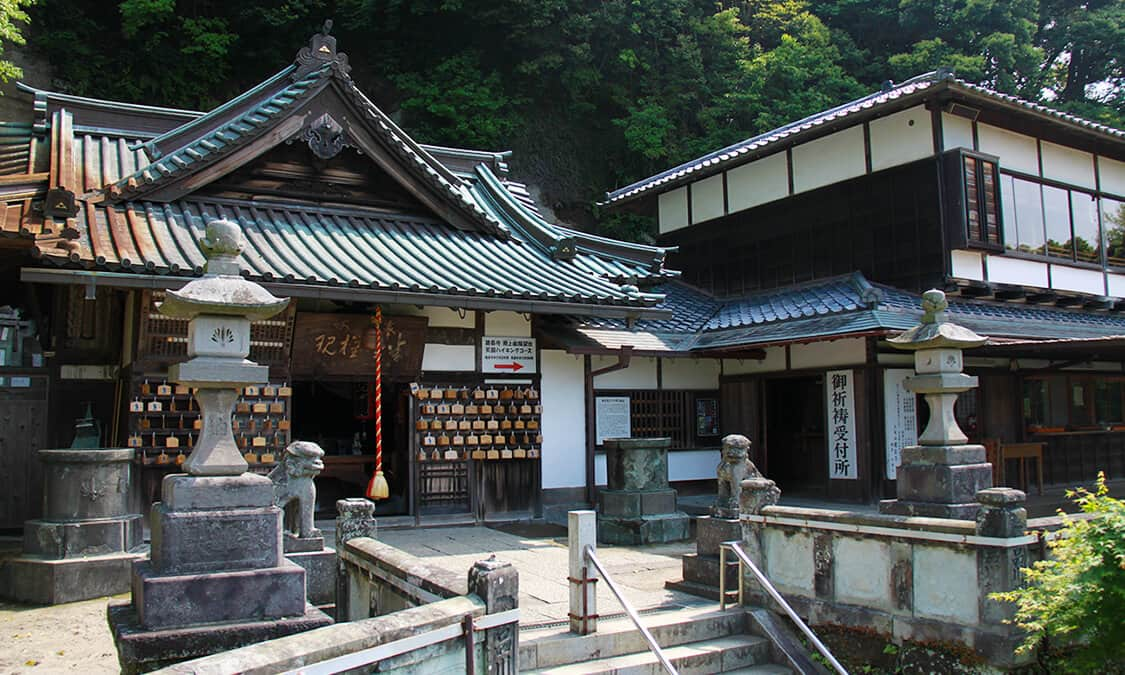 The Kencho-ji Temple premises span an entire valley, and at the very back is the Hansobo, a tutelary shrine accompanied by a guardian spirit in the shape of a mystical Tengu goblin. The shrine, which finally appears after going up about 250 stone steps, originated from Hoko-ji Temple in Shizuoka Prefecture at the request of Kencho-ji's temple master at the time in 1890. The approach is lined with statues of Tengu welcoming visiting worshippers. Hansobo also has a wonderful view of the town of Kamakura and the sea, and even Mount Fuji when the weather is clear. The pathway to the shrine leads to a hiking trail.
Location
Name
Kencho-ji Temple
Website
https://www.city.kamakura.kanagawa.jp/visitkamakura/en/places-to-go/temples/kenchoji.html
Address
8 Yamanouchi, Kamakura-shi, Kanagawa
Access
From Kitakamakura Station on the JR Yokosuka Line, take the Enoden Bus bound for Kamakura Station then get off at Kencho-ji bus stop
Approximately 15 minutes' walk from Kitakamakura Station on the JR Yokosuka Line
Business Hours
8:30 to 16:30
Closed
Open all year round
Inquiries
TEL: 0467-22-0981
Admission
High school students and over: 500 yen; Elementary and junior high school students: 200 yen