Experience the history and culture of the traditional craft Kamakura-bori
Surrounded by mountains and the sea, Kamakura in Kanagawa Prefecture is a city rich in history and culture as one of the ancient political centers of Japan. Born here, the Kamakura-bori is a type of craft called Mokuchou Saishitsu, in which wood is carved and then lacquered. It is designated as a traditional craft of Kanagawa Prefecture with its origin dating back to the Kamakura period (1185-1336), about 800 years ago. The Kamakura-bori Museum introduces the history and various works and also offers a popular two-hour hands-on workshop as well as cafes and shops.
The permanent exhibition and special exhibition introducing the world of Kamakura-bori
In the permanent exhibition, about 50 Kamakura-bori items from the Muromachi period (1336-1568) to the present are on display. Since works are introduced along with historical explanations of each era, visitors can thoroughly appreciate the many masterpieces that have been passed down through history. A 10-minute video digest of its making process allows for a closer look at the exquisite craftsmanship. A guided tour by a curator of the exhibition is available with advance reservations. You can also experience the world of Kamakura-bori in depth from various viewpoints at events such as special exhibitions and lectures held several times a year.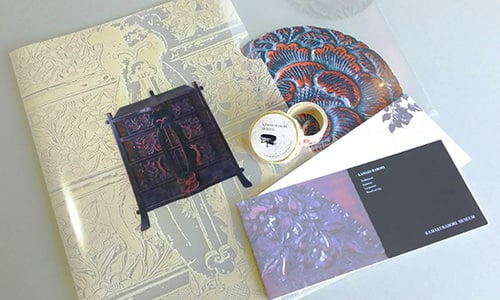 Kamakura-bori two-hour workshop
Make beautiful Kamakura-bori coasters and round trays in this two-hour workshop (advance reservations required). Using professional-grade carving knives, you can learn the basic carving method of Kamakura-bori called Yagenbori. Carve motifs of seasonal flowers and birds through the careful guidance of the instructor. Beginners are of course welcome. You can take the finished work home as it is, or for an additional charge, have it lacquered by a veteran craftsman. The two-hour workshop is open to 4th-grade students and above. Lacquering requires an additional charge and takes 3 to 4 months to complete.
Location
Name
Kamakura-bori Museum
Website
https://www.kamakurabori-japan.com/%E9%8E%8C%E5%80%89%E5%BD%AB%E8%B3%87%E6%96%99%E9%A4%A8-museum/
Address
3rd floor, Kamakura-bori Museum, 2-15-13 Komachi, Kamakura-shi, Kanagawa
Access
Approximately 5 minutes' walk from the East Exit of Kamakura Station on the JR Yokosuka Line and Enoshima Electric Railway
Business Hours
9:30 to 17:00 (Last admission: 16:30)
Closed
Mondays (Open when Monday is a public holiday and closed the following weekday)
Inquiries
TEL: 0467-25-1502
Admission
Permanent exhibition:
Adults: 300 yen; Elementary and junior high school students: 150 yen
Period of the Event
Two-hour workshop:
Advance reservations required, open to 4th-grade students and above
Offered first and third Sundays; second and fourth Saturdays; and first, second, third and fourth Fridays of every month.
Opening time: 10:00 to 12:00 and 13:00 to 15:00
Others
Workshop fee (Additional charge required for lacquering finish.)
Round tray:
Adults: 3,500 yen; Elementary and junior high school student: 2,800 yen
Coaster:
1,350 yen (Elementary and junior high school students only)