Amakusa Cultural Exchange Hall

Experience traditional crafts in the cultural exchange hall of rare Western-style architecture
The Amakusa region consists of 120 large and small islands in the southwest of Kumamoto Prefecture. It is a scenic area surrounded by the sea and is also known for being home to hidden Christians back when the religion was banned. The Amakusa Cultural Exchange Hall was built in 1935 and is a valuable Western-style building designated as a registered tangible cultural property of Japan. While preserving its cultural value, the building is now maintained as a place for learning and exchange for experiencing and passing on the techniques of traditional crafts production. You can experience making Amakusa's traditional crafts such as ceramics, Baramon kites, temari balls, mud dolls and raised cloth pictures.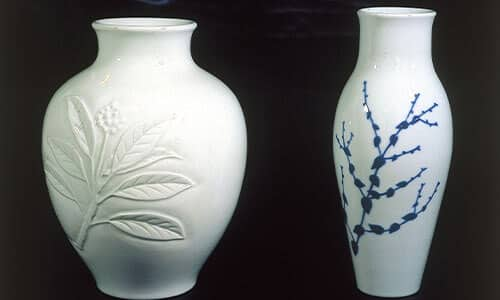 Amakusa's pottery stone is a high-quality material for porcelain that Hiraga Gennai, a renowned intellectual of the Edo Period (1603-1868), commented as "unrivaled elegance." Praised as the best in Japan for both quality and quantity, the stone has been used as a raw material for porcelain for about 300 years. Amakusa Porcelain is a general term for porcelain made in the area using this material. Today, there are more than 30 potteries in Amakusa, including Uchida Sarayama Pottery, Takahama Pottery, Mizunodaira Pottery and Maruo Pottery, each producing unique works. There is also joint pottery event in the spring and autumn, making Amakusa a wonderful area for pottery lovers.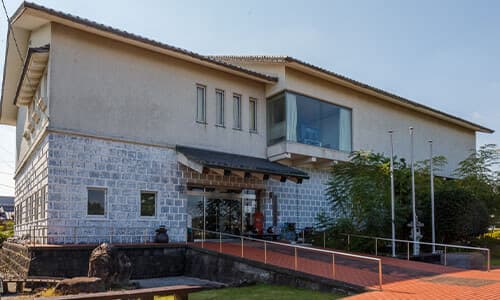 Amakusa Municipal Hondo Museum of History and Folklore
This museum is perfect for learning about the Amakusa region's history. It houses about 9,000 items such as excavated artifacts from the Oya archaeological site of the prehistoric Jomon period (14,000-1,000 BC), which reveals interactions with the continent; artifacts from the Tsumanohana Tumulus Cluster of the Kofun period (3rd-7th century); and folk implements and art craftworks of Amakusa. The one-tenth scale diorama that reproduces the lives of the people back in the day is also worth seeing. The adjacent Amakusa Archives collects and preserves local historical materials and official documents from the past to the present of various places in Amakusa, which are open to public.
Location
Name
Amakusa Cultural Exchange Hall
Website
(In Japanese) https://www.t-island.jp/spot/459
Address
8-25 Funenoo-machi, Amakusa-shi, Kumamoto
Access
Approximately 2 hours and 30 minutes' drive from JR Kumamoto Station
Approximately 20 minutes' drive from Amakusa Airport
Business Hours
9:00 to 17:00
Closed
Mondays (Open if Monday is a public holiday), day after a public holiday, December 29 to January 3
Inquiries
TEL: 0969-27-5665