Located in Oguni-machi, in Aso-gun, Kumamoto, Shimojo no Oicho is a giant Ginkgo biloba tree that is more than 1,000 years old. It is a sight not to be missed when lit up at night and when it is ablaze with its autumn colors.
This giant Ginkgo tree has been designated as a natural monument of Japan. It is the prefecture's largest Ginkgo tree, with a trunk circumference of 12 meters and a height of 25 meters.
It is also known as "Chichikobu-san", and legend has it that if a woman who is having trouble nursing her baby drinks a tea made with the bark of this tree, her milk flow will improve.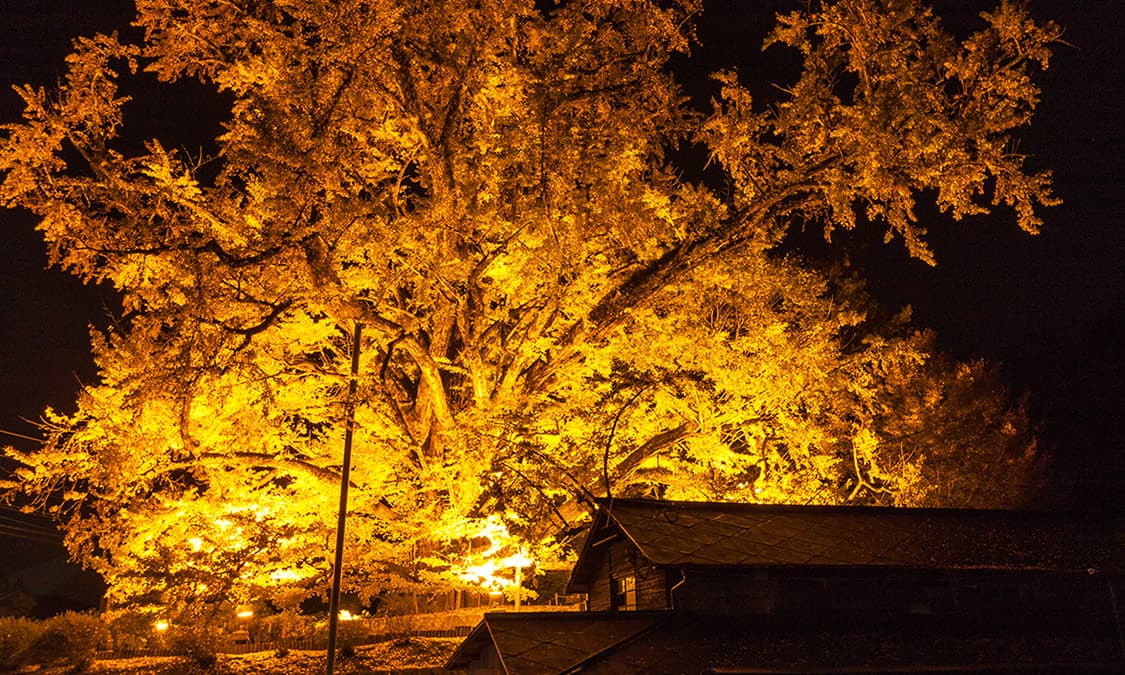 In the autumn foliage season from mid-October into November, the tree is lit up at night, creating a magical scene for visitors to enjoy.
Location
| | |
| --- | --- |
| Name | Shimojo |
| Web Sites | (In English) https://www.kurokawaonsen.or.jp/eng_new/ |
| Address | Shimojo, Oguni-machi, Aso-gun, Kumamoto |
| Access | Approx. 75 minutes by car from Aso Kumamoto Airport |
| Inquiries | TEL:0967-46-2113 (Information Division, Oguni Town Office) |
| Event Period | Light-up: Mid-October - mid-November (around 18:00 - 22:00 TBD) |
| Admission | Free |