Roadside Station Amakusa Dolphin Center
Depart for the Amakusa dolphin watching tour
Amakusa in Kumamoto Prefecture is a group of islands of varying sizes surrounded by the beautiful, blue ocean. The Roadside Station Amakusa Dolphin Center is an information station for Amakusa dolphin watching, located in the northern part of Shimoshima, the largest island in Amakusa. The resourceful facility includes a reception desk for dolphin watching tours, a virtual reality (VR) area to experience watching wild dolphins, a seafood restaurant and a local specialty products shop.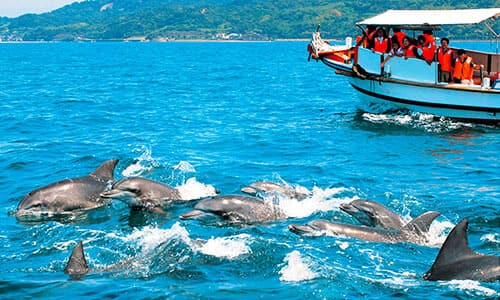 Amakusa is known as a prime dolphin watching spot, with around 200 Indo-Pacific bottlenose dolphins in habitat off the coast of Tsujishima Island of Amakusa's Itsuwamachi Town. Due to the undulating sea floor and tidal currents, the area is rich in small fish for the dolphins to feed on, allowing encounters with wild dolphins throughout the year. Dolphin-watching cruises depart from the Roadside Station Amakusa Dolphin Center, and you can encounter dolphins as early as within 5 to 10 minutes, so close that you can see their faces!
Tsujishima Island is located to the north of Shimoshima Island, connected by the 184-meter-long Tsujiohashi Bridge, which opened in 1975. The sea near the small island about 4 kilometers in circumference is the habitat of around 200 dolphins. Highlights of the island include wind power generation turbines, a salt farm of the local specialty Amakusa salt, the Itsuwa History and Folklore Museum where artifacts excavated from local ruins are displayed, as well as the "yumale" facility that offers dining and an artificial hot spring with an excellent view. Take a leisurely walk or ride a bicycle while gazing at the beautiful ocean.
Location
Name
Roadside Station Amakusa Dolphin Center
Website
https://www.michi-no-eki.jp/stations/viewe/14203
Address
4689-20 Futae, Itsuwa-machi, Amakusa-shi, Kumamoto
Access
Approximately 2 hours 10 minutes' drive from JR Kumamoto Station
Approximately 20 minutes' drive from Amakusa Airport
Business Hours
9:00 to 18:00
Closed
December 31 to January 1
Inquiries
TEL: 0969-33-1500
Others
Dolphin watching departure times: 5 tours per day (10:00, 11:30, 13:00, 14:30, 16:00)