Enjoy various octopus dishes at Roadside Station Ariake
This roadside station is in Ariake, a gateway town into Amakusa, Kumamoto Prefecture. Ariake is famous for its octopus production, and the station's restaurant and product center offer a host of ways to enjoy the local specialty. Try the Takomeshi (octopus rice) and Takotendon (octopus tempura over a bowl of steamed rice) at the restaurant, as well as the giant Takoyaki called Bikkuri (surprise) yaki at the product center. How about an octopus mobile strap as a souvenir? There is also an adjacent hot spring facility, Sazanami-no-Yu.
Just across the street from Roadside Station Ariake, Shirogahama Beach is known for its scenic view. Across the beautiful white sand beach, the view expands to the Shimabara Peninsula and Mount Unzen, and it was selected as one of Japan's top 100 beaches by the Ministry of the Environment. During the beach season, a fence is set up to protect swimmers from jellyfish, so visitors including children can enjoy the waters with peace of mind. In addition, the Sand Art Festival is held every summer, displaying impressive sand sculptures related to Amakusa that are definitely worth seeing.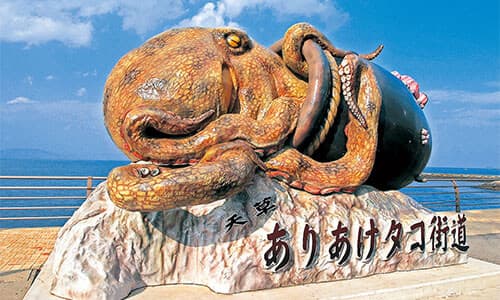 Amakusa Ariake Octopus Street
Ariake Town is famous for its octopus, and the sight of dried octopuses fluttering in the wind is a summer tradition. The area along National Route 324 is called Amakusa Ariake Octopus Street, and the town boasts a number of eateries that offer various octopus dishes. Look for the surprisingly realistic monument of Ariake Tako Nyudo (giant octopus) that suddenly appears near Shirogahama Beach and the gentle-faced statue of the Praying Octopus.
Location
Name
Roadside Station Ariake
Website
https://www.michi-no-eki.jp/stations/viewe/954
Address
1955 Koutsuura, Ariake-machi, Amakusa-shi, Kumamoto
Access
Approximately 1 hour 30 minutes' drive from JR Kumamoto Station
Approximately 30 minutes' drive from Amakusa Airport
Business Hours
9:00 to 18:00
Inquiries
TEL: 0969-53-1565