A great sightseeing base located close to the World Cultural Heritage site Sakitsu Village in Amakusa
Roadside Station Sakitsu is located in Sakitsu Village of Amakusa, a component of the World Cultural Heritage site of Hidden Christian Sites in the Nagasaki Region. The station offers guides to Sakitsu Church and exploring the historic village, as well as panels displaying the history of Christians in Sakitsu and Imatomi. There is also a shop selling local products and a bicycle rental service (200 yen per day).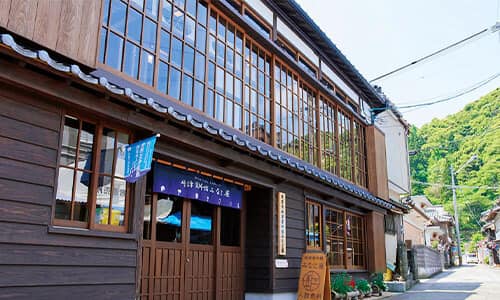 Located in front of Sakitsu Church, the Sakitsu Museum Minato-ya introduces the history and culture of Sakitsu Village. In the age when Christianity was banned, the people of Sakitsu used items around them to stand as objects of worship and prayed to them. The museum introduces the unique form of Christian belief found in the fishing village through dioramas and items used for worship. The museum itself exudes a nostalgic atmosphere as a renovated building which used to be an inn called Minato-ya built in 1936. At the exhibition facility Tsudoi Dokoro Matsuda near the museum, you can also see paintings and photos depicting the unique culture of Sakitsu.
The former amimoto Iwashita family house "Yorankana"
The former residence of the amimoto (head of fishermen) is a traditional architectural structure of a fishing village and one of the important buildings in the village of Sakitsu. The Iwashita family house, built in 1892, has been restored to its original layout and opened in 2019 as a space for relaxation and exhibitions. Learn how the people lived during that time through displays of various historical household goods and fishing tools. At the back of the house is the Kake, a working space that juts out from the seawall to the sea where fish were landed and dried. It constitutes an area that has been selected as an Important Cultural Landscape Site of Japan and provides a glimpse of the distinctive atmosphere of Sakitsu.
Location
Name
Roadside Station Sakitsu
Website
https://www.michi-no-eki.jp/stations/viewe/14190
Address
1117-10 Sakitsu, Kawaura-machi, Amakusa-shi, Kumamoto
Access
Approximately 2 hours 30 minutes' drive from JR Kumamoto Station
Approximately 45 minutes' drive from Amakusa Airport
Business Hours
9:00 to 17:30
Business Hours
Sakitsu Church: 9:00 to 17:00
Closed
December 30 to January 1
Inquiries
TEL: 0969-78-6000