Togetsu-kyo Bridge in Arashiyama
Togetsu-kyo Bridge: Once appeared in a poem describing the nighttime beauty of this area
The Togetsu-kyo Bridge (literally "the moon crossing a bridge") over the Katsura River in Arashiyama is one of the most popular landmarks in Kyoto. This area, not so far from downtown, is a must-see tourist destination surrounded by stunning natural beauty that showcases its beautiful seasonal features, such as cherry blossoms in spring and colorful leaves in autumn. The bridge is even more beautiful when it is illuminated in the evening and is a place that attracted aristocrats from the capital for leisure as long as a thousand years ago.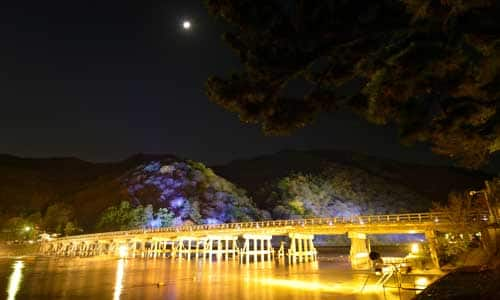 Arashiyama Hanatoro is a project that was started in 2005 to illuminate temples, shrines and streets in the Arashiyama area with spotlights and lanterns, and is now recognized as a regular annual winter event of Kyoto. The whole atmosphere is enchanting with everything gently illuminated in orange, such as the Togetsu-kyo Bridge, surrounding mountains, temples and bamboo forests. A variety of activities and attractions are held during the event.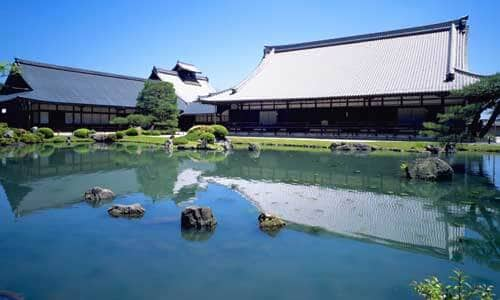 The temple was established in 1339 by the then Shogun Ashikaga Takauji. As it was almost completely destroyed over the centuries due to eight major incidents involving fire, all the current buildings were from a reconstruction during the Meiji Era (1868-1912). The Cloud Dragon painting on the ceiling of the Hatto Hall is an overwhelmingly impressive feature of this temple. The beautiful Sogenchi Garden here has retained its original form, which was designed centering on the pond, with borrowed scenery of local landscapes, including the areas of Kameyama and Arashiyama.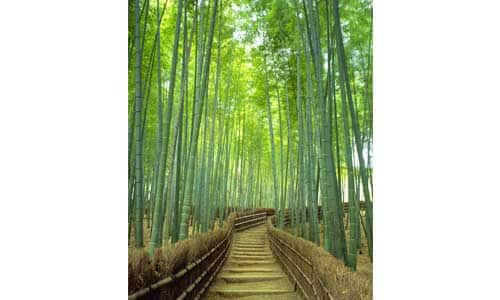 Sagano's bamboo forest is a very popular spot that attracts a huge number of visitors. This well-looked-after forest stretches for approximately 400 meters along a walking path that cuts through it from Nomiya Shrine to the Okochi-sanso Garden via the north gate of Tenryu-ji Temple. When strolling on a myriad of paths through the forest, you may feel what it was like to be one of the aristocrats in the Heian Period (794-1185) who often came to this area to stay in their holiday villas. In early winter, Arashiyama Hanatoro is held to illuminate the forest at night, giving a different ambience from the daytime.
Location
Name
Togetsu-kyo Bridge in Arashiyama
Website
(In Japanese) http://www.arashiyamahoshokai.com/
Address
Saganakanoshima-cho, Ukyo-ku, Kyoto-shi, Kyoto
Access
Approximately 2 minutes' walk from Arashiyama Station on Keifuku Railroad
Approximately 8 minutes' walk from Arashiyama Station on Hankyu Railway
Approximately 11 minutes' walk from JR Saga-Arashiyama Station
Inquiries
TEL: 075-861-0012 (Arashiyama Conservation Association)