At Takachiho Shrine, Wish for Fortune in Marriage at the Couple Cedar and Receive a Popular Stamp and Amulet
Takachiho Shrine enshrines the deities of the other 88 main local shrines of Takachiho. Built approximately 1,900 years ago, the shrine has a long history. It enshrines deities of good harvests, marriage prospects, transport safety, and lifting of bad luck, and attracts many faithful. Huge trees tower over the shrine premises, such as the 800-year-old "Chichibu Cedar" and the "Couple Cedar", which is said to be good for fortune in marriage. "Takachiho Kagura" is also performed every night in the kagura hall on the shrine premises.
Takachiho Shrine enshrines the deities of Takachihosumegami and Jisshadaimyojin. The shrine worships the deities of Hyuga Sandai such as Ninigi-no-Mikoto, who descended upon the land of Takachiho, and the Mikeiri-no-Mikoto clan. The shrine enshrines the deities of the 88 shrines of Takachiho, and attracts many faithful. The kagura main hall was constructed in 1778. It is a large hall built in the "Gokensha Nagare-Zukuri", a style of shrine architecture, and is decorated with spectacular sculptures. Its collection contains a pair of iron komainu lion-dogs statues. Iron komainu lion-dogs are rare in Japan, and so this pair has been designated a National Important Cultural Property.
You can particularly feel the noble atmosphere in the midst of the cedars on the grounds of the shrine. Among them is a huge, sacred, 800-year-old tree known as "Chichibu Cedar". There is also a huge "Couple Cedar", where two cedars have grown from the same root. People who come to worship at this shrine walk around the trees three times, hand in hand with friends, family member or lover, they will be blessed with prosperity of descendants and safety in their family. Next to the main shrine, there is a rock called "Shizumeishi". It is said that if you pray to this rock, it will soothe your worries and worldly troubles.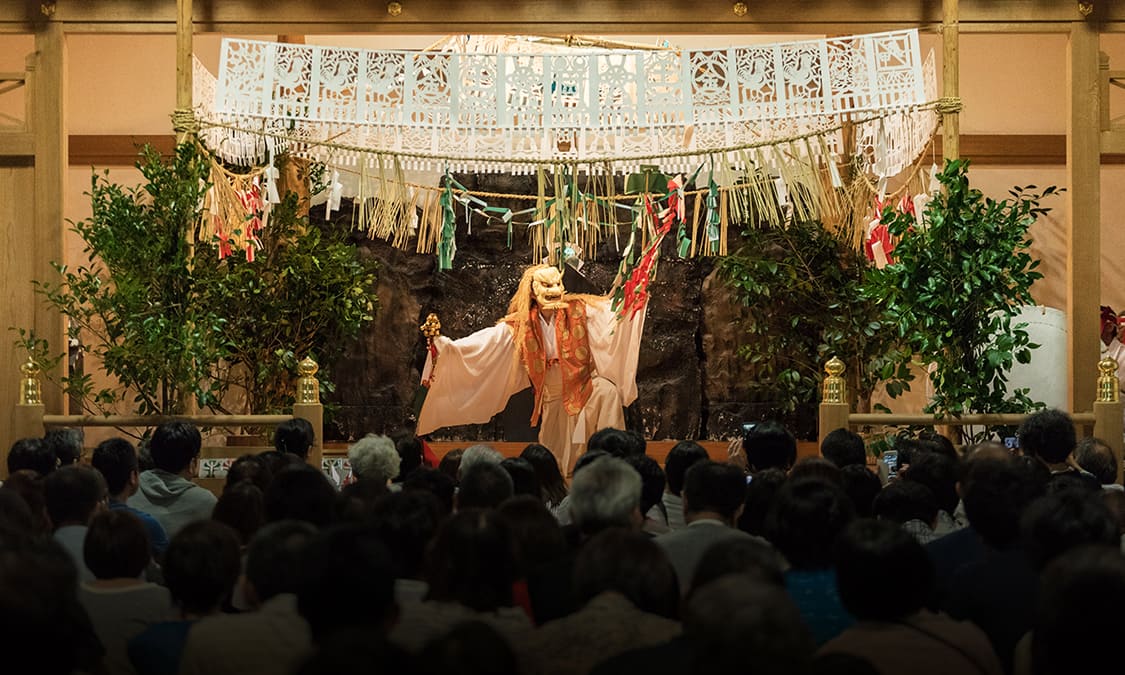 "Takachiho Kagura" is performed every night in the kagura hall on the premises of Takachiho Shrine. Four representative dances from the 33-dance repertoire of Takachiho night kagura are performed: the Dance of Tajikarao, the Dance of Uzume, the Dance of Totori, and the Dance of Goshintai. Many tourists gather to enjoy the performances held every evening.
Takachiho Kagura is performed every evening. The line up of performances features spectacles such as the elegant dance of Ama-no-Uzume-no-Mikoto, a power-filled dance showing Tajikarao-no-Mikoto swinging his black hair and pushing back a rock door with all his might, and a dance showing married deities making sake, enjoying drinking it together, and embracing. This dance prays for amicable marriage, prosperity for future generations, and plentiful harvests.
Location
| | |
| --- | --- |
| Name | Takachiho Shrine |
| Web Sites | http://takachiho-kanko.info/en/sightseeing/ |
| Address | 1037 Mitai, Takachiho-cho, Nishiusuki-gun, Miyazaki |
| Access | 15 minutes' walk from Takachiho Bus Center |
| Inquiries | TEL: 0982-72-2413 |
| Admission | Free admission |