An observation deck at Kunimigaoka, with a star of the Michelin Green Guide
Kunimigaoka, in Takachiho Town, Nishiusuki-gun, Miyazaki Prefecture is one of the most spectacular views in Miyazaki. It is famous for the "Unkai", or sea of clouds, and the observation deck has won one star of Michelin Green Guide Japan. The observation deck is located in 513 m above sea level. It offers panoramic views of the Takachiho Basin, and when the weather conditions are good, you can see the Unkai in the early morning in autumn. Legend has it that it is from this hill that "Tateiwa Tatsu-no-Mikoto", grandson of Emperor Jimmu, gazed out over his country.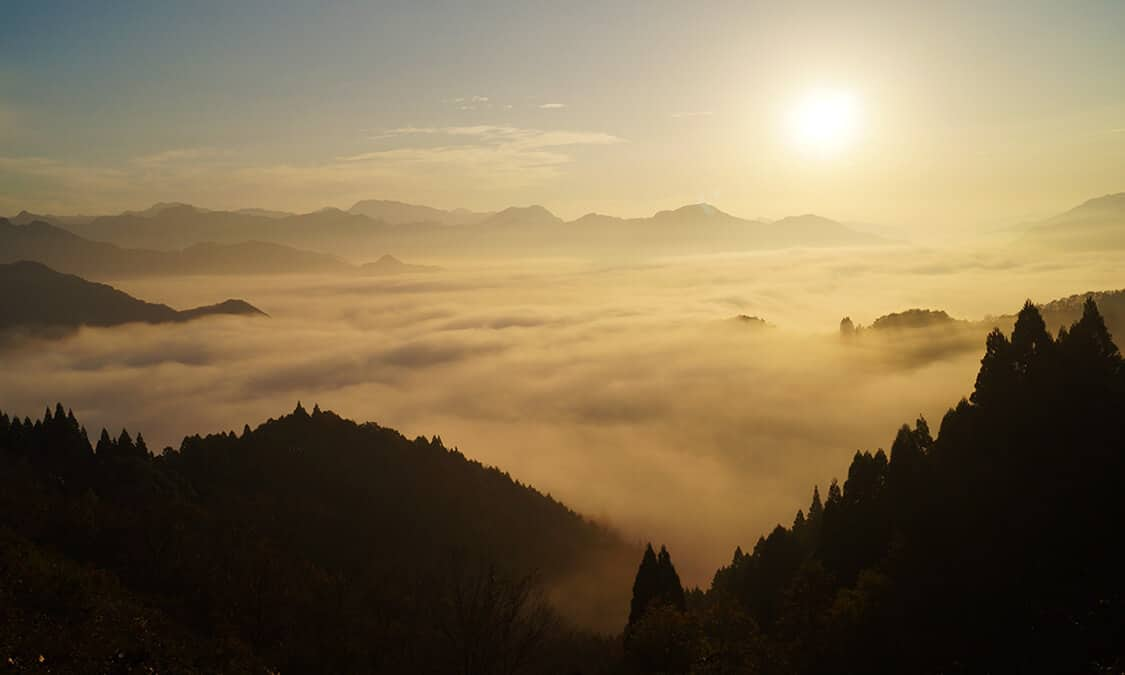 Kunimigaoka is known as a famous spot for viewing Unkai, and in the middle of September to late November, when the weather conditions are good, the beautiful mysterious scenery of the Unkai can be seen stretching across the Takachiho Basin.
The stone statue is the symbol of Kunimigaoka. The god in the center is Ninigi-no-Mikoto.
A superb view spot of Takachiho Basin. With the scenery of the mountains of Takachiho, and the terraced rice fields, this spot has been given one star in the Michelin Green Guide Japan, a global travel guidebook.
Location
| | |
| --- | --- |
| Name | Kunimigaoka |
| Web Sites | http://takachiho-kanko.info/en/sightseeing/ |
| Address | Oshikata, Takachiho-cho, Nishiusuki-gun, Miyazaki |
| Business Hours | Open year round |
| Inquiries | TEL: 0982-73-1213 (Takachiho Tourist Association) |
| Admission | Free admission |