Hososhima Port in Hyuga, Miyazaki, is a good natural harbor with a flourishing set-net fishing industry. This region overflows with the blessings of the ocean, boasting Miyazaki's largest catch of rock oysters. The port's unloading docks are bustling with fishing vessels landing their catches of fresh marine products. Here at Hososhima Port, amid the scents of the ocean, you will find the wonderful Oyster Hut Kakitei, a stylish eatery that serves freshly caught Hososhima rock oysters.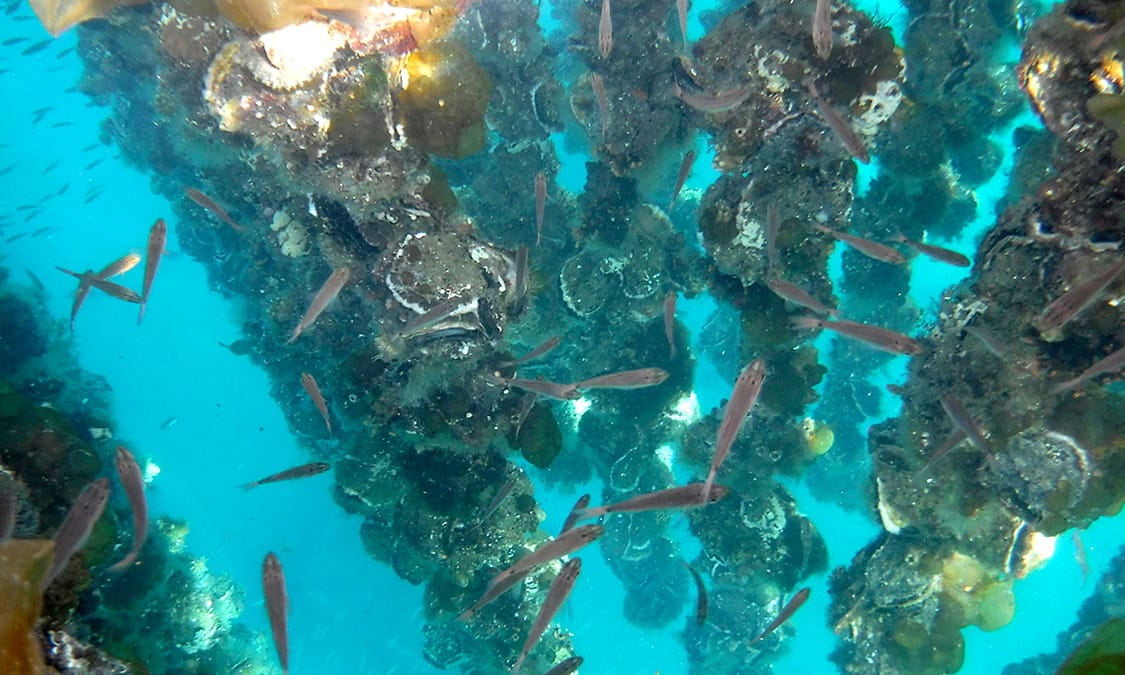 Hososhima rock oysters, blessings of the sea and the mountains
The fishermen of Hososhima cultivate Hososhima rock oysters with great care, taking advantage of the area's clear ocean waters, which are rich in minerals and spring waters that have flowed down from the mountains surrounding Hososhima Port, amid the currents from the Pacific Ocean. Thanks to these blessings from both the mountains and the sea, Hososhima rock oysters are distinctive for their firm flesh and large size. At Kakitei, just a stone's throw from the fishing port, you can enjoy fresh Hososhima oysters all year round. In spring and summer, the oysters are rich and creamy, while in autumn and winter, you can enjoy their firm flesh and the aroma and flavor of the sea.
Kakitei also serves numerous other varieties of seafood. Its Rock Oyster Set, which combines Hososhima rock oysters with other fresh seafood dishes, is particularly popular. A popular way of enjoying Hososhima rock oysters is to squeeze the juice of Hebesu, a citrus fruit that is a local specialty of Hyuga, known for its refreshing tartness and mellow flavor, over the freshly grilled oysters. With its stylish decor and relaxing atmosphere, Kakitei is loved by patrons of all ages, both locals and visitors alike.
Location
| | |
| --- | --- |
| Name | Oyster Hut Kakitei |
| Web Sites | (In Japanese) https://www.hyugacity.jp/sp/display.php?cont=140430155956 |
| Address | 769-4 Yasaka, Hososhima, Hyuga, Miyazaki |
| Access | Approx. 10 min. by car from JR Hyugashi Station |
| Business Hours | 10:30 - 16:00 (last order: 15:00) |
| Inquiries | TEL: 0982-60-3698 |
| Admission | 1,000 - 3,000 yen |
| Scheduled holidays | Wednesdays |