Bask in the crystal clear sea and beautiful scenery of the famed swimming beach of the uninhabited Tatsunoshima Island at Iki Island
Iki Island, a part of Nagasaki Prefecture, is a picturesque and historic remote island floating in the Genkai-nada Sea of the Kyushu region. Surrounded by beautiful clear waters, there are many excellent beaches including Tatsunoshima, an uninhabited island selected as one of Japan's best 100 swimming beaches. The crystal clear, emerald beach with a stretch of shallow waters is one of the most beautiful in Iki. Take the island tour cruise to observe the dynamic natural landscape, including looking up at unusual rock formations and sheer cliffs from the sea.
Located about 10 minutes by boat from Katsumoto Port at the northernmost tip of Iki Island, the entirety of the uninhabited island is designated as a national natural monument. From March to November, visitors can take a ferry to Tatsunoshima and enjoy swimming on the beautiful beach in the summer. The bow-shaped shore is stunning with a white sandy beach and crystal clear waters that will leave you amazed. The shallow beach is perfect for families to frolic in the sea. Sail around the island on a cruise tour to discover its breathtaking natural scenery, created by the vivid contrast of the ocean and land.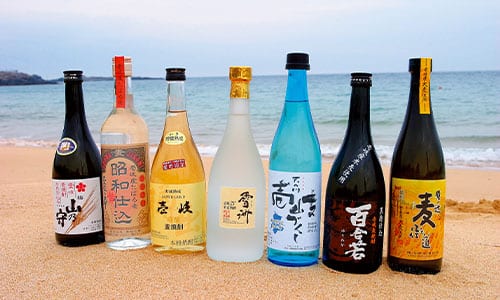 Birthplace of mugi shochu liquor
The tradition and manufacturing methods of Iki shochu liquor have continued since the 16th century. Made with one-third rice malt and two-thirds barley (mugi), the method unique to Iki brings out the barley's fragrance and natural sweetness of rice malt in this single distilled shochu liquor. Acclaimed for its tradition and manufacturing techniques, Iki shochu was officially recognized as a liquor with geographical indication by the World Trade Organization, solidifying its name as an international brand. Some shochu are only available on the island, so be sure to seek them out during your visit.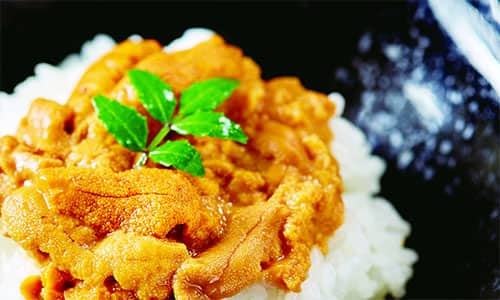 Uni rice bowl, a must-eat specialty of Iki Island
Iki is blessed with abundant sea and mountain produce. In particular, uni (sea urchin) is known as the island's specialty and attracts many visitors seeking delicious raw uni available from spring to summer. Many restaurants around the island serve fresh uni of various kinds, such as the murasaki-uni (purple sea urchin) known for its mild sweetness and tasty flavor that delights the palate, and the aka-uni (red sea urchin), a rare uni that has a firm texture and rich sweetness. If you are visiting Iki between April and October, this is a delicacy not to be missed.
Location
| | |
| --- | --- |
| Name | Tatsunoshima Beach |
| Website | https://www.discover-nagasaki.com/en/featured-topics/tatsunoshima |
| Address | Higashifure, Katsumoto-cho, Iki-shi, Nagasaki |
| Access | From Bayside Place Hakata, take the high-speed ferry approximately 1 hour 10 minutes to Gonoura Port, then drive approximately 25 minutes to Katsumoto Port. Then, take the 10-minute cruiser to Tatsunoshima Island (operating from March to November). |
| Inquiries | TEL: 0920-47-3700 (Iki City Tourism Federation) |