As guardian of the ancient capital Nara, this ancient shrine proudly sits in an area surrounded by a primeval forest and thousands of deer
Kasuga-taisha Shrine is a World Cultural Heritage site with a history of 1,300 years, and is the head shrine of the over 3,000 Kasuga Shrines to be found all around Japan. Surrounded by a primeval forest stands an impressive bright orange shrine building on the premises, which are also famous for the many gorgeous wisteria trees that come into full bloom in the spring. The shrine is located in Nara Park, and there are over a 1,000 deer roaming the grounds that are considered messengers from the gods. The temple's Treasure House is home to around 3,000 items, including artifacts and paintings, many of which are National Treasures and Important Cultural Properties.
Thousands of lanterns representing a long history
Kasuga-taisha Shrine is famous for Japan's largest number of lanterns, with 2,000 stone lanterns and 1,000 hanging lanterns within the shrine premises. Since 800 years ago, people, including aristocrats and warriors, have dedicated lanterns for many kinds of wishes, such as family safety, prosperity in business and survival on the battlefield. Lanterns covered with moss speak for themselves as to how long they have been standing there. During Mantoro, a shrine event held in February and August, all of the 3,000 lanterns are lit, creating an overwhelmingly beautiful sight.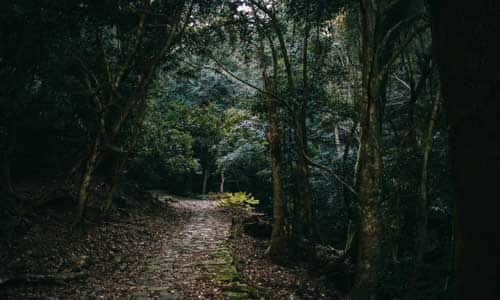 Mount Kasuga Primeval Forest: A natural wonder untouched for centuries
Designated as a National Natural Monument and a World Cultural Heritage site, this primeval forest covers a vast area in the vicinity of Kasuga-taisha Shrine. Since hunting and felling were banned over 1,100 years ago, Mount Kasuga Primeval Forest has remained untouched as a sanctuary of the shrine, retaining some impressive features, such as trees that are hundreds of years old and two meters in diameter, and over 800 kinds of fauna and flora species, including designated Natural Monuments. The paved walking trails here also make it an ideal place for strolling and hiking.
Mount Wakakusa: a symbol of Nara
Mount Wakakusa is a grass-covered, gentle hill that is ideal for casual hiking. From the summit, you can look out over the city of Nara and see many landmarks, including the Great Buddha Hall and Nara Park, and even Yamato Sanzan (Three Mountains of Yamato) in the distance on a sunny day. The night view here was selected as one of the new top three night views in Japan, and at the annual winter event, called Wakakusayama-yaki, the mountain is set alight with fires, turning the night sky over the ancient capital an amazing glowing red.
Location
Name
Kasuga-taisha Shrine
Website
http://www.kasugataisha.or.jp/about/index_en.html
Address
160 Kasugano-cho, Nara-shi, Nara
Access
From Nara Station on the JR Yamatoji Line or the Kintetsu Nara Line, take the Nara Kotsu Bus bound for Kasuga Taisha Honden for approximately 15 minutes and get off at the Kasuga Taisha Honden bus stop.
Take the Nara Kotsu Bus on the Clockwise Loop Line for approximately 10 minutes, get off at the Kasuga Taisha Omotesando bus stop and walk for approximately 10 minutes.
Business Hours
Main shrine building: 6:30 to 17:30 (7:00 to 17:00 between November and February)
Museum: 10:00 to 17:00 (Last admission at 16:30)
Manyo Botanical Garden: 9:00 to 16:30 (9:00 to 16:00 between December and February)
Inquiries
TEL: 0742-22-7788
Admission
Entry to the main shrine building is free, except for the corridor area (500 yen)