Mount Tsurumi (Beppu Ropeway)
Beppu Ropeway goes up Mount Tsurumi, with an altitude of 1,375m. Mount Tsurumi is an active volcano located east of Aso-Kuju National Park, and it's also the source of the Beppu Onsen in Beppu City, Oita.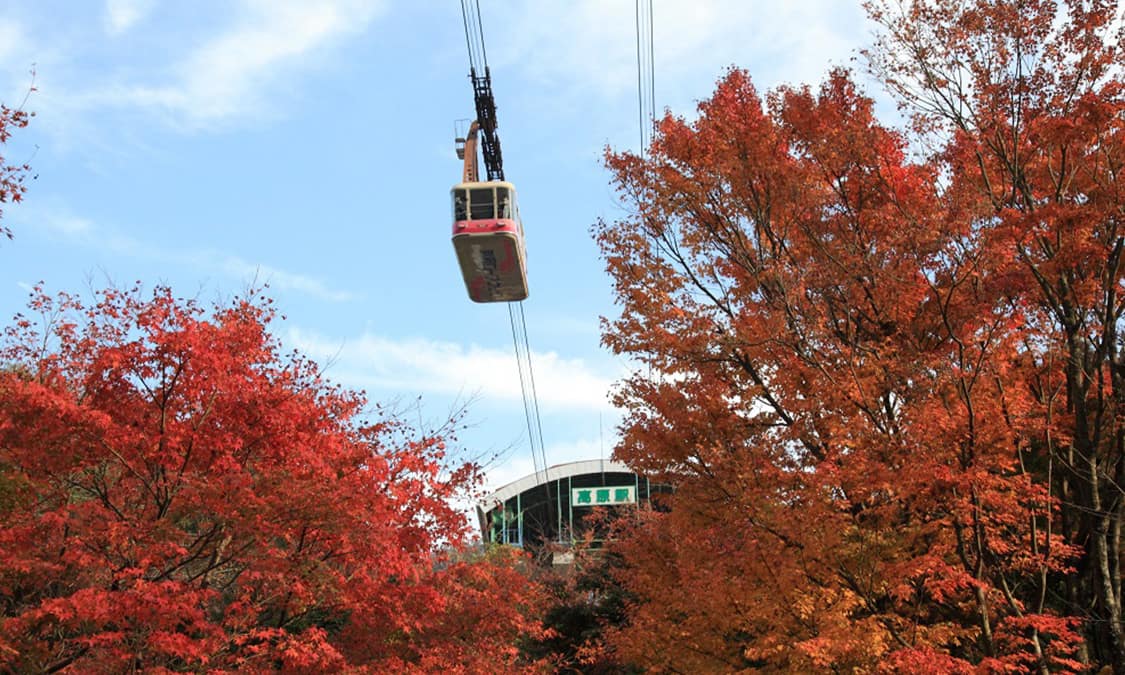 The Beppu Ropeway is Kyushu's largest, with a capacity of 101 passengers, and it only takes about 10 minutes to reach the altitude of 1,300m! Anyone can feel free to rise above Mount Tsurumi and enjoy the cherry blossoms in spring, the Miyama Kirishima flowers that are only seen in the high mountains of Kyushu, the silver frost spreading across the land in winter, and all the unique seasonal nature. Also, at top of Mount Tsurumi, which has become an object of worship, the gods of wisdom and power "Yamagami Gongen" and the Seven Lucky Gods are enshrined and visitors can also worship while enjoying nature.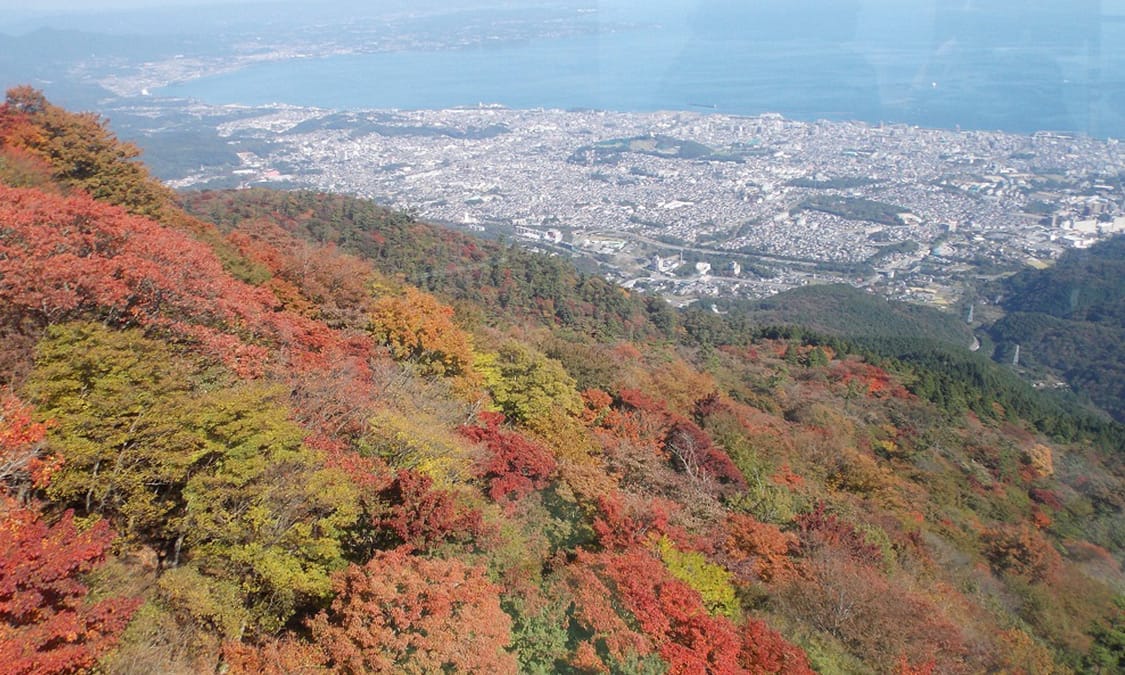 Autumn is the best time to enjoy Mount Tsurumi! The view from the top down to the Beppu townscape and the sea is breathtaking and if the weather is clear you can also see Shikoku. Autumn leaves begin in the middle of October and gradually color the mountain from top to bottom. The view of the contrast between the colors of the blue Beppu Bay and the red and yellow autumn leaves interweaving from the ropeway is spectacular. At the foot of the mountain "October Sakura" and "Winter Sakura" cherry blossoms bloom, and in November the autumn leaves join them for a rare and beautiful sight. (Autumn leaves are from mid-October to November, October Sakura/Winter Sakura can be viewed from October to December.)
"Beppu Kogen Station" located at the foot of Mount Tsurumi was renovated in July, 2018! The inside of the station is now bigger and brighter, and with digital time schedules and mountain top relay displays in four languages ​​(Japanese, English, Chinese (traditional and simplified), Korean), it has become a station that can provide easy-to-understand and easy-to-follow guidance to many people.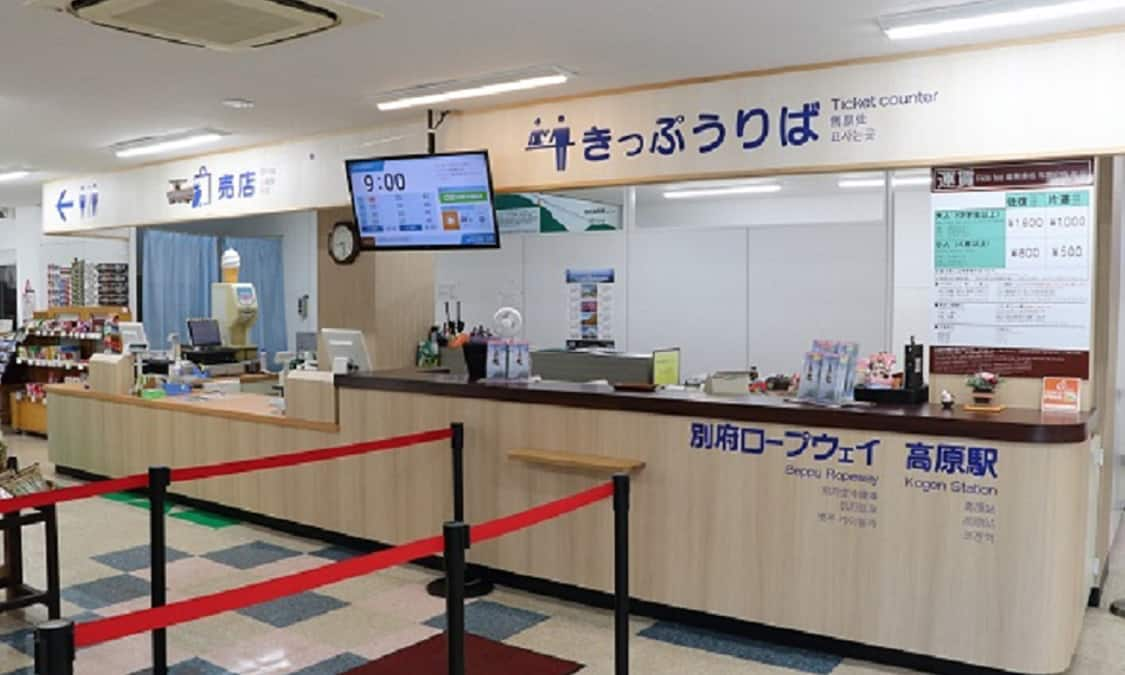 Take a trip to the top of Mount Tsurumi and enjoy its abundant nature using the comfortable station and ropeway.
Location
Name
Mount Tsurumi (Beppu Ropeway)
Web Sites
(In Japanese) http://www.beppu-ropeway.co.jp/facilities
Address
10-7 Samuhara, Minamitateishi, Beppu-shi, Oita
Access
Around 15 minutes by car from JR Beppu Station
Around 5 minutes by car from the Beppu IC, Oita Expressway
Around 20 minutes by bus from JR Beppu station
(Kamenoi Bus: JR Beppu station west entrance, number 1 bus terminal,
Sightseeing express bus "Yufurin," about 40 minutes via Kannawa)
Business Hours
Ropeway operation time 
9:00 - 17:00 (9:00 - 16:30 from November 15th until March 14th)
The ropeway operates at 20-minute intervals. Frequency may be increased when busy.
Inquiries
TEL:0977-22-2278
Admission
Adult (Junior high school and older)
Return 1,600 yen, one-way 1,000 yen
Children (4 years old to elementary school age)
Return 800 yen, one-way 500 yen