Bungo Mori Roundhouse is a railway yard formally used for steam locomotives in Bungo Mori Roundhouse Park in Kusu-gun, Oita. Inside the park there is a railway museum, "Roundhouse Museum," designed by Kyushu cruise train designer Mr. Eiji Mitooka, that provides fun for adults and children alike. Bungo Mori Roundhouse was completed in 1934 along with the opening of all lines of the Kyudai Main Line. It played an important role as a relay point between Kurume and Oita. At its peak, it had 25 steam locomotives that carried over 5,000 passengers per day. Kusu flourished as a railway town. Also, in wartime, it became a base for military transportation and was even strafed by the U.S. military. There are still bullet holes in the walls from that incident.

The roundhouse became obsolete with the switch to diesel locomotives in 1970. However, it remains unchanged and continues to convey the history it experienced. Bungo Mori Roundhouse/Turntable became a registered National Tangible Cultural Asset in 2012 as the only railway roundhouse existing in Kyushu.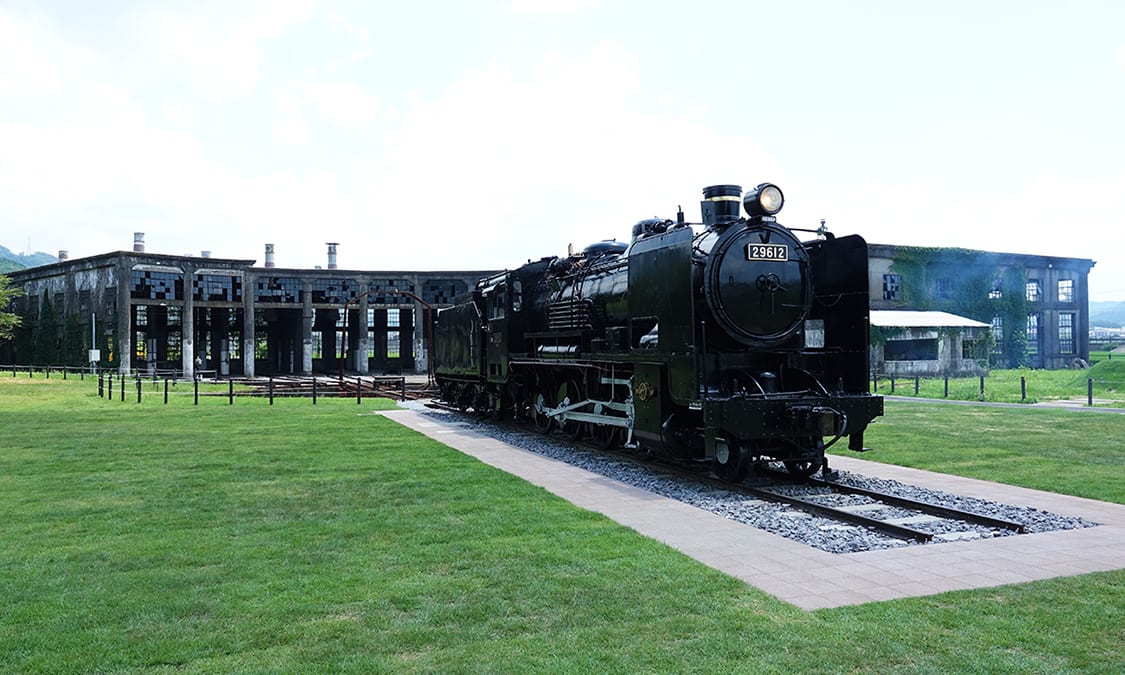 There were requests for storage from inside and outside the town. It was transferred free of charge from Shime-machi in Fukuoka and restored and relocated to the front of the roundhouse in June of 2015. After its relocation, periodic cleaning by a local residents' group is held every month.
"Roundhouse Museum," designed by famous industrial designer Mr. Eiji Mitooka, known for the cruise train "Seven Stars in Kyushu" and other work. Inside the museum there's information on the history of the roundhouse, exhibits of Mr. Eiji Mitooka's work, the "Pool of Trees," and a picture book corner for children to enjoy, making it a place that children and adults can enjoy.
Location
Name
Bungo Mori Roundhouse
Web Sites
(In Japanese) http://kusumachi.jp/pg559.html
Address
36-15 Iwamuro, Kusu-machi, Kusu-gun, Oita
Access
Get off at JR Kyudai Main Line "Bungo Mori Station" and walk 3 minutes
3 minutes by car after getting off at the Kusu Interchange
Business Hours
Bungo Mori Roundhouse Park is open 24 hours a day year-round.
Roundhouse Museum: 10:00 to 16:00
Inquiries
TEL:0973-72-7153 (Kusu Town Hall Commerce and Tourism Promotion Division, Commerce and Tourism Section)
Admission
Bungo Mori Roundhouse Park: Free admission
Roundhouse Museum: Entrance 100 yen
Scheduled holidays
Roundhouse Museum:Every Monday (the following day when a national holiday falls on Monday)