A city park in the middle of Osaka symbolized by the historic castle tower
Osaka Castle Park is a vast park located in the center of Osaka, with various facilities including the Osaka Castle Main Tower, Nishinomaru Garden, plum grove and Osaka-Jo Hall. It is also known for its beautiful seasonal flowers such as plums, cherry blossoms and azaleas. The inside of the five-layer, eight-floor castle tower is a history museum, and you can experience wearing war helmets and see actual Warring States Period (late 15th century to mid-16th century) materials such as armors and letters written by warriors.
Gozabune is a sightseeing boat that cruises around the inner moat of Osaka Castle in about 20 minutes. Enjoy an up-close tour of various sites to truly experience the size and beauty of the castle, such as the stone wall said to be the highest in Japan, as well as a stunning view of the castle tower from the waters. The golden gozabune is adorned with about 3,000 pieces of gold leaf, and also introduces the history of Osaka Castle during the boat trip.
Samurai and ninja experience with Japan Tatedo Association
"Tate" is a samurai action technique used on stage or in films. Experience the tate at Miraiza Osaka-Jo, a facility in front of the castle tower where you can experience being a samurai or ninja. Instructors guide you on how to use and fight with swords in an easy-to-understand and fun way with an emphasis on Japanese samurai culture. You will change into a kimono and start by sitting on your heels and taking a bow. Using a wooden sword, learn the basics such as how to hold and cut with swords, and finally perform a one-minute action scene against a samurai. The samurai experience course can be enjoyed by anyone from children to adults. In the special Ninja course, you can practice throwing shuriken (ninja stars) and train in swordplay.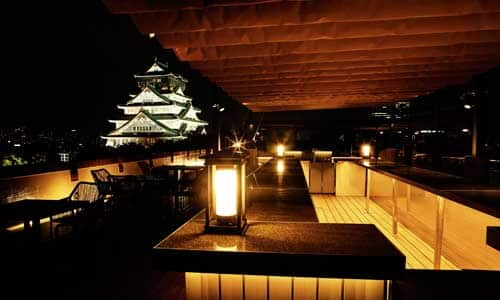 BLUE BIRDS ROOF TOP TERRACE
The open-air restaurant opens during the spring to fall for terrace barbeques. Located on the rooftop of the top floor of Miraiza, it offers a panoramic view of the castle tower and Osaka Castle Park. Enjoy a barbeque of select ingredients along with the view of Osaka Castle Tower and the cityscape, and the lush greenery of Osaka Castle Park. Various events are held throughout the year for cultural experiences as well.
Location
Name
Osaka Castle Park
Website
https://www.osakacastlepark.jp/?lang=en
Address
Osaka Castle, Chuo-ku, Osaka-shi, Osaka
Access
Approximately 7 minutes' walk from Tanimachi 4-chome Station on the Osaka Metro Tanimachi Line
Approximately 7 minutes' walk from Tanimachi 4-chome Station on the Osaka Metro Chuo Line
Approximately 6 minutes' walk from Osaka Business Park Station on the Osaka Metro Nagahori Tsurumi-ryokuchi Line
Approximately 10 minutes' walk from Osakajokoen Station on the JR Osaka Loop Line
Approximately 10 minutes' walk from Osakajokitazume Station on the JR Tozai Line
Approximately 9 minutes' walk from Temmabashi Station on the Keihan Electric Railway
Inquiries
TEL: 06-6755-4146 (Osaka Castle Park Center)