A townscape of lime plastered folk houses takes you to the past
In the Taiheiji district of Kashiwara City in Osaka Prefecture, there is a cluster of historic folk houses. From the slope leading to Kannon-ji Temple, the road that stretches like a maze is lined with lime plastered homes and clay storehouses, taking you back in time. The area's main street has been renovated into a stone-paved road to blend with the landscape. Combined with the Japanese-style streetlamps, it creates a nostalgic atmosphere perfect for strolling.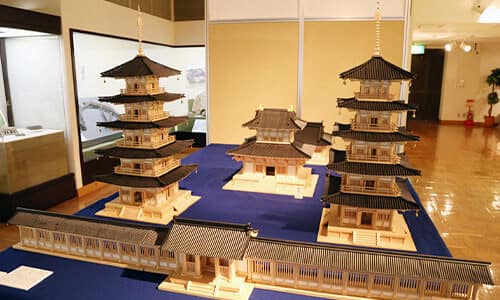 Ruins of Chishiki-ji Temple
The ruins of Chishiki-ji Temple are situated within the grounds of Iwa Shrine. The temple was founded in the 7th century by a group of devout Buddhists called Chishiki (wisdom) who provided assets and labor to build temples and Buddhist statues. As recorded in "Shoku Nihongi," a history text completed at the end of the 8th century, the emperor at the time was so impressed by the magnificence of the Vairocana Buddha statue of Chishiki-ji Temple that it led to the construction of the famous giant Buddha statue of Todai-ji Temple. While they are no longer in existence, it is presumed that there were temple grounds about 120 square meters consisting of the east pagoda, west pagoda, inner gate, main hall and lecture hall, and the pagodas are believed to have been 50 meters high and five stories.
Iwa Shrine and majestic camphor tree
Standing on the hillside of Taiheiji district, Iwa Shrine is where Empress Iwanohime, the empress of Emperor Kinmei, is enshrined. The majestic camphor tree in front of the torii gate is about six meters in circumference, over 26 meters tall and estimated to be around 800 years old. It is designated as a natural monument of Osaka Prefecture. In the precincts, there is a cornerstone of the east pagoda of Chishiki-ji Temple, which is also designated as a prefectural cultural asset.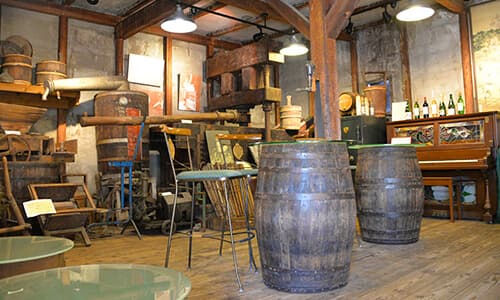 Grapes are one of the specialties of Kashiwara City. From the late 19th century, the city has been one of the largest producers of grapes in Japan, and by the beginning of the 20th century, the wine brewing industry also flourished. Said to be the oldest winery in western Japan, Katashimo Winery's grape storehouse was built in the Taisho Era (1912-1926) and is a registered National Tangible Cultural Property. It is still in use. Visitors can tour the winery and vast vineyard spread across a large part of the Taiheiji district. In the tasting room on the second floor of the storehouse, learn about the history of winemaking from the exhibition of old brewing equipment and enjoy winetasting in the museum-like atmosphere.
Location
Name
Townscape of Taiheiji
Website
(In Japanese) http://www.city.kashiwara.osaka.jp/docs/2017092500026/
Address
2 Taiheiji, Kashiwara-shi, Osaka
Access
Approximately 10 minutes' walk from Ando Station on the Kintetsu Railway Osaka Line
Approximately 20 minutes' walk from JR Kashiwara Station
Inquiries
TEL: 072-972-1554 (Industral Development Office, Citizen Department, Kashiwara City Hall )