Garden with a connection to the Takeo lords of the Saga Domain
Mifuneyama Rakuen, in Takeo-cho in Takeo-shi in Saga, is a garden that offers beautiful scenery in all four seasons, including the beautiful colored leaves of autumn and cherry blossoms and azaleas in spring. It also holds events such as night-time illuminations and digital art presentations, adding to the enjoyment of the gardens after dark.
Mifuneyama Rakuen was built in 1845 on the former site of the holiday villa of Lord Nabeshima Shigeyoshi. Nabeshima Shigeyoshi was a very progressive figure in the Edo Period, actively introducing Rangaku, or studies of Western knowledge, and successfully manufacturing Western-style cannons and steamboats. To build the garden, he invited an artist of the Kano School, the official artists of the Shogunate, down from Kyoto to create an artist's rendering of the completed gardens.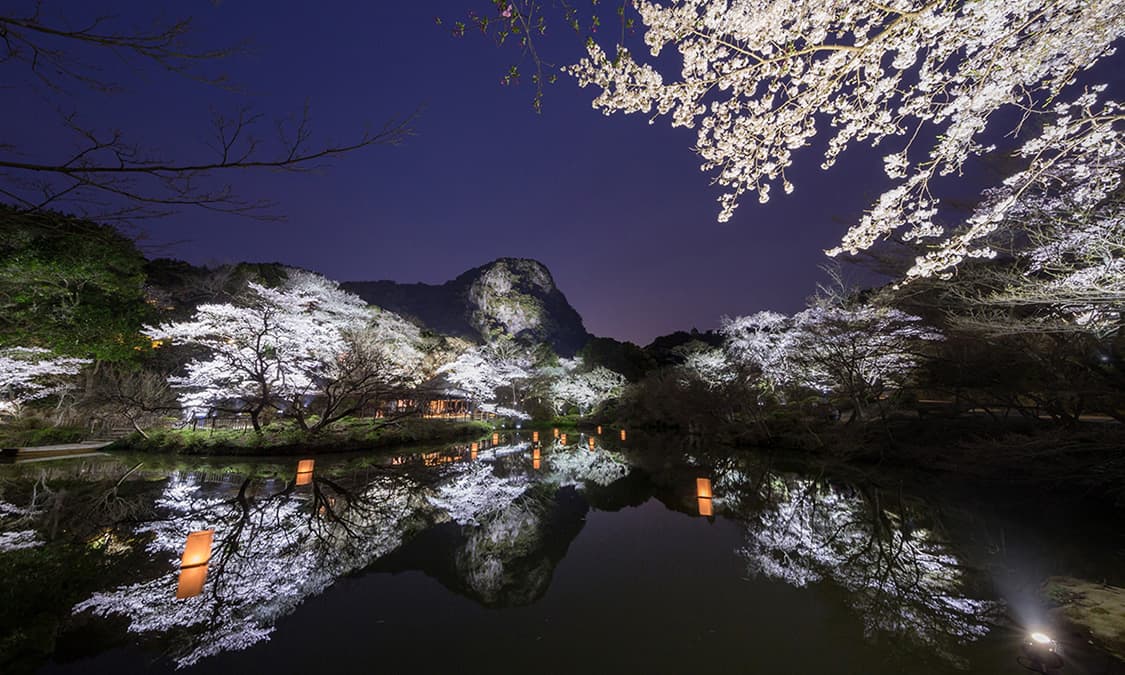 The gardens have different faces for all four seasons.
In spring, 2,000 cherry trees, 200,000 azaleas, and wisterias bloom in succession in a relay of flowers. In summer, the gardens feature a photogenic display of digital art, attracting many visitors. In autumn, the leaves turn into a riot of vibrant colors. The colored leaves are lit up at night. Their reflections in the pond creates a magical atmosphere.
Location
| | |
| --- | --- |
| Name | Mifuneyama Rakuen |
| Web Sites | (In Japanese) https://www.mifuneyamarakuen.jp/ |
| Address | 4100 Takeo, Takeo-cho, Takeo-shi, Saga |
| Access | 10 minutes' drive from the Takeo-Kitagata Interchange on Nagasaki Expressway |
| Business Hours | 8:30 - 17:00 |
| Inquiries | TEL: 0954-23-3131 |
| Event Location | Adults: 400 yen / Children 200 yen (varies by season) |