Kyushu OLLE Ureshino Course

Hike the Ureshino Course on the Kyushu OLLE hiking trail in Ureshino City, Saga. For even more enjoyment of Ureshino Onsen, we recommend first working up a sweat with some hiking and trekking. When you grow tired from all that walking, nothing beats easing your aching feet in one of the foot spas. Kyushu OLLE is a series of trekking courses that offer the enjoyment of the beautiful views and delicious food of the various regions in Kyushu. Of all the Kyushu OLLE courses, the Ureshino Course is a course for more advanced walkers. Starting from Ceramic Town, where the art of ceramics has been passed down over many generations, you will walk alongside richly green tea fields and through natural forests, and finally enjoy the hot springs of Ureshino Onsen.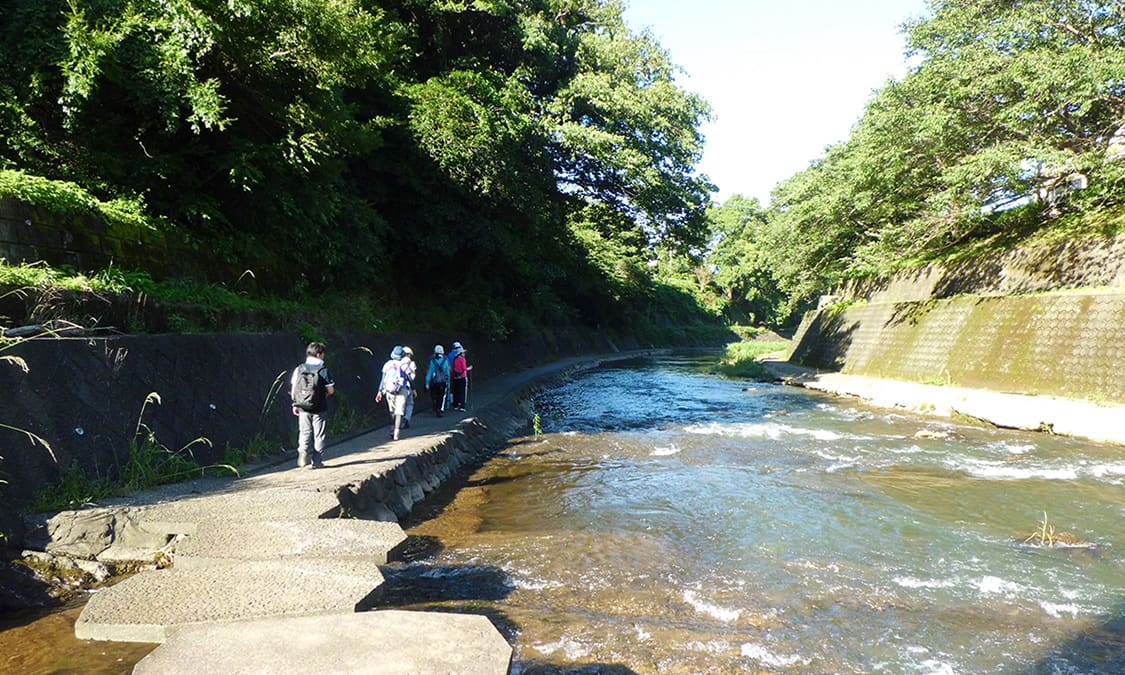 Ureshino has a diverse range of unique tea fields. Some fan out like an ocean, others seem to crawl along the mountain ridges, and still, others are surrounded by beautiful stone walls. The unique beauty of these different fields can be enjoyed because of Ureshino's basin topography.
The area around Nishi Yoshida Gongen and 13 Buddha statues is the toughest section of the Ureshino Course. The mountain paths are enveloped in serene silence and the oddly-shaped rocks scattered along the course have a mystical air. Climb onto the rock platform and you will arrive at Gongen, enshrined as the "god of water", where people have come to pray for abundant harvests since ancient times. Surrounding Gongen, 13 Buddha statues watch over the safety of the travelers.
The richly green nature trail of the "22nd Century Asian Forest" and the promenade along the Ureshino River from Todoroki Waterfall are just some of the easier sections of the Course, where you can enjoy the natural surroundings. When you finish the course, ease your tired feet in the foot spas of "Ureshino Onsen, one of Japan's three best hot springs for beautiful skin."
Location
Name
Kyushu OLLE Ureshino Course
Web Sites
https://www.welcomekyushu.com/kyushuolle/?mode=detail&id=16
Address
Hizen Yoshida Ceramics Hall, 4525-1 Yoshida-tei, Ureshino-machi, Ureshino-shi, Saga (Start Point)
Access
10 minutes' drive from the Ureshino IC on Nagasaki Expressway
2 minutes' walk from the Kamisaraya Bus Stop on the Yutoku Bus
Inquiries
TEL: 0954-42-3310 (Ureshino Onsen Tourism Division, Ureshino City Office)