Traditional Storehouse District

"Tastes of JAPAN by ANA" is a regional vitalization project that collaborates with the different prefectures in Japan to present the Land of the Rising Sun in all of its diverse glory.
Become immersed in the quaint Edo period townscape in Kawagoe, Saitama Prefecture
Just a short trip from Tokyo, the city of Kawagoe gives visitors a taste of the history and culture of Japan in the Edo period (1603-1868), gaining itself the nickname Koedo, or Little Edo. Travel back in time and immerse yourself in the retro atmosphere with a stroll through town dressed in a rented kimono, or by enjoying the popular gourmet food.
"Toki-no-Kane" Bell Tower
"Toki-no-Kane" Bell Tower has been the beloved symbol of Kawagoe since the beginning of the Edo period, announcing the hours to locals of the castle town. It is said to have been built around 400 years ago by Tadakatsu Sakai, lord of the Kawagoe domain at the time, and while both the tower and bell has suffered damages by fire numerous times, they were reconstructed each time. The current tower is the fourth reinstallment after it was burned in a great fire in 1893. The bell tolls four times a day at 6:00, 12:00, 15:00 and 18:00, and evokes varying senses of nostalgia with the different weather, scenery, and aroma around its listeners.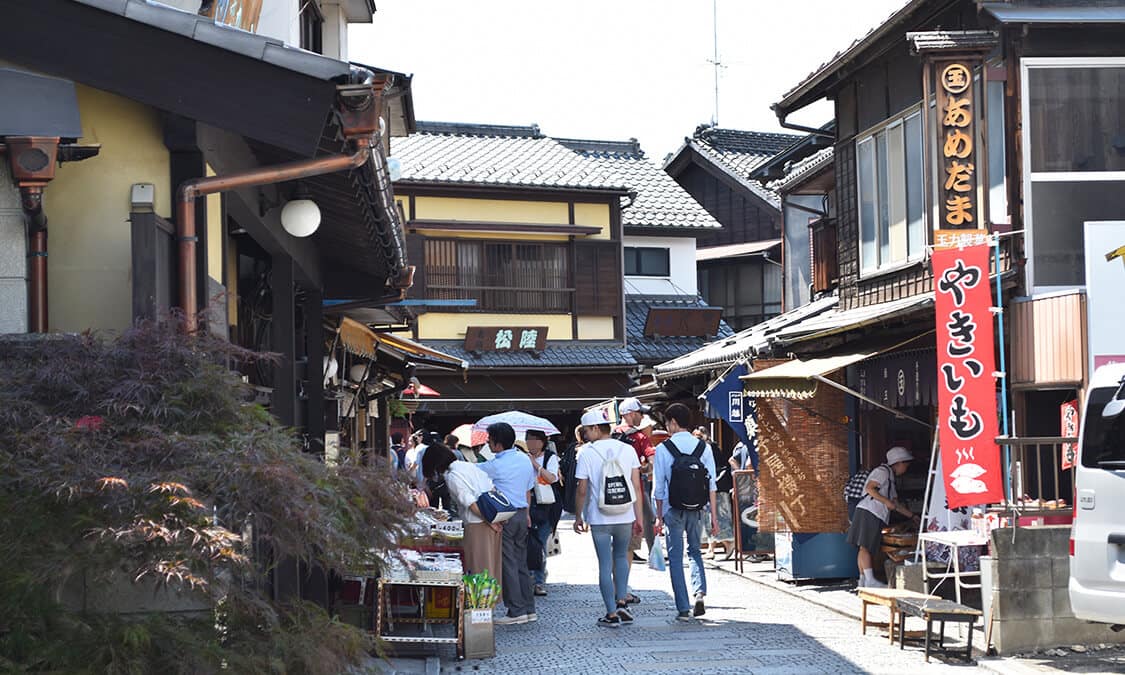 "Kashiya Yokocho" Candy Alley
Feel like a child again as you choose your favorite penny candies (called dagashi) in the approximately 20 old-fashioned candy shops located near the Storehouse District. Irresistible sweets await, such as ones made from Kawagoe's specialty sweet potatoes, candies handmade by artisans and long and fluffy fugashi snacks toasted by hand. The alley is bustling with adults who are nostalgic about the treats from their childhood as well as children who find the retro candies just as delightful.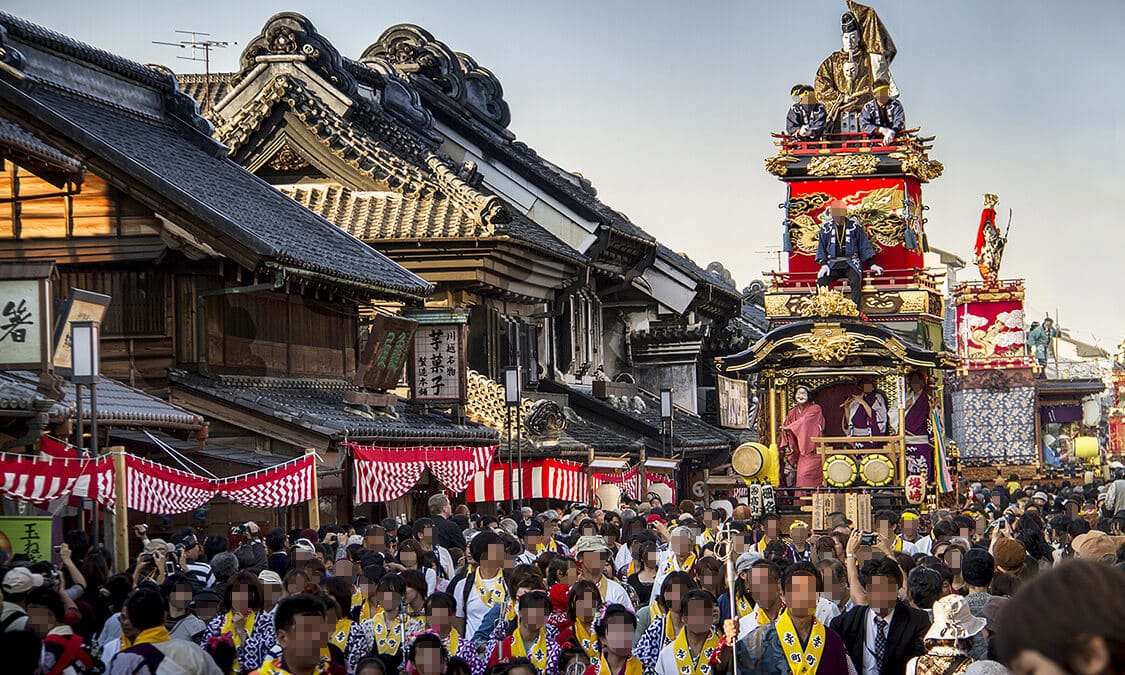 The most exciting time of the year in Kawagoe, the annual festival is held on the third Saturday and Sunday of October. During the festivities, lavishly decorated floats carrying elaborate dolls parade around the town centering on the Storehouse District. The highlight is the Hikkawase, when several floats face each other and compete in energetic music performance as onlookers cheer with raised lanterns. The spectacular festival is inscribed on the UNESCO Intangible Cultural Heritage List as one of the "Yama, Hoko, Yatai, float festivals in Japan."
Location
Name
Traditional Storehouse District
Web Sites
http://www.pref.saitama.lg.jp/chokotabi-saitama/eng/things/history/01.html
Address
Motomachi, Kawagoe-shi, Saitama
Access
Approximately 10 minutes' walk from Honkawagoe Station on the Seibu Shinjuku Line
Approximately 20 minutes' walk from Kawagoe Station on the JR Kawagoe Line and Tobu Tojo Line
Closed
Differs among shops
Inquiries
TEL: 049-222-5556 (Kawagoe Station Tourist Information Office)