Museum of Tabi and Daily Life

Gyoda, a town specializing in tabi socks that continue to support the feet of Japanese attire
Gyoda, a city in northern Saitama Prefecture, is about an hour by train from central Tokyo. Since around 300 years ago, the town began producing tabi, a sock-like accessory worn with a Japanese kimono. Gyoda is the largest producer of tabi in Japan, and at its peak, it boasted around 80% of the share of the nation's total tabi production. This Museum of Tabi and Daily Life was formerly a tabi factory building from the early 1900s and was recreated as a museum preserving its original appearance. In the Museum of Tabi, visitors can see valuable exhibits as well as demonstrations of traditional techniques by tabi craftsmen and observe the process of how these techniques are used to make tabi. Discover the world of tabi, an indispensable part of Japan's kimono culture.
History of Gyoda and tabi
Gyoda flourished as the castle town of Oshi Castle, said to have been built in the middle of the Muromachi period (late 15th century). The town used to be a cotton producer with a location close to the road connecting the two major commercial areas of Edo and Nikko, which made tabi-making for travelers and other workers popular. It is also said that the manufacturing of tabi was encouraged as a side job for samurai in the Edo period. In the Meiji period (1868-1912), sewing machines were introduced and mass production became possible, leading to further development of Gyoda's tabi industry.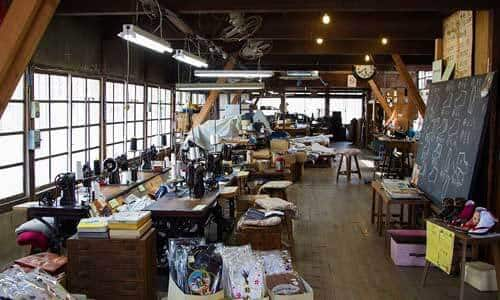 Museum of Tabi and Daily Life
The Museum of Tabi and Daily Life is located at the center of Gyoda, about a five-minute walk from Gyodashi Station on the Chichibu Railway. The building was built in the early 1900s and operated as a tabi factory until 2005, and then was renovated as a museum that retains the look of the time when it was originally in operation. It is now open to the public on Saturdays and Sundays. The sewing machines introduced from Germany about 100 years ago are still in operation, and visitors can observe demonstrations of the various processes split into several phases by veteran craftsmen, from the cutting of the fabric to the shaping after sewing. A hands-on tabi-making workshop is held on the second Sunday of every month, and anyone can participate with advance reservations.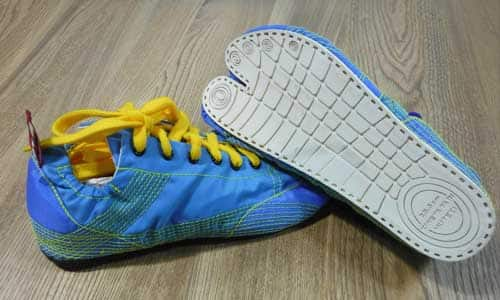 The Mansion of Tabi is a working tabi factory. In addition to observing the manufacturing process of tabi, the staff can also help you find the perfect tabi to fit your feet. Experience the unique, snug-fit feeling of tabi that sets it apart from regular socks. The barefoot-like feeling brought by the fit has also led to the development of Running Tabi, which helps the wearer regain the natural way of walking and running.
Location
Name
Museum of Tabi and Daily Life
Website
(In Japanese) https://www.tabigura.net/tabihaku.html
Address
1-2 Gyoda, Gyoda-shi, Saitama
Access
Approximately 5 minutes' walk from Gyodashi Station on the Chichibu Railway
From Fukiage Station on the JR Takasaki Line, take the Asahi Bus via Maetani (15 minutes), get off at Shoko Center-mae bus stop and then walk approximately 1 minute
From Fukiage Station on the JR Takasaki Line, take the Asahi Bus via Sama (15 minutes), get off at Shinmachi Icchome bus stop and then walk approximately 3 minutes
Business Hours
10:00 to 15:00
Closed
There are summer closing days.
Winter closing days: Mid-December to mid-January
Please see the website for details.
Inquiries
TEL: 048-552-1010 (Museum of Tabi and Daily Life)
Admission
General admission: 200 yen; Elementary school students: 100 yen
Others
Please check the homepage for details of the Tabi-no-Maki.
(In Japanese) http://kineyatabi.co.jp/kineya/