Cherry blossoms and historic sites await at Tenpyo-no-Oka Park in Shimotsuke, Tochigi Prefecture
Tenpyo-no-Oka Park is home to valuable historic sites and around 500 cherry blossom trees, including descendants of Japan's best three cherry blossoms: Neodani Usuzumi Zakura (Gifu Prefecture), Yamataka Jindai Sakura (Yamanashi Prefecture), and Miharu Takizakura (Fukushima Prefecture), as well as Morioka Ishiwari Zakura (Iwate Prefecture). Gathered in one park, these famous descendants blossom over a span of about a month, starting with the Usuzumi Zakura in late March to the Yaezakura variety at the end of April. In particular, the late-blooming Yaezakura, planted in various areas across the park, are quite spectacular.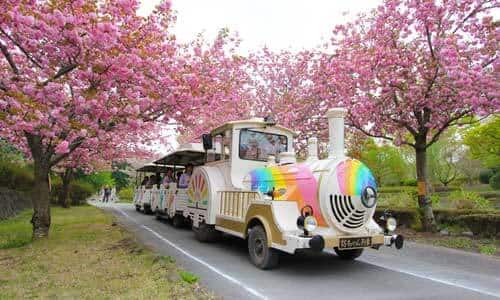 The famous Flower Festival held at Tenpyo-no-Oka Park is a spring tradition of Shimotsuke City. During the period, the flower field in the park is busy with market booths of local shops and various stage events. The whole family can enjoy a fun ride on the Bocchan Ressha road train through a tunnel of beautiful cherry blossom trees.
Shimotsuke To-ou-e Tenpyo Summer Candle Light
The fantastical event is held over three days in the summer when Tenpyo-no-Oka Park glows with the light of numerous candles. About 4,000 cup-shaped lanterns are placed around the park, mainly at the old folk house Yoake-mae and Mount Kunimi, a man-made mountain shaped like the Zenpo-koen-fun (keyhole-shaped burial mound literally meaning "square-front and round-rear mound"). There is also an area where visitors can light their own lantern and make a wish (fees apply).
10 picnic tables (old folk house Yoake-mae)
"10 picnic tables" is a delicatessen cafe located in the public space of the old folk house Yoake-mae. Enjoy a picnic with delicious bento boxes of Italian-style deli with a Japanese twist, coffee, and sweets. Pets are allowed on the terrace and porch seating, making it a great stop during a walk.
Location
Name
Tenpyo-no-Oka Park
Website
https://travel.tochigiji.or.jp/en/things-to-do/94/
Address
993-1 Kokubunji, Shimotsuke-shi, Tochigi
Access
Approximately 10 minutes' drive from JR Koganei Station
Approximately 20 minutes' drive from the Tochigi IC on the Tohoku Expressway
Approximately 15 minutes' drive from the Mibu IC on the Kita-Kanto Expressway
Closed
Open all year round
Inquiries
TEL: 0285-32-8907 (Shimotsuke City Department of Commerce, Industry and Tourism)
TEL: 0285-39-6900 (Shimotsuke City Tourism Association)
Others
Parking fee: applies only from April 10 to 30
Standard car: 400 yen; Small bus: 800 yen; Large vehicle: 1,000 yen