Enjoy the steaming fragrance at the oldest hot spring in Tochigi Prefecture
The birthplace of the famed Nasu Onsen hot spring resort, Shikanoyu is the oldest hot spring in Tochigi Prefecture with around 1,390 years of history. The Shikanoyu public bathhouse is located near the Sessho-seki ("killing stone"), a tourist spot in Nasu. The sulfur spring water is characterized by its milky white color, and the surrounding distinctive fragrance helps to heighten the hot spring mood. The nostalgic building is reminiscent of its original appearance around a century ago, symbolic of the historical therapeutic bath resort.
Sessho-seki, the killing stone with a legend of the nine-tailed fox
A bleak scenery of only jagged rocks and no vegetation, Sessho-seki is a mysterious area that is quite different from the green mountains of the Nasu Highlands. It is also known as a historic site associated with the myth of the nine-tailed fox that troubled ancient India and China. The area exudes a mystifying atmosphere surrounded by the scent of sulfur. During the Gojinkasai fire festival held every May, a procession of participants dressed in white attire and holding up torches walk from Nasu Onsen Shrine to the Sessho-seki.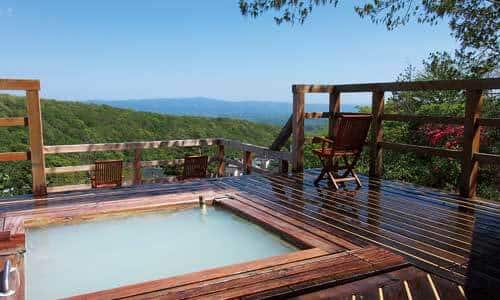 Enjoy the scenic view from Matsukawaya Nasukogen Hotel
Located atop a hill in the Nasu Highlands, Matsukawaya Nasukogen Hotel boasts an outdoor bath with one of Nasu Onsen's best views. The natural sulfur spring sourced from Shikanoyu is one of the most abundant in volume in the Nasu Yumoto area. In addition, the hotel also offers a skin beautifying hot spring bath so visitors can enjoy two types of hot springs, which are offered in their completely natural form with no alterations. At night, relax in the quietness of the surrounding area and listen to the breathing of the forest. This is an ideal hotel to relax and unwind.
Konbairo-no-Yu footbath in front of Nasu Onsen Shrine
Take a break at this free footbath facility located right in front of the entrance to Nasu Onsen Shrine. The wooden building has two footbath tubs, and you can casually relax in the hot spring without much strain on the body just by dipping your legs from your knee down. The hot spring is known to treat sensitivity to coldness, skin cuts and chronic skin diseases. The name Konbairo comes from the local dialect for the Asian fawnlily flower, an elegant purple flower that adorns the Nasu Onsen area in springtime.
Location
Name
Nasu Onsen Shikanoyu
Website
https://travel.tochigiji.or.jp/en/things-to-do/18/
Address
181 Yumoto, Nasu-machi, Nasu-gun, Tochigi
Access
From JR Nasushiobara Station West Exit, take the Kanto Bus Nasu Ropeway line to the Nasu Yumoto bus stop, and then walk approximately 2 minutes
From JR Kuroiso Station West Exit, take the Kanto Bus Nasu Ropeway line to the Nasu Yumoto bus stop, and then walk approximately 2 minutes
Approximately 25 minutes' drive from the Nasu IC on the Tohoku Expressway
Business Hours
8:00 to 18:00 (Last admission: 17:30)
Closed
Open all year round (except on days for facility repairs)
Please see the website for details.
Inquiries
TEL: 0287-76-3098 (Shikanoyu)
TEL: 0287-76-2619 (Nasu Tourism Association)
Admission
Adults: 500 yen; Children (elementary school students): 300 yen; Pre-school children: Free