"Tastes of JAPAN by ANA" is a regional vitalization project that collaborates with the different prefectures in Japan to present the Land of the Rising Sun in all of its diverse glory.
An outdoor space for all to enjoy
Showa Kinen Park straddles the cities of Tachikawa and Akishima in Tokyo. Opened in 1983, the national park is built on the site of a former U.S. military base in Tachikawa as part of a project for the 50th anniversary of Emperor Showa's accession to the throne. Encompassing a total area of 180 hectares, visitors can enjoy seasonal flowers and nature, a pool during the summer season, cycling, boating, and barbecue. This urban oasis is an open field for all people to enjoy.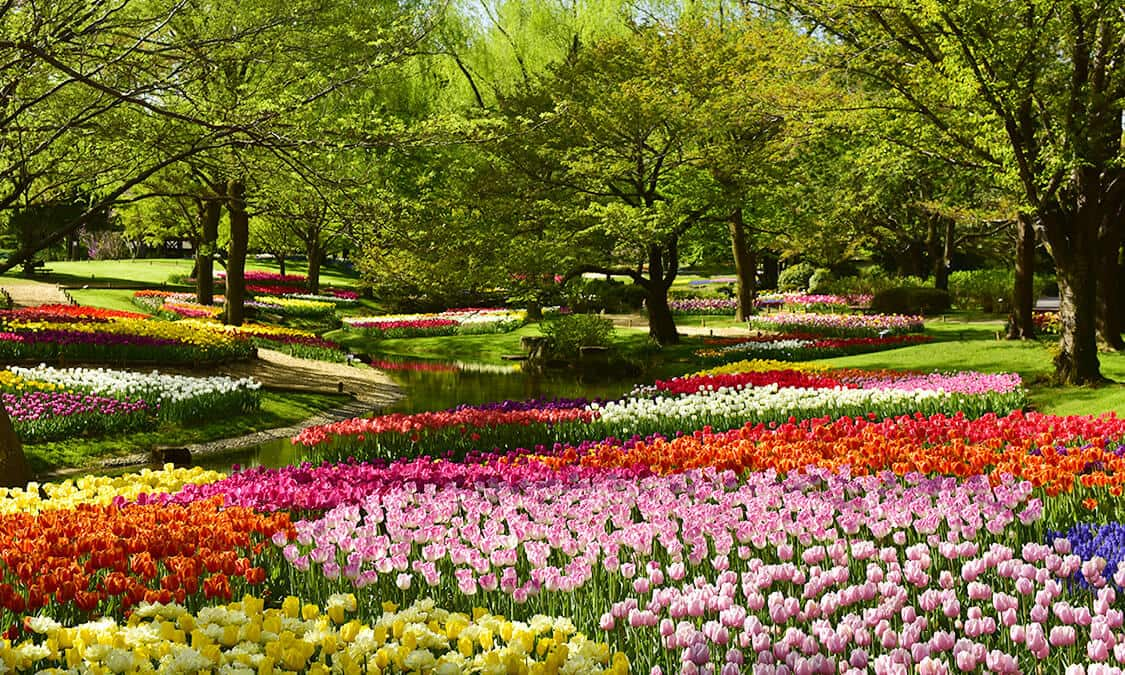 Tulip garden in the spring
The tulip garden, a key attraction of the park, is full of colorful tulips and Muscari flowering along the stream on the west side of the Open Field. The garden is modeled after the Keukenhof Gardens in the Netherlands. Depending on the year, you can even see the tulips blooming together with cherry blossoms. Springtime is the most gorgeous time of the year for Showa Kinen Park as canola flowers, cherry blossoms, tulips, and poppies bloom one after another.
Flower Hill is the largest flower garden in the park. In the fall, cosmos sensations that bloom into beautiful large flowers turn the entire hill pink. Various cosmos such as pink and yellow flowers also bloom in the East Field and the West Field Flower Gardens in the Open Field.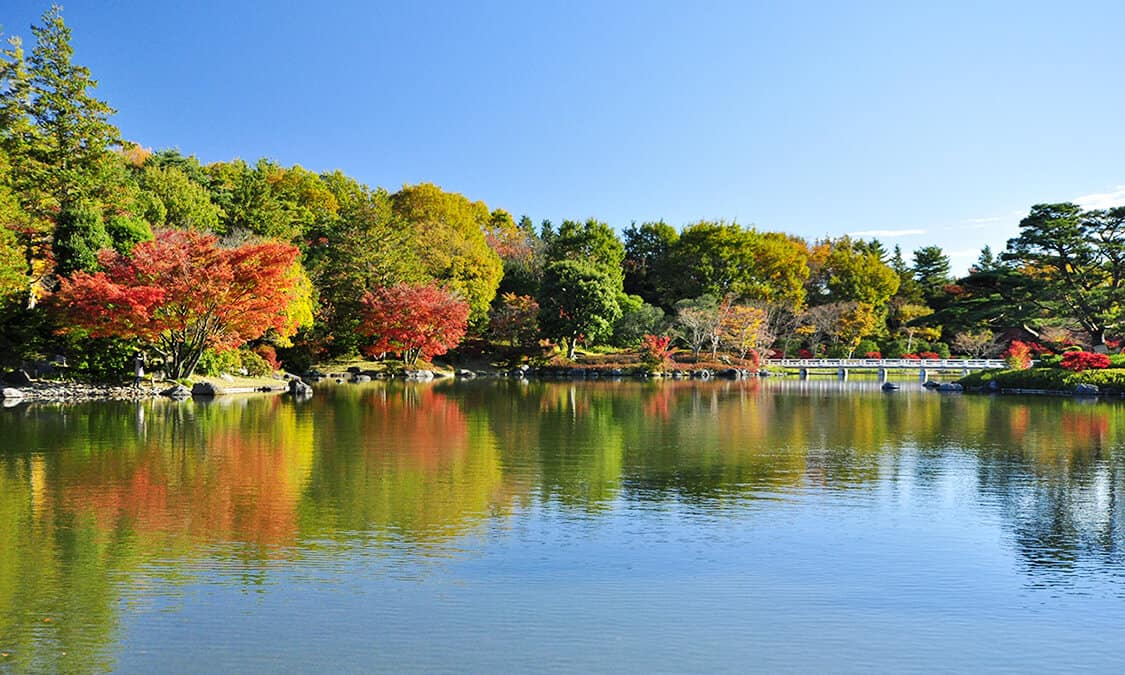 The Japanese Garden was created to celebrate the marriage of the Emperor and Empress of Japan. With a pond in the center surrounded by a strolling path, the garden provides a calming atmosphere no matter when you visit. The seasons of fresh greenery, fall foliage, and "yukitsuri" (placing of ropes or wires around trees to protect them from snow) are especially recommended. The garden also includes facilities such as the National Museum of Bonsai and Kanpu-tei, where you can enjoy matcha tea and seasonal sweets.
Location
Name
Showa Kinen Park
Website
http://www.showakinen-koen.jp/guide-english/schedule-english/
Address
3173 Midori-cho, Tachikawa-shi, Tokyo
Access
Access to Tachikawa Gate:
Approximately 15 minutes' walk from Tachikawa Station on the JR Chuo Line
Approximately 13 minutes' walk from Tachikawa-Kita Station on the Tama Toshi Monorail Line
Access to Nishi Tachikawa Gate:
Approximately 2 minutes' walk from Nishi-Tachikawa Station on the JR Ome Line
Business Hours
March to October: 9:30 to 17:00
November to February: 9:30 to 16:30
May change depending on season
Closed
Year-end and New Year's holidays (December 31, January 1), fourth Monday of February and the following day
Inquiries
TEL: 042-528-1751
Admission
Adults (age 15 and over): 450 yen; Children: Free; Senior citizens (age 65 and over): 210 yen
Group rates and annual pass also available