Mount Koya, a sacred site of religious faith with a history of over 1,200 years
The temple complex on Mount Koya (Koyasan), was established in 816 by Kukai, a monk also known as Kobo Daishi who founded the Shingon Buddhism in Japan. Comprised of 117 temples including Okunoin and Danjo Garan, which are the two most important sites in Mount Koya, as well as Kongobu-ji, which is the head temple of Shingon esoteric Buddhism, Mount Koya is known as one of Japan's most sacred mountains. The tolerance of accepting all persons regardless of ethnicity or religion is the spirit that Mount Koya has inherited over 1,200 years.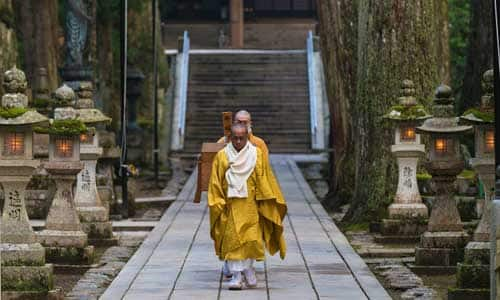 Follow the path surrounded by solemn silence to Okunoin temple where Kobo Daishi rests in eternal meditation
Located at the most sacred inner part of Okunoin is Gobyo, or the mausoleum of Kobo Daishi, who is still believed to be in a state of eternal meditation in prayer for the peace and happiness of the entire world. To this day, monks in Okunoin still offer two meals a day to Kobo Daishi as part of a ritual. The 2-kilometer path to the Gobyo mausoleum is lined with more than 200,000 tombstones of people of all classes from royal families and feudal lords to cultural figures and ordinary people among 700-year-old cedar trees.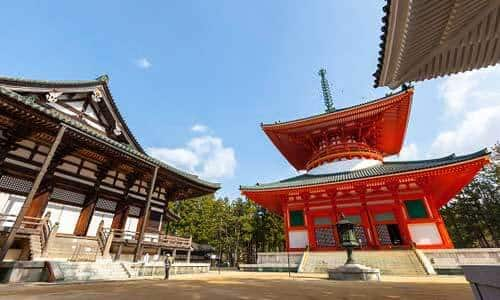 Danjo Garan, a magnificent training center where Kobo Daishi taught his disciples
Danjo Garan, which is one of the two holiest sites of Mount Koya along with Okunoin, was the first site built by Kobo Daishi as a place for ascetic training 1,200 years ago, when he selected Mount Koya as the center of Shingon Buddhism. Legend has it that Kobo Daishi sought to convey the teachings of esoteric Buddhism and its world view in a visible form through structures, statues and paintings. Among the 19 structures in the Danjo Garan Complex stand the Kondo (Golden Hall), the main hall of the entire mountain, and the symbolic 48.5-meter-tall Konpon Daito Pagoda.
Kongobu-ji, the head temple of Koyasan Shingon Buddhism
Kongobu-ji is the head temple of Koyasan Shingon Buddhism, consisting of 3,600 temples and 10 million followers throughout Japan. The first gate you walk through is the main gate, which is the oldest building in Kongobu-ji reconstructed in 1593. It is one of the largest wooden structures among the other temples on Mount Koya. Kongobu-ji is full of art and history: the beautiful Kano-style paintings on the fusuma sliding screens from the Edo Period (1603-1868); Japan's largest rock garden Banryu-tei; Mount Koya's unique Tsuchimuro, an earth room to enhance heat retention to endure the winter cold; and the large stove capable of cooking rice for 2,000 people. It offers an opportunity to enjoy art while experiencing the culture and lifestyle of modern times.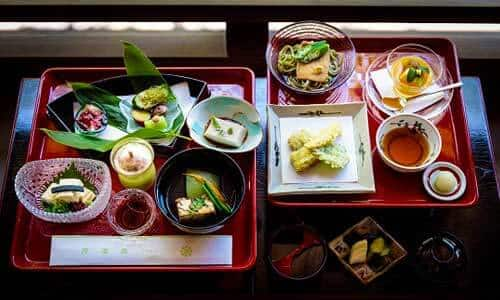 Shojin ryori, Buddhist vegetarian cuisine based on the rule of five
Shojin ryori is vegetarian cuisine made without meat, fish or other animal products based on the strict precepts of Buddhism. Originally served to the guests at the temple, Mount Koya's shojin ryori is also pleasing to the eyes and beautifully prepared in many different lacquerware dishes. Shojin ryori is based on the "rule of five," which are five flavors, five cooking methods and five colors. Every meal should offer five flavors of sweet, pungent, sour, bitter and salty and be prepared by five cooking methods consisting of raw, boiled, roasted, stewed and steamed. Also, there must be five colors to serve the food in a visually pleasing manner. In addition, what is unique about Mount Koya's shojin ryori is that there are five prohibited vegetables with overly pronounced flavors, which are onion, rakkyo (scallion), Chinese chive, garlic and ginger.
Location
| | |
| --- | --- |
| Name | Mount Koya |
| Website | https://en.visitwakayama.jp/destinations/koyasan/ |
| Address | 132 Koyasan, Koya-cho, Ito-gun, Wakayama |
| Access | Get off at Gokurakubashi Station on the Nankai Electric Railway, take the Nankai Koyasan Cable and get off at Koyasan Station. |
| Inquiries | TEL: 0736-56-2468 (Koyacho Tourist Information Center) |