"Tastes of JAPAN by ANA" is a regional vitalization project that collaborates with the different prefectures in Japan to present the Land of the Rising Sun in all of its diverse glory.
Walk on the former Koshu Kaido Highway in Daigahara-shuku in Yamanashi Prefecture
Daigahara-shuku is a post-station town on the Koshu Kaido Highway, which prospered during the Edo period. The Koshu Kaido Highway was developed as a distribution road to Edo (old Tokyo) from Koshu (currently Yamanashi Prefecture) and Shinshu (currently Nagano Prefecture). Today, it is a highway with an elegant atmosphere and was selected as one of the 100 best roads in Japan. New stores that fit in with the good-old townscape also opened, and this town is full of new and old charms.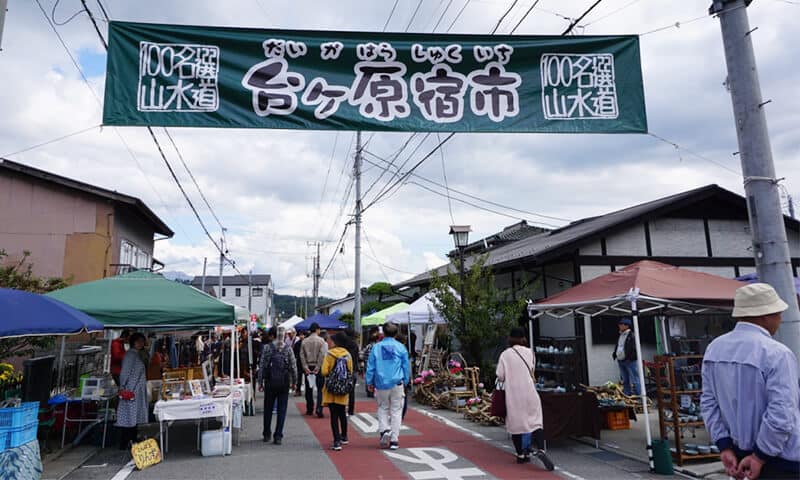 Gourmet food developed from famous water of Yamanashi Prefecture
Daigahara-shuku has a lot of good food and drinks developed from the clear water of Yamanashi. Enjoy refined sake, Japanese sweets, soba noodles, and coffee while viewing the old townscape. Daigahara-shuku Ichi (market) is held in October every year. With the participation of about 300 stalls, it attracts many people.
Daigahara, Hotaru Shinsui Park
Hotaru Shinsui Park (Firefly Water Park), is a five minutes' walk from Daigahara-shuku. From the terrace, visitors can enjoy viewing Kai Komagatake Mountain, which is counted among the 100 best mountains in Japan, and Japan's Southern Alps. Seasonal highlights include cherry blossoms in spring, fireflies in early summer and colored leaves in autumn.
Location
Name
Daigahara-shuku
Web Sites
https://www.hokuto-kanko.jp/visit_hokuto.html
Address
Daigahara, Hakushu-cho, Hokuto-shi, Yamanashi
Access
Approximately 15 minutes' taxi ride from Hinoharu Station or Nagasaka Station on the JR Chuo Line
From Nirasaki Station on the JR Chuo Line, take the Yamanashi Kotsu bus bound for Shimokyoraishi for about 30 minutes, get off at the Daigahara-kami bus stop and walk for approximately 5 minutes
Inquiries
TEL: 0551-30-7866 (Hokuto Tourism Association)