Fujisan World Heritage Center
"Tastes of JAPAN by ANA" is a regional vitalization project that collaborates with the different prefectures in Japan to present the Land of the Rising Sun in all of its diverse glory.
Experience the world of Mount Fuji, a World Cultural Heritage
Designated as a UNESCO World Cultural Heritage in 2013, the beautiful appearance of Mount Fuji has long been worshipped and continues to be a source of art. At the Fujisan World Heritage Center, you can appreciate the worldview of the sacred mountain through various images, lights, and sounds under the theme of faith and art. There are also souvenir shops and cafes featuring Yamanashi's specialty products, as well as spots where you can take photos of a superb view of Mount Fuji.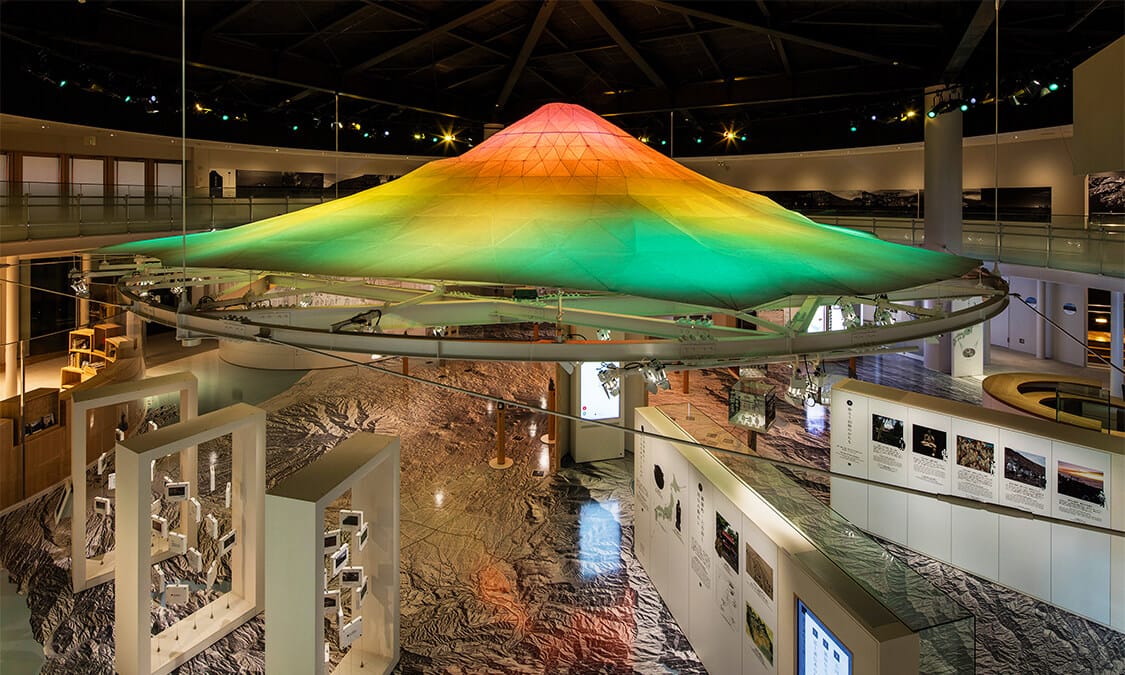 Fugaku 360 central sculpture
The main exhibition of the Fujisan World Heritage Center is Fugaku 360 (360-degree view of Mount Fuji), a huge sculpture of the mountain made from traditional Japanese "washi" paper of Yamanashi. The various seasons of Mount Fuji are expressed with lighting and sound effects, and you are sure to be immersed by their beauty. In the corridor from which you can view this sculpture from all directions, the history of the mountain and the faith of people living in harmony with its nature are depicted.
Climb to the top of Mount Fuji while sitting down
Have a simulated experience of climbing Mount Fuji in just five minutes! You can select from the four starting points for the climbing trails from Yamanashi or Shizuoka prefectures. By watching the video running up to the summit, you can feel as if you are really climbing the mountain. Just like in reality, the Yoshida Trail starts at the foot of the mountain. As you climb in the video, the scenery gradually changes and you will feel like a true Mount Fuji climber even if you have no experience climbing mountains. Enjoy climbing the tallest mountain in Japan without moving at all, wearing everyday clothes.
Fuji-meguri guide smartphone application
Fuji-meguri is the official application of the Fujisan World Heritage Center, which can be downloaded to your smartphone to further enjoy the museum. The application will introduce you to the facility's exhibition courses, and if you hold the smartphone over dolls that can be found throughout the center, the dolls will move and talk. Available languages are English, Chinese, Korean, Thai and Indonesian. You can also use the Outdoor Mode as a guide application when visiting the various properties that constitute the World Cultural Heritage such as shrines and lakes.
Location
Name
Fujisan World Heritage Center
Website
http://www.fujisan-whc.jp/en/
Address
6663-1 Funatsu, Fuji Kawaguchiko-machi, Minami Tsuru-gun, Yamanashi
Access
Approximately 5 minutes' bus ride on the free circulation bus
Approximately 3 minutes' drive from the Kawaguchiko IC on the Chuo Expressway
Approximately 3 minutes' drive from the Fuji-Yoshida IC on the Higashi-Fujigoko Road
Business Hours
9:00 to 17:00 (July to September: 8:30 to 18:00; December to February: 9:00 to 16:00)
Last admission: 30 minutes before closing
Closed
North Hall open all year round, South Hall closed on fourth Tuesday of every month
Inquiries
TEL: 0555-72-0259
Admission
Free