Travel by

Plane

and

Train

!
Travel by

Plane

and

Train

!
Graceful Tohoku

SCROLL
WHERE IS
TOHOKU?
Tohoku is a large northeast region of Japan's main island named Honshu.
The region called Tohoku is composed of six prefectures named: Aomori, Iwate, Akita, Miyagi, Yamagata, and Fukushima.
Visitors and locals enjoy the four seasons: Springtime brings majestic natural scenery with cherry blossoms blooming against the backdrop of ancient castles.
Summer is full of happiness with traditional festivals and fireworks.
Autumn brings the many colors of fall commonly enjoyed in the mountains and countryside.
Winter brings cooler weather and the white beauty of snow throughout the region.
Come visit Tohoku to enjoy the natural beauty of any season.
How to get to Tohoku
Scenery from the sky,
Scenery from the train
ANA have 14 domestic flights a day to Tohoku from Tokyo/Narita
that is a gateway in JAPAN.
Also, you can get a directly access to the main city of Tohoku
by Shinkansen from Tokyo Station
that is located in the center of JAPAN.
Please enjoy the flight and train travel.
Shin-Aomori

Akita

Odate-Noshiro

Morioka

Sendai

Shonai

Shinjo

Fukushima

Tokyo
(Haneda/Narita)
Aomori
Aomori Prefecture, famous nationwide for its Nebuta Festival.
The prefecture has many famous places to enjoy beautiful natural scenery, including Hirosaki Park,
known as a place to view the cherry blossoms and autumn leaves,Oirase Gorge and Lake Towada, and the Hakkoda Mountains,
a mountain complex that is counted among Japan's 100 most famous mountains.
Recommended TRAIN
in AOMORI
Resort Asunaro
Service section: Hachinohe Station to Ominato Station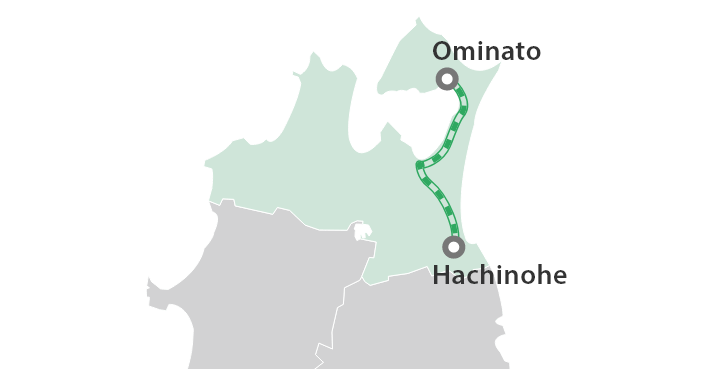 A trip to the northernmost of the main island of Japan Honshu on a train with a hybrid system reducing environmental burdens

The Resort Asunaro debuted as a resort train on the Tsugaru and Ominato Lines upon the extension of the Tohoku Shinkansen Line to Aomori in December 2010. By introducing a new type of railcar with a hybrid system to reduce environmental burdens, the train is equipped with an observation room and interior TV monitors so that passengers can comfortably enjoy the natural beauty and magnificent scenery of Aomori.
Akita
Akita Prefecture, There are many things that can only be experienced in Akita,
including the Akita-inu dog breed, which is a media favorite, and kiritanpo nabe, a local hotpot cuisine.
It also has many natural charms to enjoy, such as the juhyo, or "ice monsters" of Mt. Moriyoshi.
Recommended TRAIN
in AKITA
Resort Shirakami
Service section: Aomori Station to Akita Station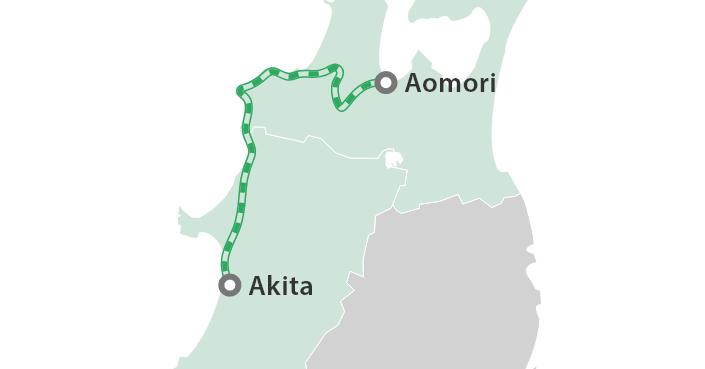 A journey to appreciate the World Natural Heritage Shirakami Mountains and panoramic views along the Sea of Japan

The Resort Shirakami runs through stunning scenery along the Sea of Japan and the base of Shirakami-Sanchi mountains, a World Heritage Site. The interior of the Buna (Japanese Beech) trainset fully utilizes trees fostering along the route, including Japanese Cedar from Akita and Aomori Hiba (a Japanese cypress), creating a warm and peaceful atmosphere.
Iwate
Iwate Prefecture, home of the UNESCO World Heritage Sites of Hiraizumi.
Enjoy sites of historical and natural significance, including the land depicted by Japanese folklore scholar, Kunio Yanagita, in his book,
Tono Monogatari, and farms with connections to the famous Japanese author, Kenji Miyazawa.
Other must-try experiences are Iwate's famous wanko-soba noodles, and Nambu ironware, which is now enjoying new popularity even overseas.
Recommended TRAIN
in IWATE
SL Ginga
Service section: Hanamaki Station to Kamaishi Station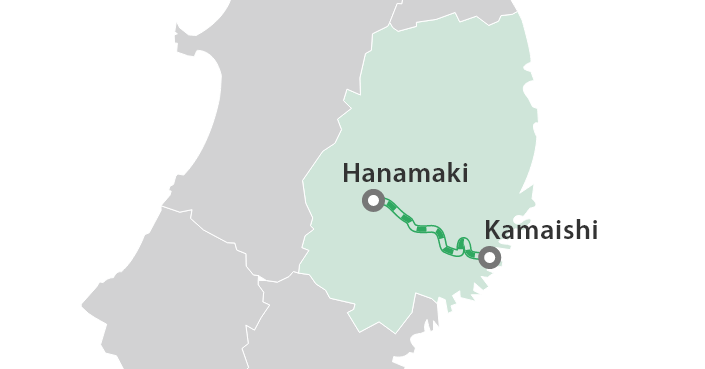 A trip to experience the world and atmosphere of Night on the Galactic Railroad, a masterpiece written by Kenji Miyazawa in Iwate prefecture

The SL Ginga brings you to the world of Night on the Galactic Railroad by Kenji Miyazawa, a famous Japanese writer of children's stories.
With illumination reminiscent of gas lamps, stained glass windows, and retro partitions,
enjoy the extraordinary at your leisure in the soft light and cozy compartment-like cars.
Equipped with an optical planetarium, the world's first onboard, you can experience our original programs.
Yamagata
Yamagata Prefecture, the port of call for the Kitamae-bune,
the trading ships that sailed the Sea of Japan between Kansai area and Japan's northern regions.
The prefecture has many onsen (hot spring) resorts and Japanese sake breweries, and is known as a producer of fruit, such as cherries.
There are many different ways of enjoying Yamagata, including a boat ride down the Mogami River.
Recommended TRAIN
in YAMAGATA
Toreiyu Tsubasa
Service section: Fukushima Station to Shinjo Station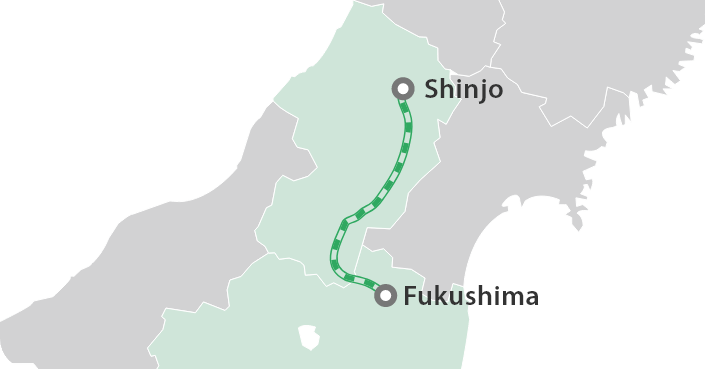 Enjoy a train trip as if you are strolling in a hot spring town

"Toreiyu" is a coined word combining the Japanese pronunciation of the English word "Train" (torein) and "Soleil" (soreiyu) in French, meaning sun.You can have a comfortable journey on a reserved seat with a tatami mat, a bar counter serving locally brewed Yamagata sake, wine and juice, and a footbath for relaxing while enjoying the scenery outside the window. While aboard, take a stroll as though in a hot spring town and enjoy this new mode of Shinkansen travel.Note: Footbaths are limited to passengers with a View Travel Package, and passengers are required to purchase footbath tickets in advance.
Miyagi
Miyagi Prefecture, home of Sendai Castle, which was built by the warring states general, Date Masamune.
The prefecture has many places of interest, including places connected to the Sendai Domain.
Local cuisine such as beef tongue, as well as a range of hands-on activities, are also recommended.
Recommended TRAIN
in MIYAGI
POKÉMON
with YOU train
Service section: Ichinoseki Station to Kesennuma Station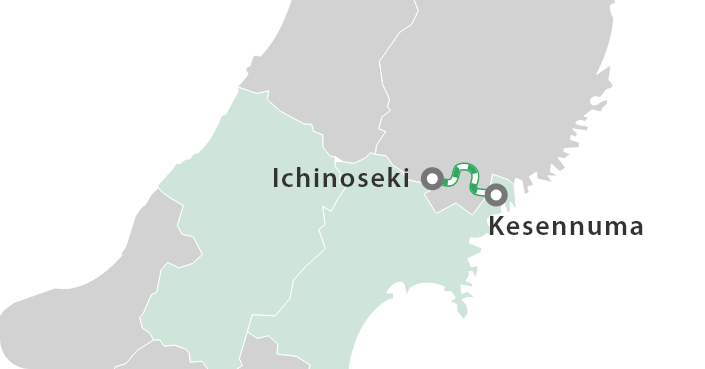 POKÉMON train that parents and children can enjoy

POKÉMON with YOU train wishes to bring smile to children in Tohoku which was hit by Tohoku earthquake and Tsunami disaster in 2011 and to bring fun and excitements to friends all over Japan.
Enjoy your time on train with your family! Have fun being a driver on the driver's cabin or the engine room, and meet Pikachu at stations and via stamp rally.
Fukushima
Fukushima Prefecture, home of Tsuruga Castle, which withstood the fierce battles of the Boshin War.
It is also famous for its local cuisine of Kitakata Ramen, as well as traditional crafts such as Aizu-nuri lacquerware.
There are many places to enjoy scenes of natural beauty, promising a journey rich in variety.
Recommended TRAIN
in FUKUSHIMA
SL Banetsu Monogatari
Service section: Niitsu Station to Aizu-Wakamatsu Station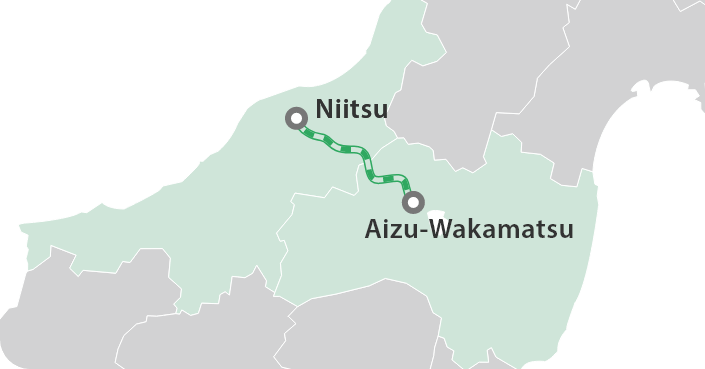 A retro journey reminiscent of the early 1900s

Built-in 1946, the SL Banetsu Monogatari has long been loved with a nickname of Kifujin (Noble Lady) for its gracefulness with large driving wheels and a slim boiler.Passenger cars pulled by the steam locomotive produce a retro atmosphere with its interior wood patterns and the car body color combination.
Come to Gaceful Tohoku ! Great value fares for traveling around Tohoku by plane and train
Come to Gaceful Tohoku ! Great value fares for traveling around Tohoku by plane and train