Hasami, a Town of Ceramics
Hasami, Higashisonogi, Nagasaki
Streetscape that reminds us of the old days Togo-Nakaoyama, Hasami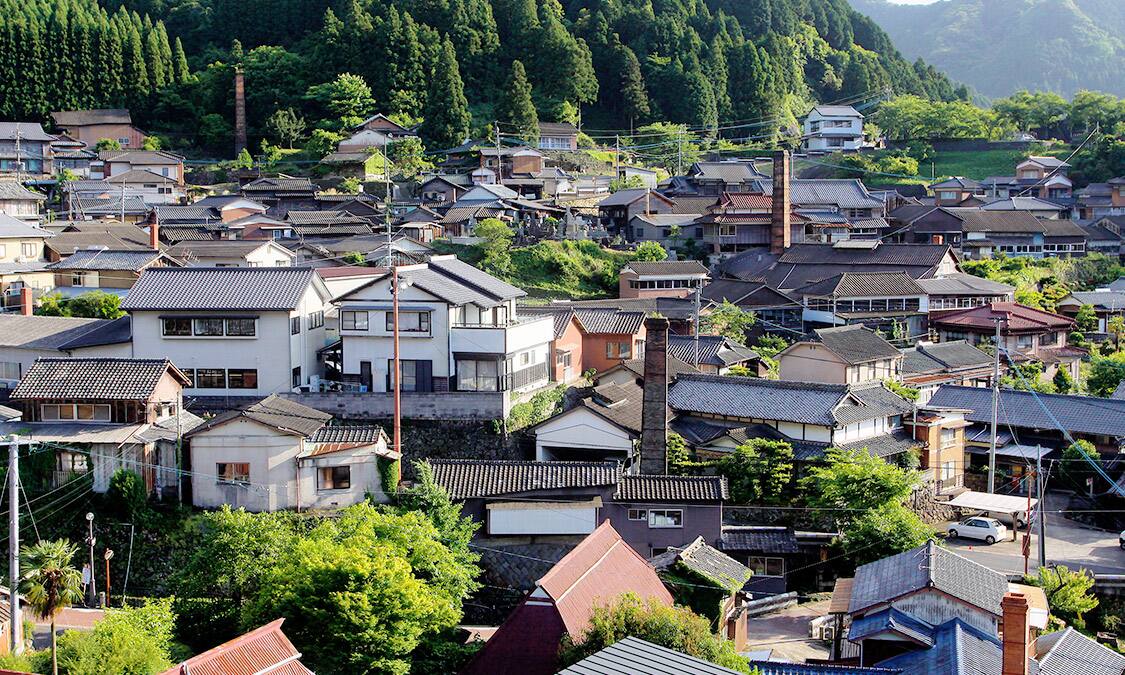 Visiting and watching Hasami ceramics potters at work is a major attraction in Hasami. You can also enjoy seasonal events, such as the Hasami Ceramics Festival, browsing booths and doing activities.
Nakaoyama is an area in Hasami, known as the ceramics town, where an especially large number of potters work.
Featuring the remains of one of the world's largest ascending kilns that enabled the mass-production of ceramics in the Edo period, as well as brick chimneys and back alleys, it is a nostalgic town that has largely remained unchanged.

Why not experience the history of the ceramics town firsthand as you visit the various potters and roam the back alleys?
The "Outou Festival" is held in April, and the "Aki Tou-meguri" is held at the end of October each year, bringing in crowds by offering open house tours of potters, walk rallies, and direct sales of ceramics.
These are festivals you can enjoy only at the site of production, where creators and users can directly interact with each other.

Tourist hub with a resource center for Hasami ceramics and a general shop Hasami-cho Hall of Ceramics
Hasami-cho Hall of Ceramics, located in Yakimono Park, exhibits the 400-year history, tradition, and masters' skills in Hasami ceramics, as well as modern products.
On the first floor, you can experience ceramics painting and wheel throwing in addition to shopping. The second floor provides a wide variety of exhibitions, including historical artifacts of Hasami ceramics such as "Kurawanka bowls" and "Compra bottles," along with the process of making Hasami ceramics, and works by certified craftsmen.
The realistic facial expressions and storytelling of ceramics painting robots in the hall, and the ceramics works that are available at reasonable prices make it a popular destination for tourists.
During Golden Week every year, the Hasami Ceramics Festival is held at the adjacent Yakimono Park, which attracts many shoppers.

Open-air museum featuring replicas of 12 kilns from around the world Outdoors Museum "World's Kiln Plaza"
On a hilltop in Hasami Yakimono Park lies the "World's Kiln Plaza," where replicas of 12 rare kilns from around the world are exhibited.
The oldest "open kiln" can be found at the mountaintop, and there are oriental kilns from China, the Korean Peninsula, and Japan to the east, and kilns from the Middle East and Europe, including England, towards the south, with newer kilns placed towards the foot of the hill. At Yakimono Park, you can see and learn about the history and techniques of the world's kilns. Additionally, the firing of the kilns at special events always attracts many tourists.
It is one of the premier destinations in Hasami, along with the Hall of Ceramics, also located in Yakimono Park.

Address

Hasami-cho, Higashisonogi-gun, Nagasaki View Map