A power spot in Oita's Rokugo-Manzan, receive goshuin stamps and omamori amulets at Usa Jingu Shrine
Usa Jingu Shrine, a power spot of Oita Prefecture, is a shrine located in Minami Usa in the city of Usa, Oita Prefecture. It is known as the origin of the Rokugo-Manzan, a syncretic religious culture that fuses Buddhist and Shinto traditions. Many worshippers come to Usa Jingu Shrine to receive goshuin stamps and omamori amulets. The divine blessings they bestow are related to the divine virtues of the great god Hachiman and the other various deities that are enshrined within the shrine grounds.
Usa Jingu Shrine is the head shrine of more than 40,000 Hachiman shrines found all over Japan. It is dedicated to the great god, Hachiman, who is said to have first appeared in the land of Usa in 571. A hall of worship was first built in 725, and Hachiman was enshrined there. This marks the foundation of Usa Jingu Shrine, which has been widely venerated throughout the country since ancient times. This veneration extended to its influence in the establishment of the Great Buddha of Todaiji in Nara and the divine message bestowed upon Wake no Kiyomaro about the Imperial succession in the 8th century.
The culture of Hachiman worship is based on the worship of the heavenly virtues of Emperor Ojin (believed to have reigned from 270 to 310). It is also believed to be a fusion of Buddhist culture with elements of Japan's native kami worship, or Shinto. That long history of worship can be seen in the ritual events and festivals held at Usa Jingu Shrine, its elegant buildings, and treasures. The beautiful main worship hall, which stands strikingly against the deep green of the sacred forests, where no man shall tread, has been designated as a national treasure. It boasts an imposing presence worthy of a head shrine.
Rokugo-Manzan is the collective name for the temples that are found scattered across the Kunisaki Peninsula of Oita Prefecture. Many of those temples are said to have been established by the Ninmon Boddhisatva in 718. Legend has it that the Ninmon Bodhisattva is an incarnation of the Usa Hachiman deity. The temples of Rokugo-Manzan were greatly influenced by Hachiman worship and had strong elements of syncretism of Shinto and Buddhism.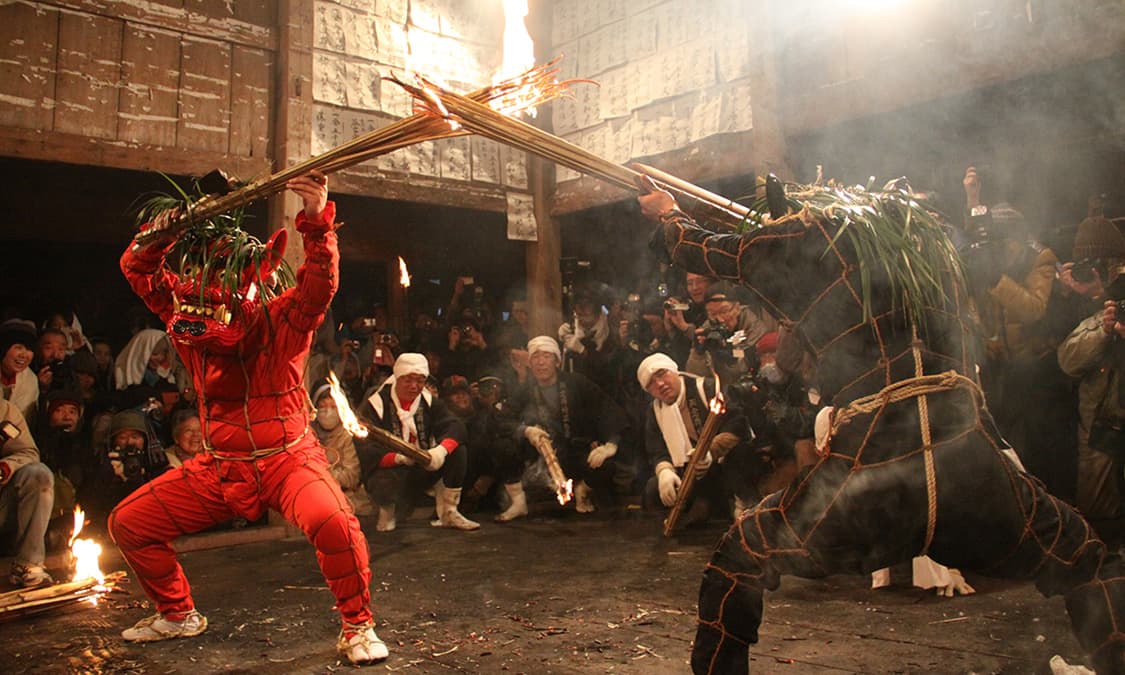 In 2018, the Rokugo-Manzan group of temples marked a major milestone of the 1,300th year of its establishment. In this region, whose unique form of Buddhist culture is still strongly in evidence, a ritual known as Shujo-Onie is held, having been passed down unbroken for generations. The monks dress up as the local oni, or demons, who are said to ward off misfortune and bring happiness to those who attend the ritual.
Location
| | |
| --- | --- |
| Name | Usa Jingu Shrine |
| Web Sites | (In Japanese) http://www.usajinguu.com/ |
| Address | 2859 Minami-Usa, Usa-shi, Oita |
| Access | Approximately 15 minutes' drive from the Usa IC |
| Inquiries | TEL:0978-37-0001 |
| Admission | Free admission |