Canoeing experience in the Koza River and Ichimai-Iwa monolith

The soaring Ichimai-Iwa monolith that symbolizes the greatness of nature
The Koza River runs through the southern part of the Kii Peninsula in Wakayama Prefecture. It is known for its magnificent and beautiful scenery full of huge, oddly shaped rocks and is one of the representative rivers in Kumano. Dubbed the crystal river, its water is so clear and transparent that even the riverbed can be seen, making you feel as if the canoe is floating in the air. Since the flow is gentle, beginners can also enjoy canoeing with total peace of mind.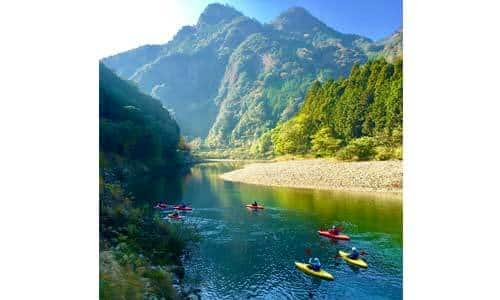 Floating on the clear water in a canoe
Enjoy the scenic landscape varied with plants native to the Kii region as well as cherry trees and other seasonal flowers as you paddle down the river. The river's gentle flow is ideal for a beginner canoe trip from small children to the elderly throughout the year. Looking at the grand nature from the water, you can see a beautiful world you have never seen before. In addition to canoeing, the Koza River offers an opportunity to enjoy other water activities such as swimming and fishing for freshwater prawns, which will surely bring back good old memories.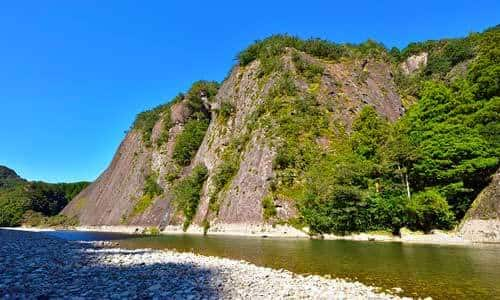 A monolith that towers at the side of the Koza River like a massive folding screen
The 100-meter-tall and 500-meter-wide Ichimai-Iwa monolith is a designated national natural monument and one of the largest monoliths in Japan. Its magnificent silhouette reflected on the water surface of the Koza River is breathtaking, and the changing landscapes depending on the season and weather can be witnessed in their full glory. Legend has it that the monolith was once protected by a brave dog whose shadow appears on the rock's wall in late April and late August every year.
Gibier cuisine, the blessings of nature
The Koza River is surrounded by quiet, rural villages between deep forests and mountains. Local people have lived by deeply respecting nature to keep the rich forests and the ecosystem alive. Gibier cuisine, which uses wild game meat such as deer and wild boar, was born from a sense of gratitude toward the bounty of nature. Wild game meat processed safely at state-of-the-art facilities is fresh and has an exquisite taste without an unpleasant odor.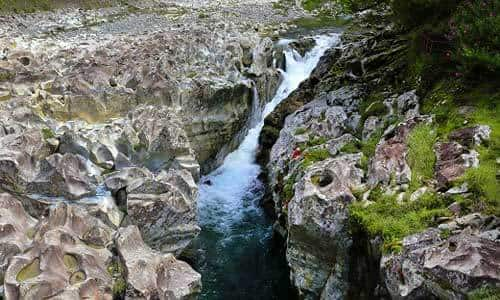 Takinohai, a crystal stream flowing through mysterious bedrock
Takinohai is an arm of the Koza River with a series of small waterfalls. The stream flows through a myriad of potholes, both large and small, that dot the 200-meter riverbed, and the water rushing between the rocks creates a powerful and spectacular view. These countless holes have been created by small stones that were washed downstream, boring holes in the rocks over the years. It is also a popular destination in summer among anglers who gather to catch sweetfish at the base of the waterfall.
Location
| | |
| --- | --- |
| Name | Canoeing experience in the Koza River and Ichimai-Iwa monolith |
| Website | https://en.visitwakayama.jp/venues/venue_426/ |
| Address | 705-1 Ikenoyama, Kozagawa-cho, Higashimuro-gun, Wakayama |
| Access | Koza Station on the JR Kisei Main Line |
| Inquiries | TEL: 0735-70-1275 (Kozagawa-cho Tourism Association) |