On a journey to experience "OISHII" food by
enjoying the view, feel, and bounty of the sea
It's impossible to talk about Oita without mentioning Oita's food. In Oita, not only can you enjoy bountiful seafood fresh from the Seto Inland Sea and Bungo Channel. Be part of the cooking process and enjoy your meal while mingling with locals. Interact with local businesses and culture through experiences that can only be had in Oita. On this trip, we visited Oita at the end of the summer. Traversing the mountains and sea, we explored the depths of Oita's cuisine in search of each region's seasonal ingredients.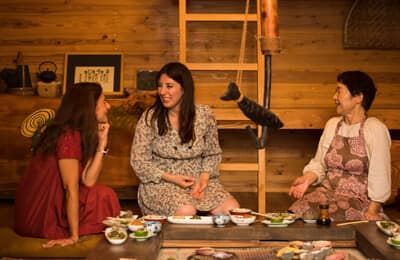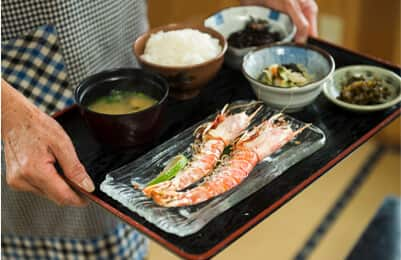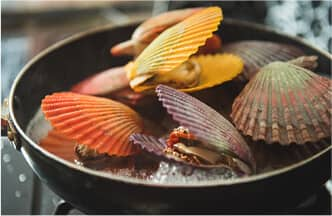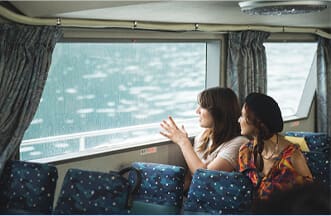 Raising large kuruma ebi in the sea of Himeshima while surrounded by nature
"The Himeshima sea is clean and provides the ideal environment for raising kuruma ebi," says Fuwa-san, who raises Himeshima kuruma ebi from eggs. Kuruma ebi is a pride of Himeshima's seafood, and its beautiful translucence, texture, and sweet aftertaste make them highly sought-after delicacies for celebrating special days and changes in seasons.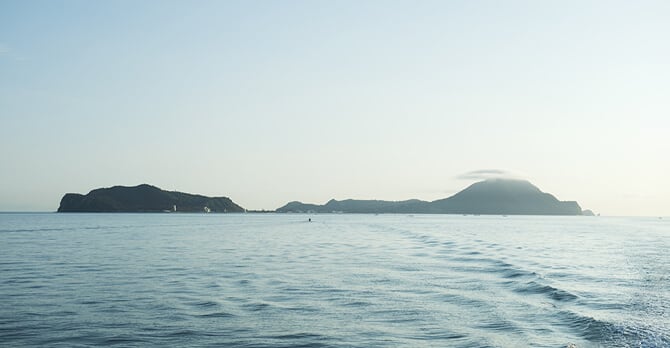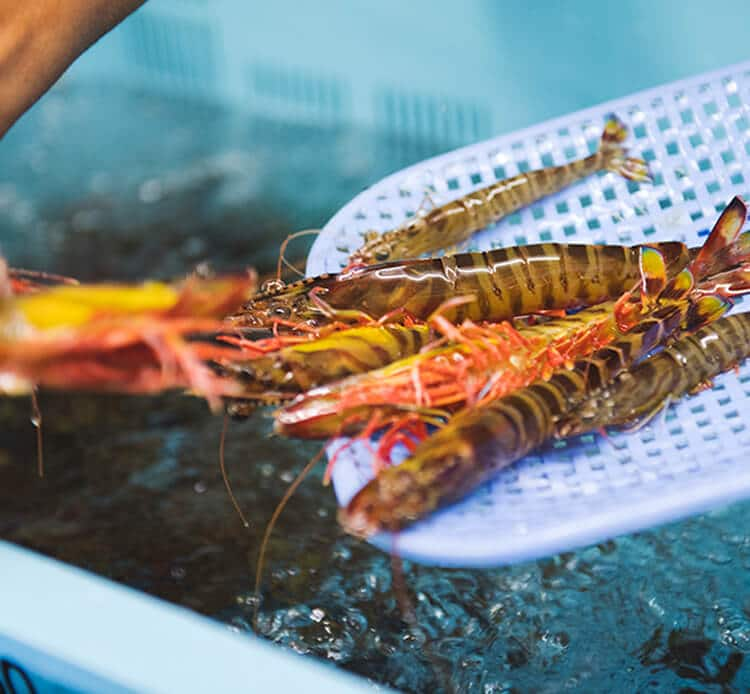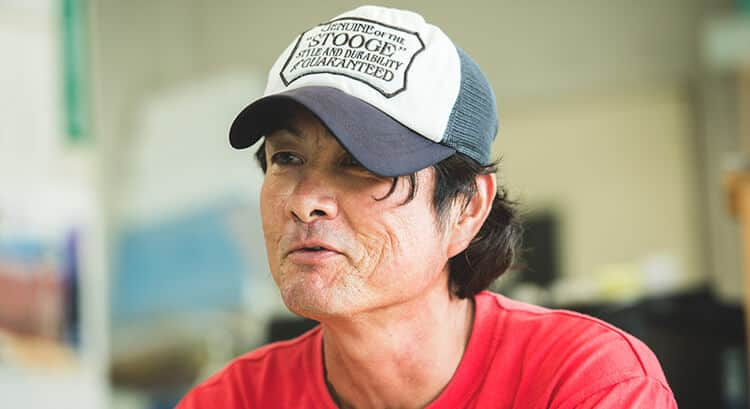 It takes approximately one year for kuruma ebi to hatch, mature, and be ready to be shipped. Fuwa-san, who cares for the kuruma ebi daily during this process, says cheerfully: "I'm dealing with living beings and nature, so I learn something new every day. What would I like to try next? To hatch kuruma ebi from prawns raised in this farm, and continue raising them here in Himeshima."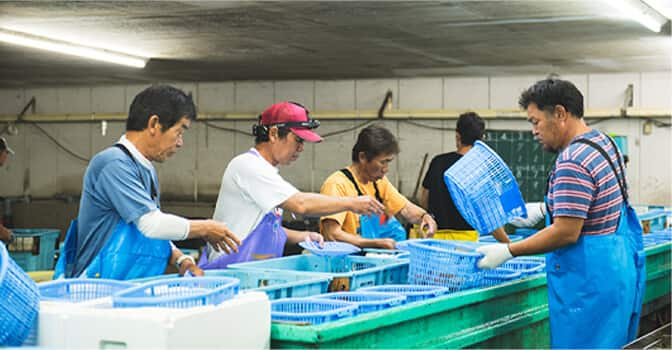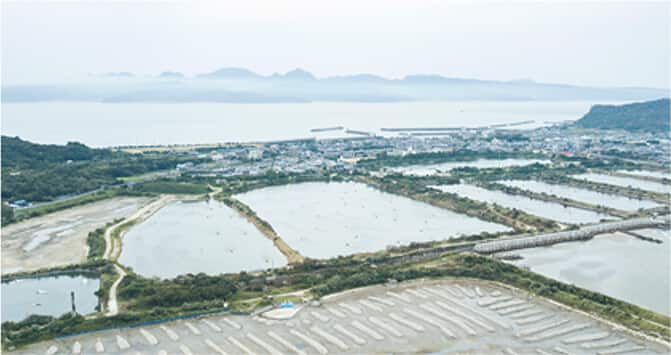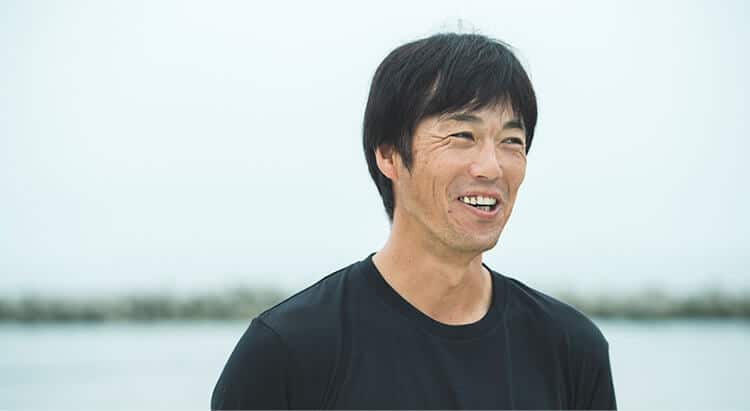 Each day, starting in early April, the prawn fry are released into aquaculture ponds. These ponds were formerly used as on-island salt farms. The state of the water is monitored daily, to avert stress and manage feed and water temperature. The water is still cold at this time of year, making it challenging for the farmers. Shimasaki-san, who takes care of prawns in the same nursery says, with a laugh, "These are delicate creatures, just like humans, so they take much minding. Diving every day, you get to know how the prawns feel (laughs)." The delicious flavors of the Himeshima kuruma ebi are clearly the fruit of much research and the daily efforts of Fuwa-san and Shimasaki-san.
Himeshima Tiger Prawn Farming Corp.
Kuruma ebi nursery. Shipping the ocean's delicacy, Himeshima kuruma ebi, from July to December.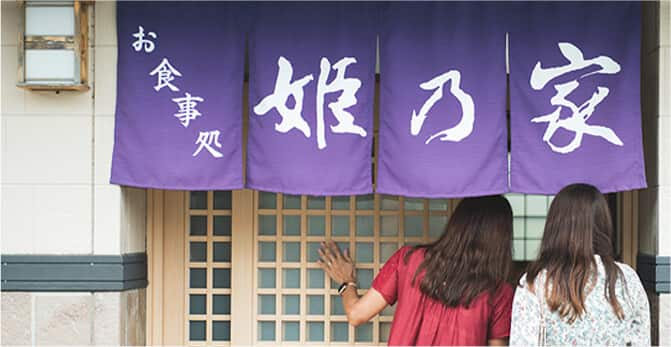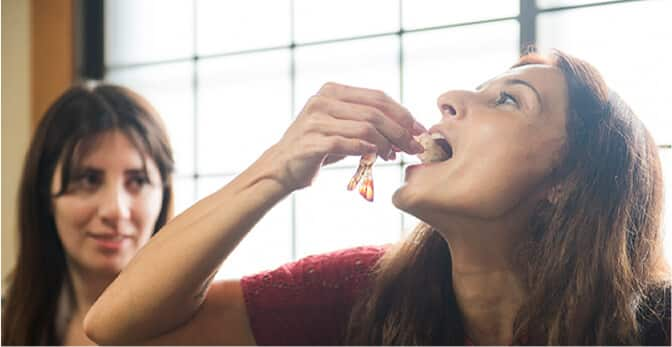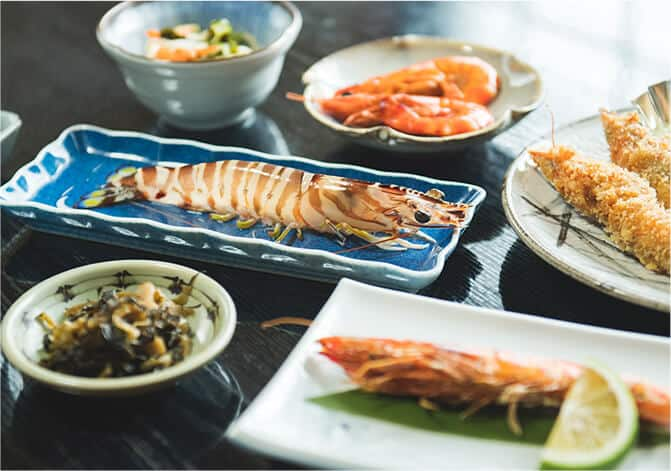 Himeshima Tiger Prawn Farming Corp.
Kuruma ebi nursery. Shipping the ocean's delicacy, Himeshima kuruma ebi, from July to December.
Even with the advances in automation, it is people who watch over the microorganisms.
This is the spirit of a sake brewery with a history that spans over a century.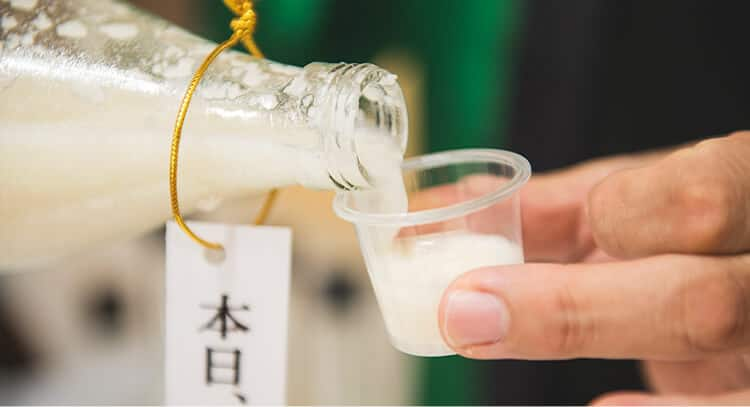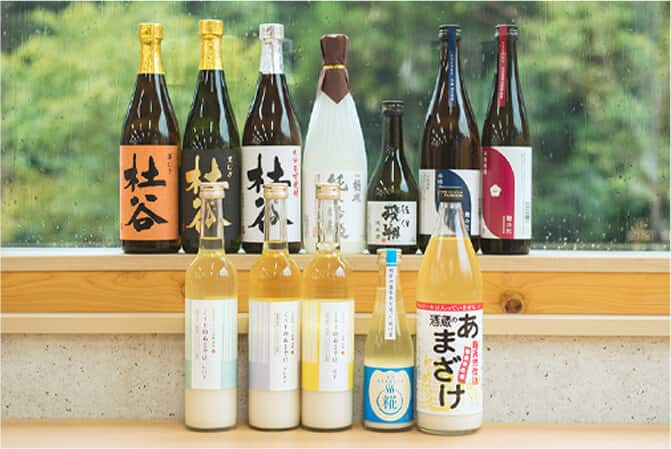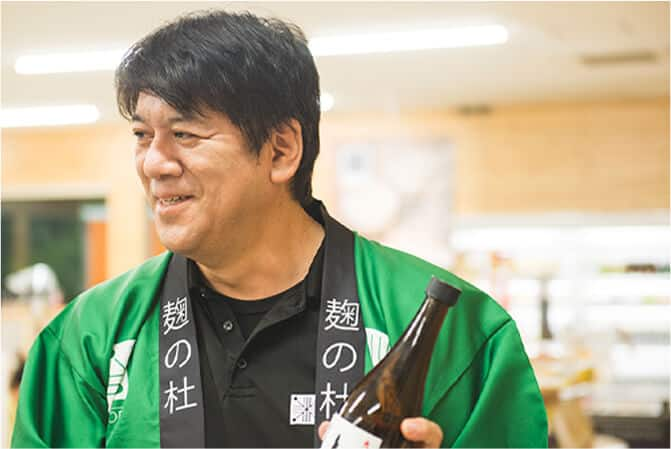 Established in 1910, the Bungo Meijyo sake brewery has been in operation for over 100 years. The brewery produces an extensive range of alcohol, including Japanese sake, but also potato and wheat shochu, amazake, and more. It also develops new products in collaboration with food producers and processing plants in Oita. Kojinomori, their first directly managed store, adjoins an amazake production facility and allows visitors to learn about the production process and enjoy freshly made amazake.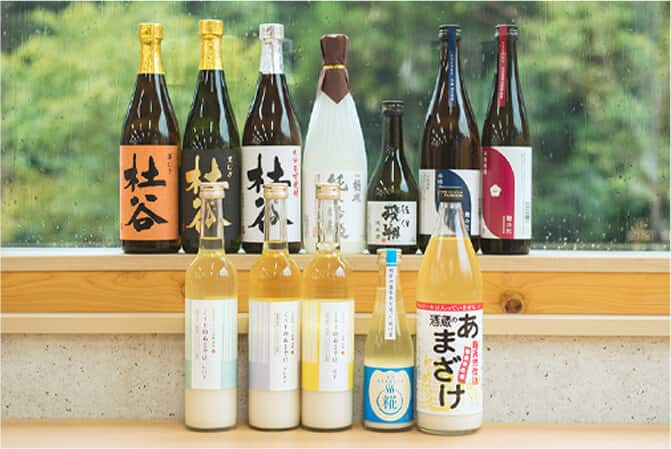 "Before this, we did not sell directly to consumers nor receive direct feedback from them. Kojinomori has allowed us to observe customers' reactions and to propose new products, all of which are beneficial for us as brewers," says the head of Kojinomori, Matsuhisa-san.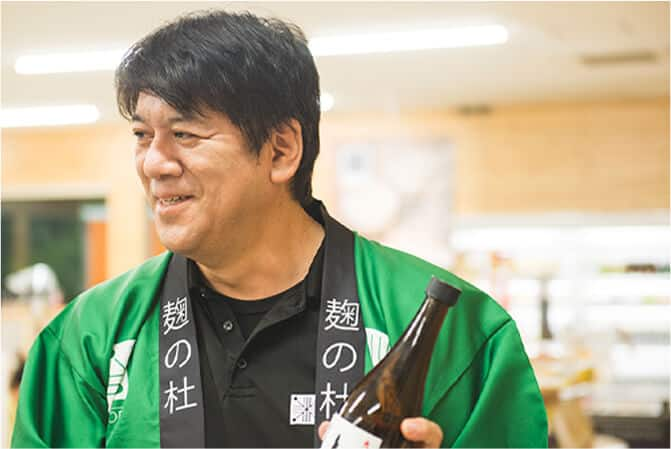 The entire amazake production process takes 14 hours. However, automating the process would make it difficult to produce sake of the same concentration, and would still require humans to observe and monitor the brewing microorganisms and the idiosyncrasies of the machines used. Matsuhisa-san's words left a deep impression of the brewery's careful attention to producing quality sake.
Kojinomori
Factory and direct sales sake brewery with a history of over 100 years. Experience making amazake with your own hands.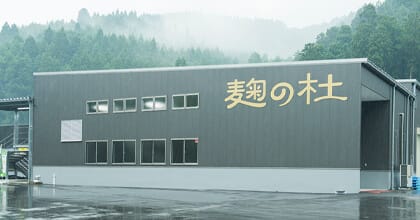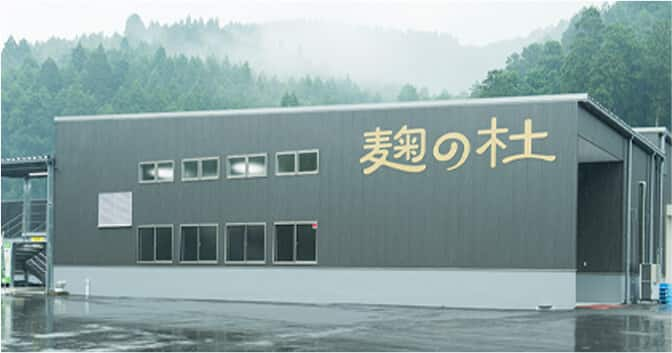 Kojinomori
Factory and direct sales sake brewery with a history of over 100 years. Experience making amazake with your own hands.
On an island full of nature, surrounded by the sea, there is a place that raises people's hearts as they raise colorful rare shellfish creating an inviting, restful place for people to be people
Yakatajima is an island located in southern Saiki with a population of 14. Here, we visited Mr. Takeshi Goto, who runs a guest house and farms edible hiougigai (noble scallops). The nursery is located just inside the seawall right next to the ferry terminal. He was busy polishing the surface of scallop shells in a hut floating on the sea. The polished shells were a colorful surprise in shades of fresh red, orange, yellow, and purple.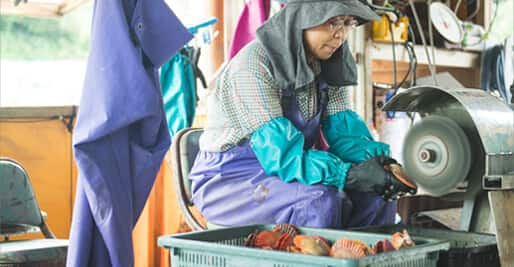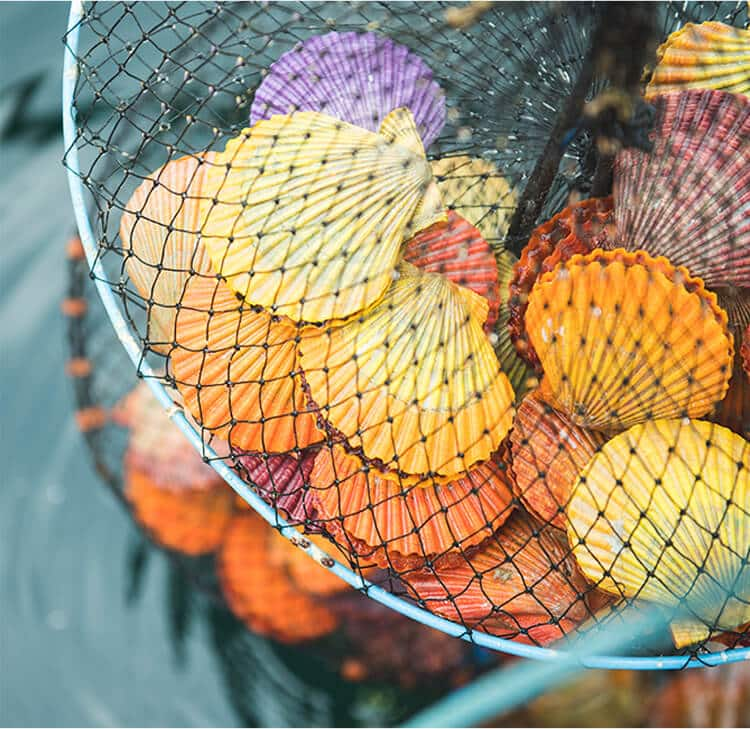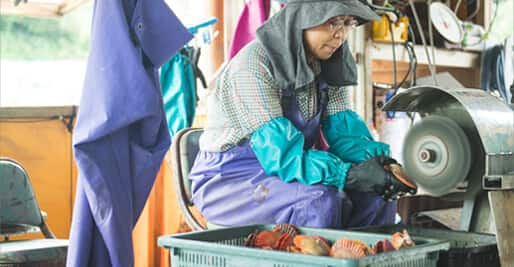 Goto-san says, "Although the media has picked up on the noble scallop recently, it is actually an insignificant scallop that has not been studied much. It is more flavorful than other scallops, so you can boil or char-grill it without any seasoning. Would you like to try it?" With that recommendation, we tried some pan-boiled scallops. Their bold taste and juicy texture were unbeatable. Goto-san says that the secret behind this flavor is the sea surrounding Yakatajima, which provides an optimal environment for noble scallops. "Thanks to the topography of the Rias coast, the nutrients from the mountains readily flow into the river, providing plenty of plankton needed for the scallops to grow."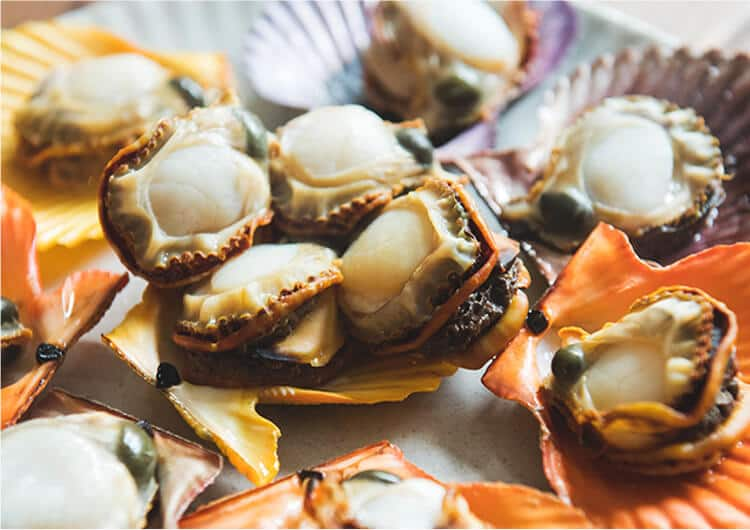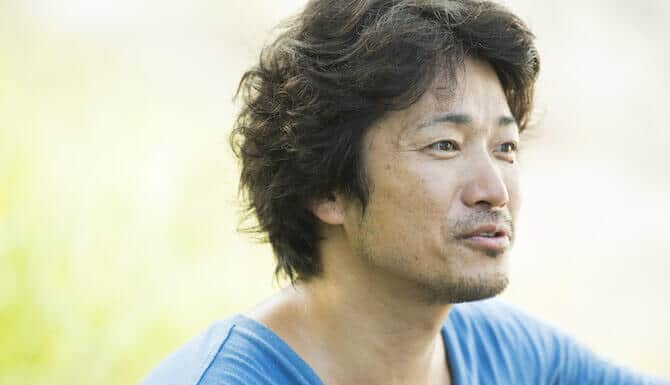 The nursery was started by Goto-san's father. Inheriting this family business, Goto-san built a guest house on the premises in 2018. "I did this because I wanted to create an environment that allowed me to do something new while remaining on the island. When I was in my 20s, I traveled overseas and passed through many guest houses. These were places where communication and interactions beyond a guest-host relationship were made possible. I wanted to achieve the same thing here in Yakatajima."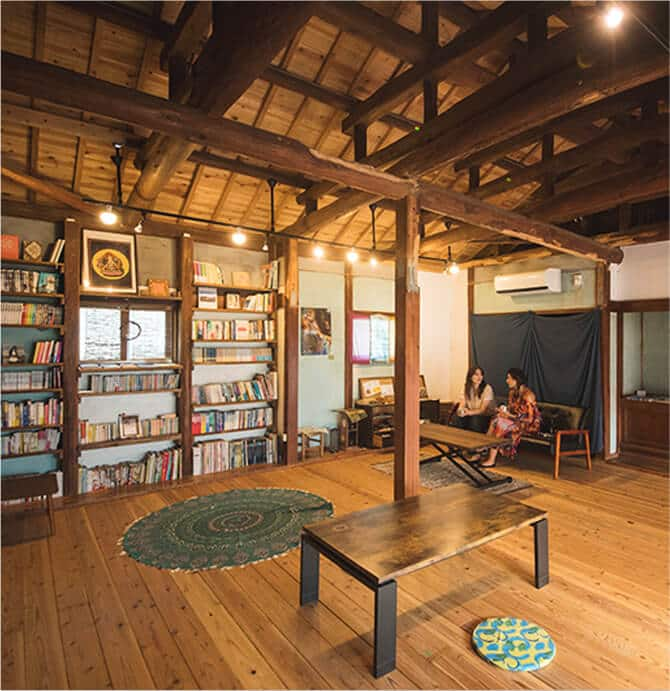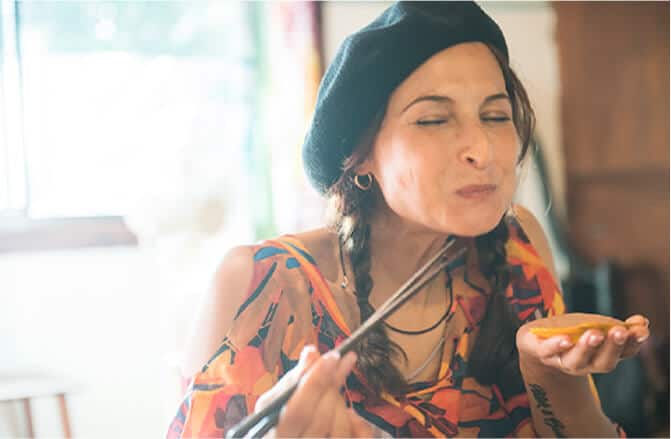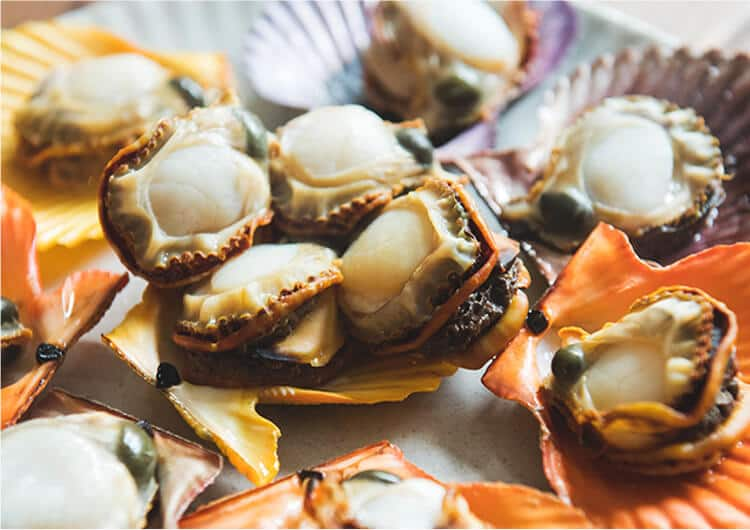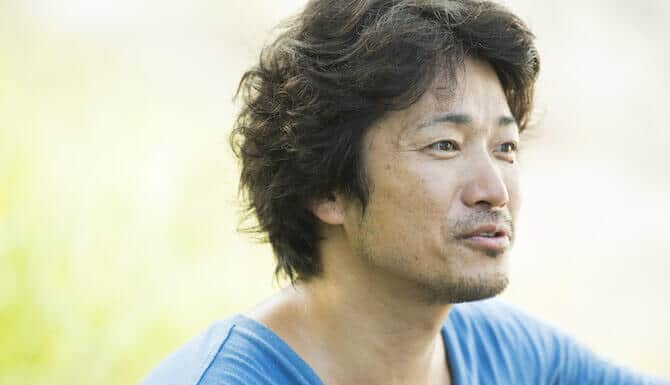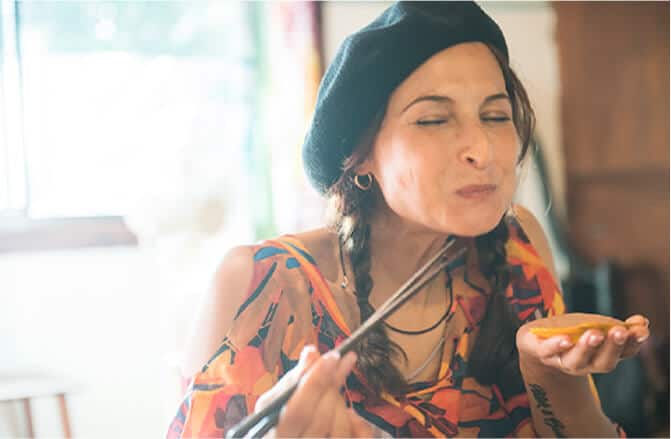 The island has a population of 14, and this number could well decrease in Goto-san's lifetime. Imagining such a future, Goto-san says, "I want to convey to people the teachings of older generations and the things we have experienced." Goto-san continues his work on the island each day by trial and error, with the hope it will one day touch someone somewhere.
Goto Hiougigai/Yakatajima Guest House
Enjoy delicious noble scallops, or try snorkeling and SUP on the sea at your doorstep.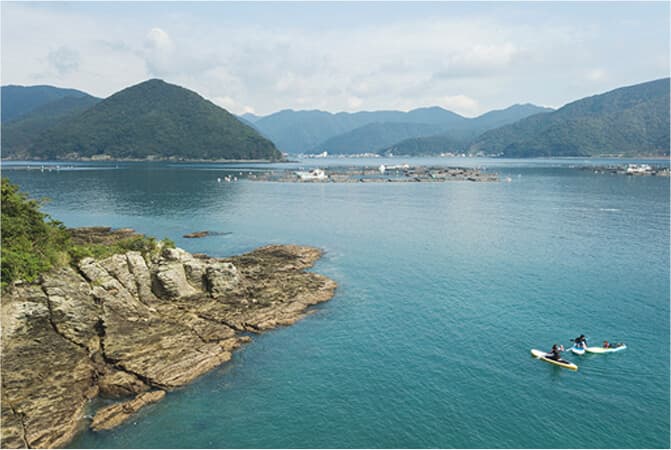 Goto Hiougigai/Yakatajima Guest House
Enjoy delicious noble scallops, or try snorkeling and SUP on the sea at your doorstep.
See sea urchin, scorpionfish, Medina, and the occasional octopus.
Touch the living creatures and understand what it means to "eat."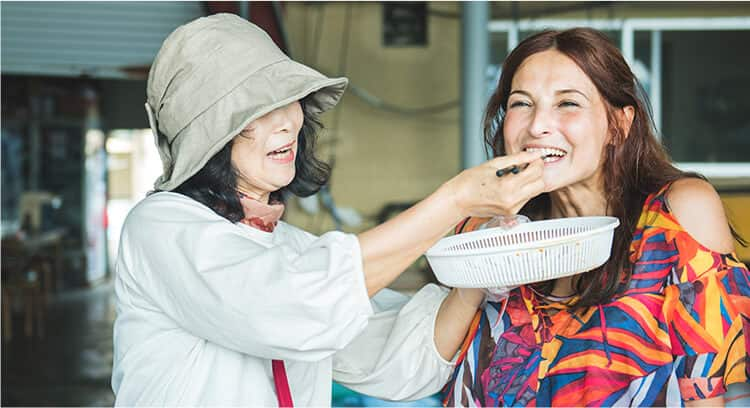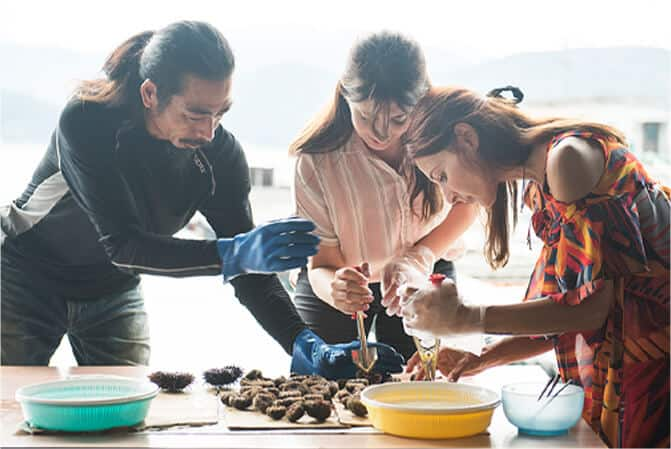 Maruni Fisheries in Kamae Nishinoura is a composite facility that not only handles fresh seafood but also serves as a ryokan (Japanese-style inn) and dining hall. It is managed by friendly local ladies and humorous fishermen of Kamae. More than anything, the top feature of Maruni Fisheries is the ability to experience seafood preparation processes, such as sea urchin cracking, lobster splitting, basket fishing, and fishing, among others. We were immediately introduced to how sea urchins are split and basket fishing. We were welcomed by fisherman, Mr. Toyoyoshi Hashimoto.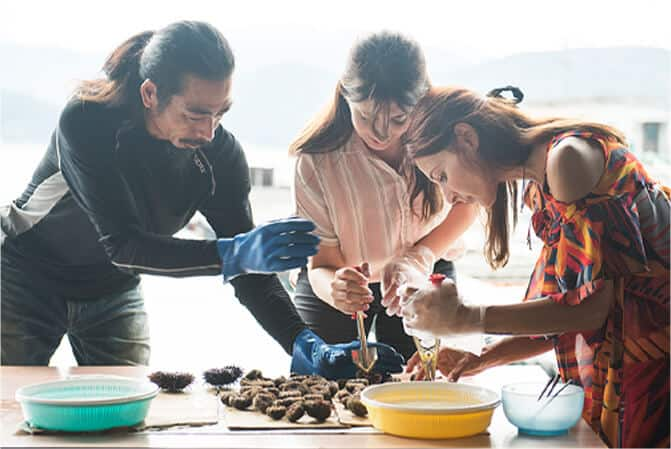 He cracks the horse-dung sea urchin and red sea urchin shells with a special tool and removes the flesh inside. The broken urchin shells become bait for basket fishing. Within about 30 minutes, the sea urchins are plated, then the basket fishing device is dropped from the pier into the sea. When asked about the fish that are caught this time of year, Hashimoto-san said, "Medina and scorpionfish, filefish, and wrasse. Sometimes, I get an octopus as well!" This time, the catch included medina and scorpionfish, as well as starfish and catfish (which have poisoned spines).
We had the fish filleted and ate it on the spot, along with the sea urchin we caught earlier. The soft flesh of the sea urchin requires some skill in handling. Under the instruction of Hashimoto-san, we could touch the seafood with our own hands and understand the steps involved before eating them. Experiencing the preparation process before bringing the dish to our mouths made us realize how wondrous it is to taste delicious food.
Marunisuisan Corp.
Handles a broad range of fresh seafood from Kamae. The fishing experience is popular with guests. Ryokan and guest-house facilities available, at which guests can enjoy seafood dishes.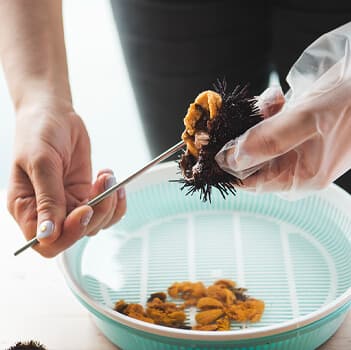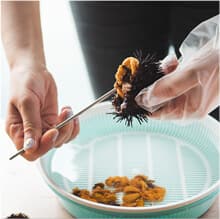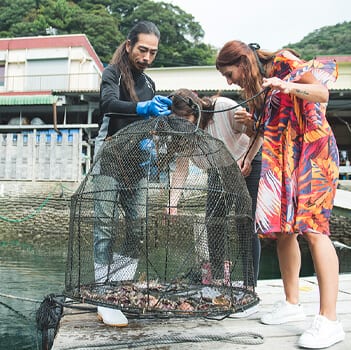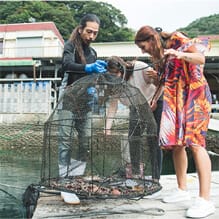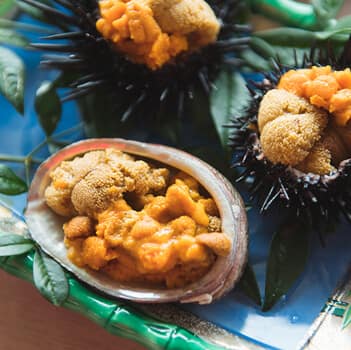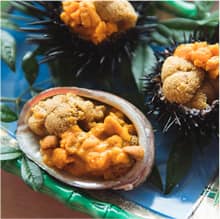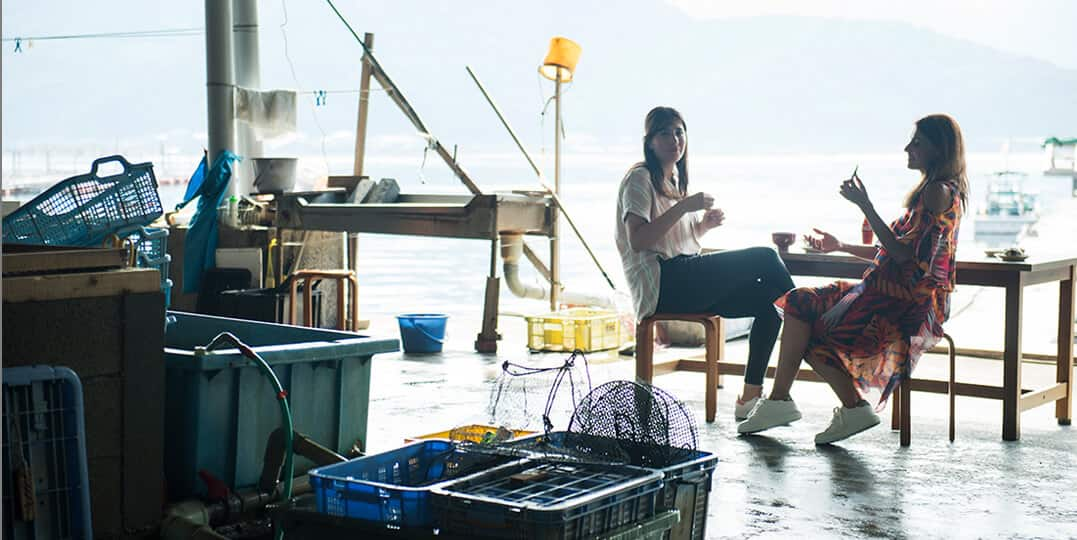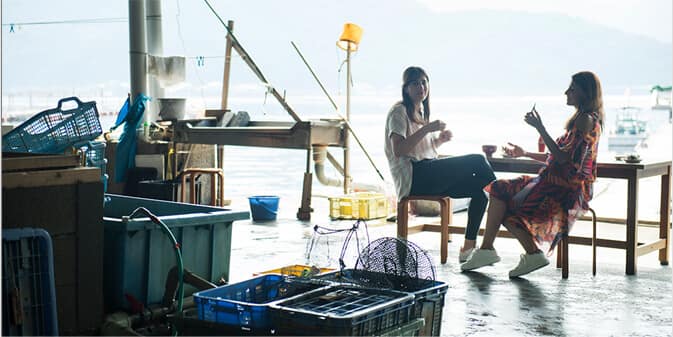 Marunisuisan Corp.
Handles a broad range of fresh seafood from Kamae. The fishing experience is popular with guests. Ryokan and guest-house facilities available, at which guests can enjoy seafood dishes.
A cooking career spanning 42 years, including 30 years in his self-run store.
What local cuisine of Saiki uses seafood?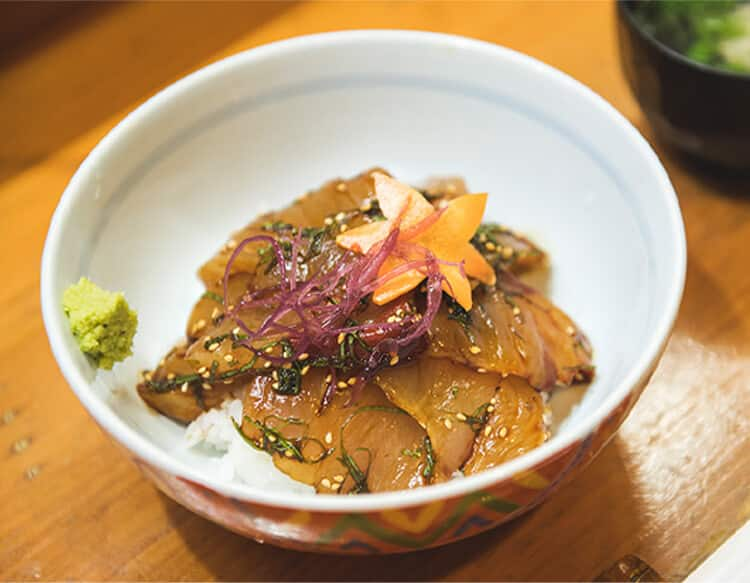 One of the local dishes in southern Oita and Saiki is called atsumeshi. According to the owner, Mr. Tsuneaki Someya, the fishermen of Saiki marinate the fish they catch in soy sauce while on the boat and eat it on top of steamed rice. Here at Tsunesan, blueback fish such as like yellowtail, hamachi, and horse mackerel are combined with home-made soy sauce – produced locally with a distinctive sweetness – sesame seeds, green onions, and other ingredients, and served on top of rice. The hot rice and cold marinated topping with the sweetness of the soy sauce might make you come back for more.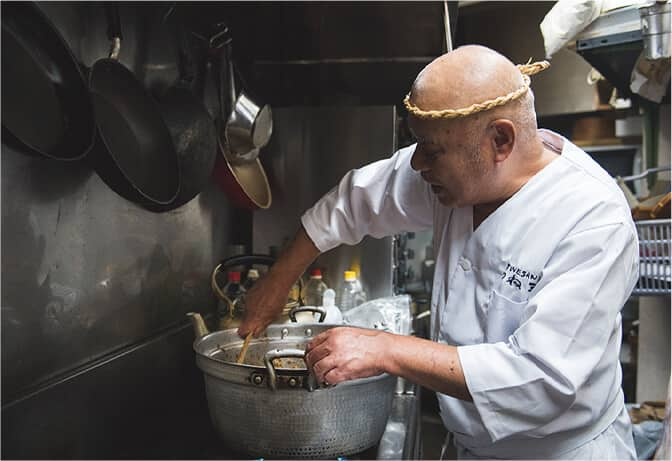 One of the shop's popular dishes is gomadashi udon. This local dish of gomadashi served over udon involves mixing coarsely ground sesame, soy sauce, and flaked white fish and heating over a flame. The mixture is then placed in a refrigerator to rest for three days before it is ready to eat. Enjoy the flavor and texture of sesame mixed with udon.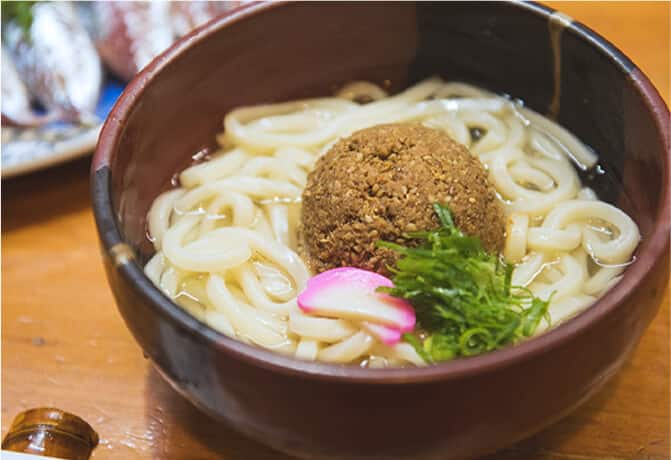 If you still have room in your stomach, try the horse mackerel sushi. "It is caught in the nearby waters, so it's very fresh. Its color is beautiful as well. When fresh, its skin comes off easily. If left out for a time, the flesh sticks." His handling and holding of the fish are skillful. The fish has a balanced sweetness and a clean aftertaste.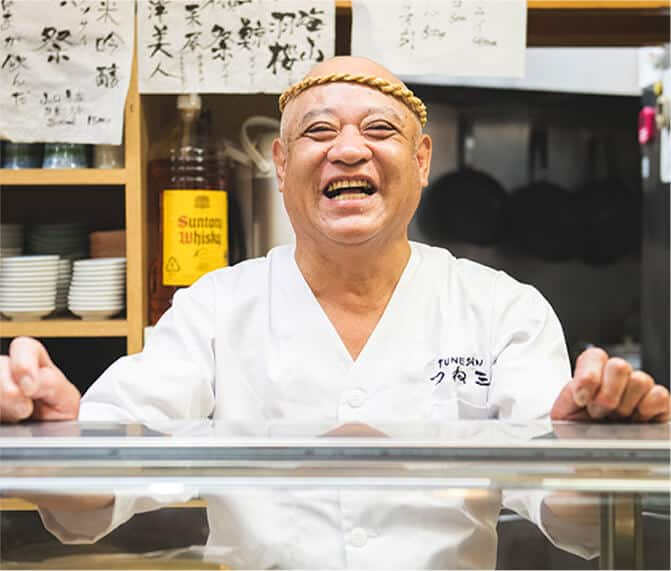 Tsunesan
Sushi shop that serves fresh seafood caught in Saiki. At night, Japanese sake is served with local dishes.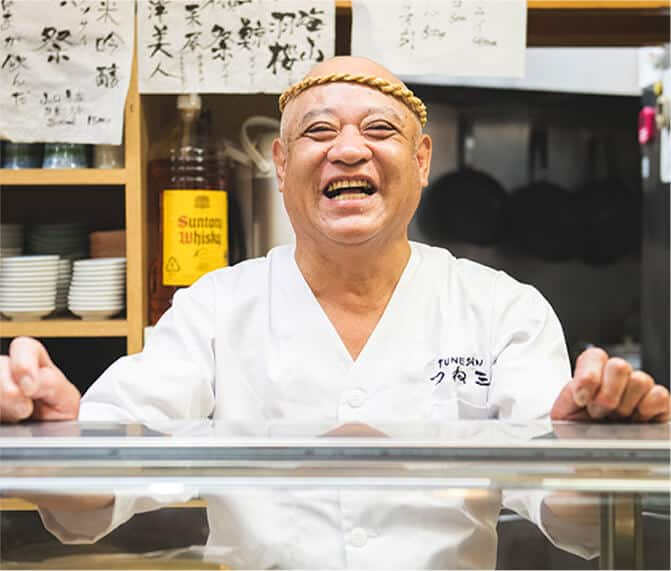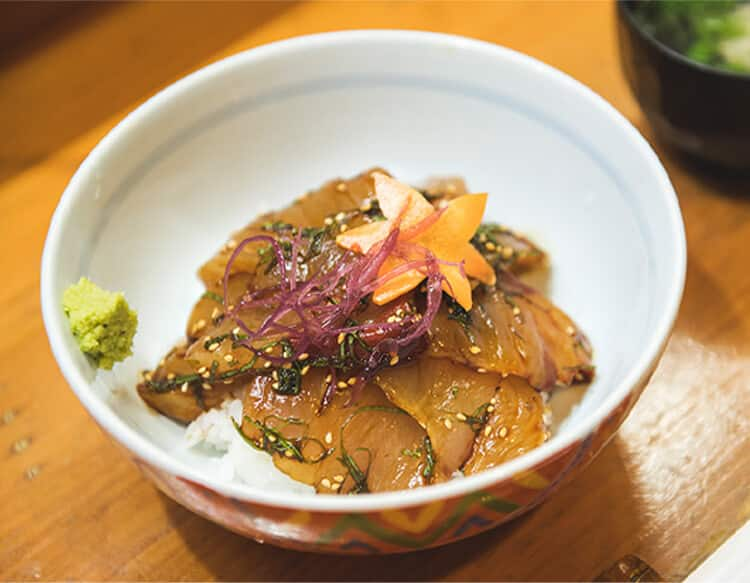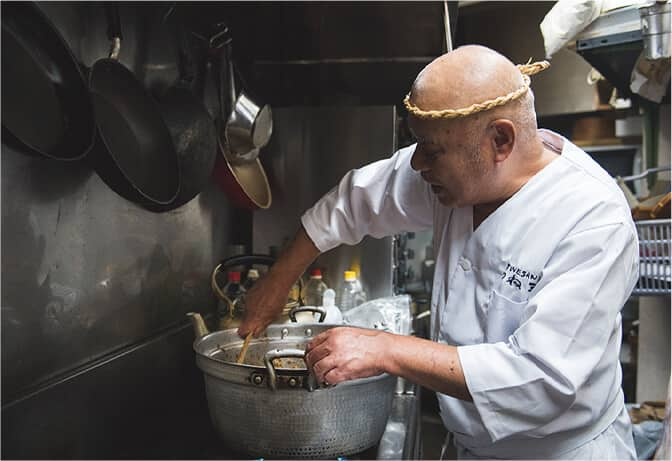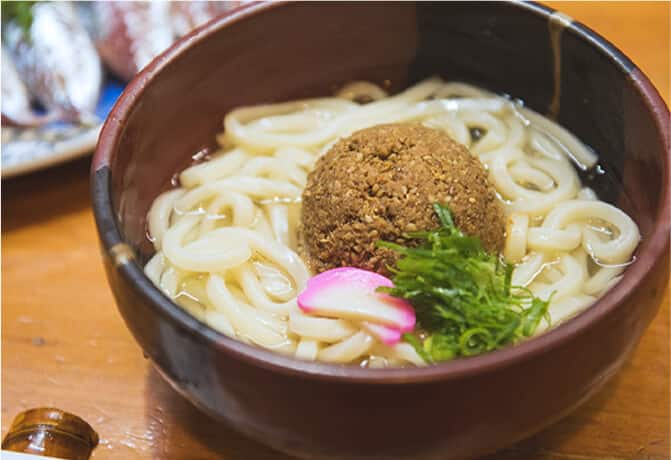 What does "seasonal" really mean?
A rural vacation rental where you can experience the interaction between life and nature.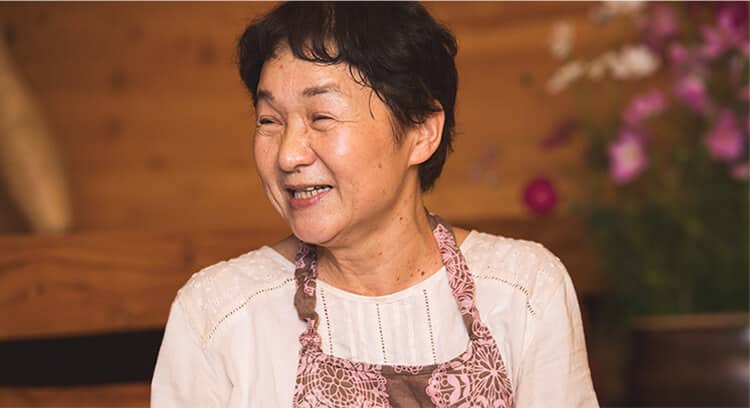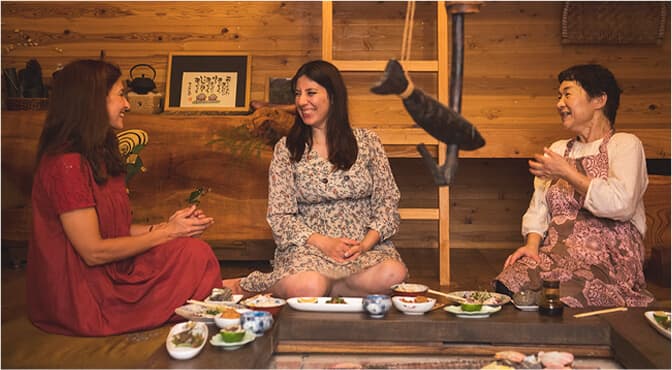 In the mountains of the Naokawa district lies a guest house. The main building is where the Kawachi husband-and-wife team live, while the separate annex is Kawachin-chi. The tranquility of the mountain stream before the property is pleasant, and time drifts away as you relax in the natural surroundings. "In the summer, you can walk in the stream with your kids!" says Mrs. Kawachi, happily.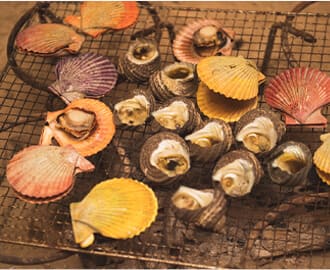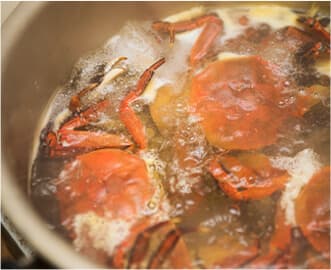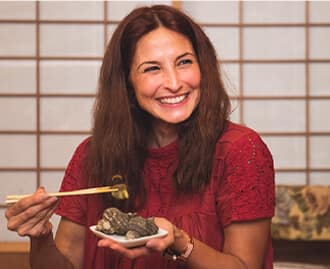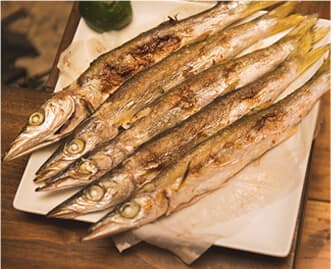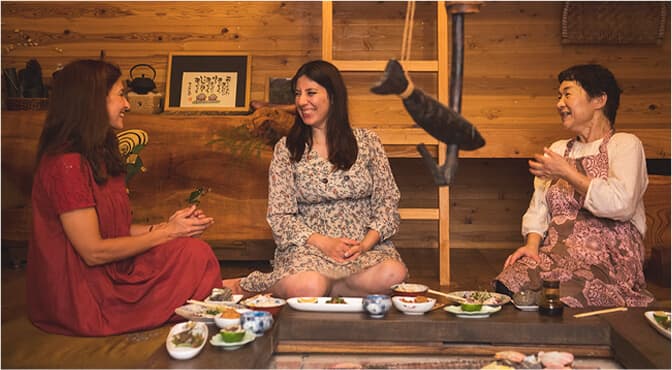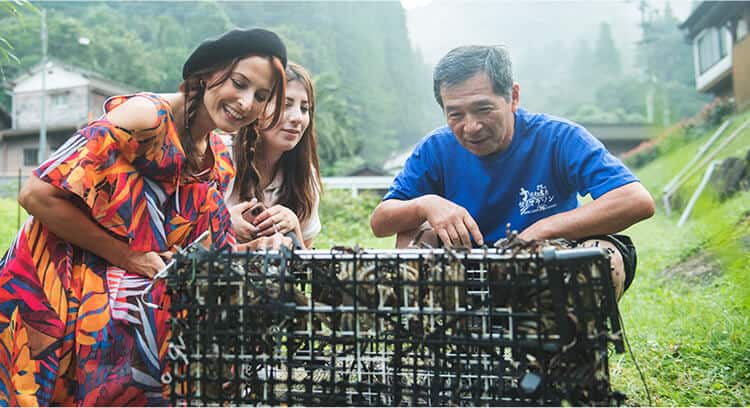 There is an old hearth in the center of the room of the traditional Japanese house-turned-guest house. We grill noble scallops from Yakatajima on the charcoal grill and eat them in one bite. There is also chestnut rice made with locally-produced rice and chestnuts from the hill behind the house, boiled taro grown in Kawachi-san's fields, horse mackerel sushi from the waters of Saiki, Japanese mitten crab raised in the river in front of the guest house, fried with tomato in pasta... many are the Kawachi family's excellent home-made dishes featuring seasonal ingredients.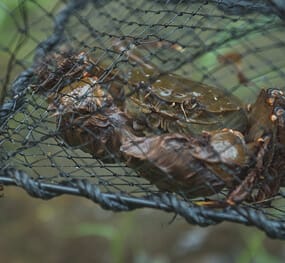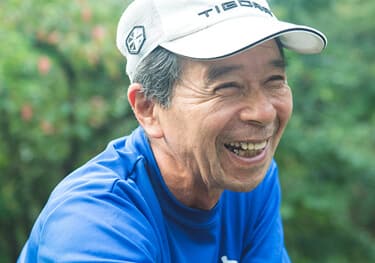 In the daytime, we go to the river in front of the house with Mr. Kawachi to catch mitten crab (commonly known as Yamataro crab). From the water, he pulls out crab trapped with pumpkin and fish as bait. "Small Yamataro crab hatch where the river and sea join, then move upstream. In late summer – around this time – they move back down with the rains to spawn. When they've come up this far, they are big and delicious," says Mr. Kawachi. With the feel of the seasons on your skin, experience life close to nature.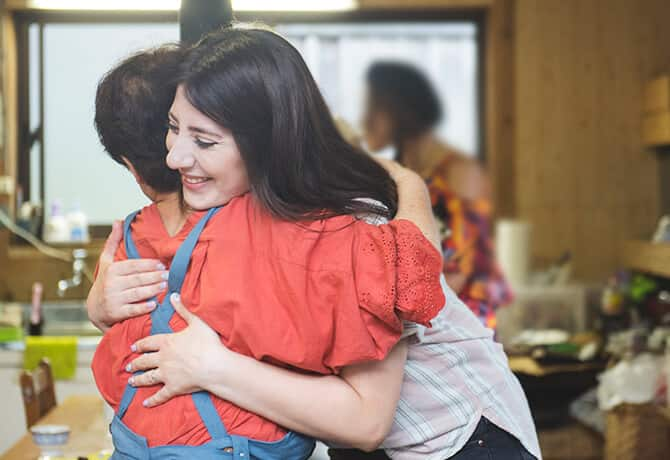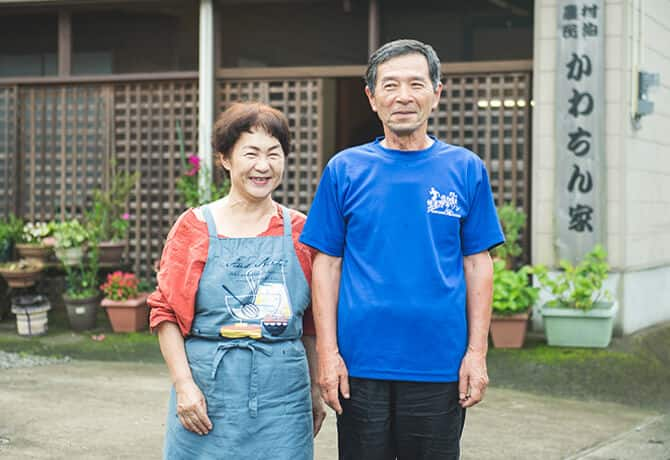 Farm Stay Kawachin-chi
Rural vacation rental in Saiki. Many visitors return for the jovial personalities and home-made food of the Kawachi's.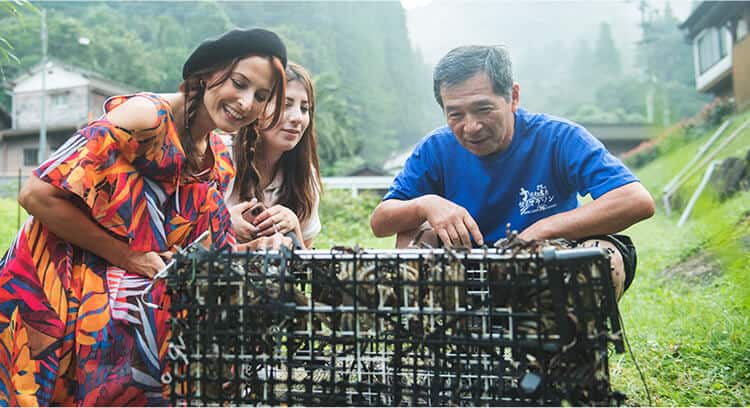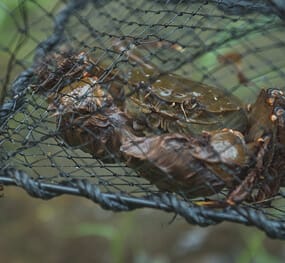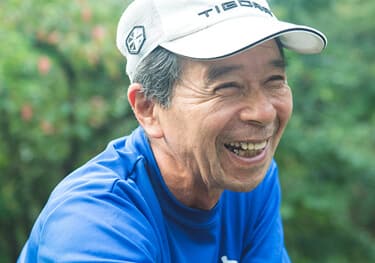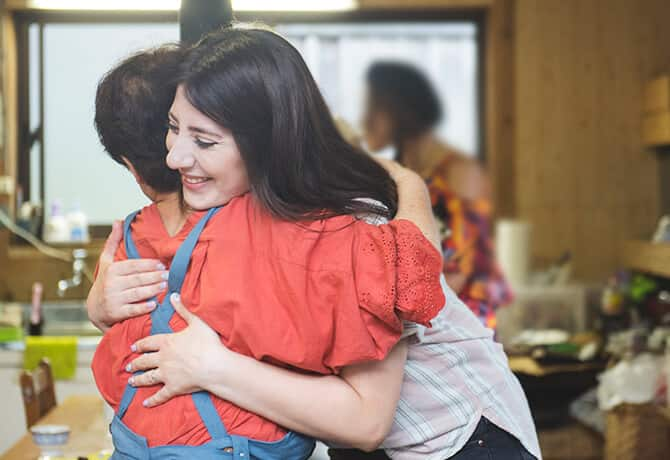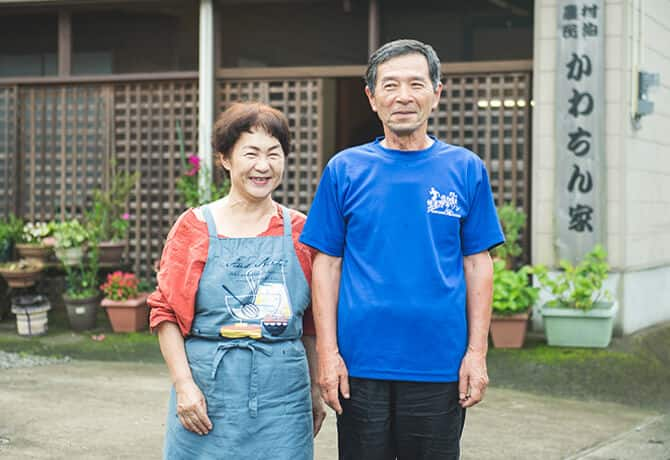 Things To Do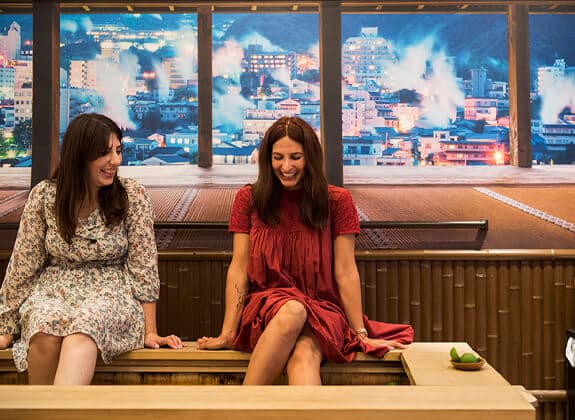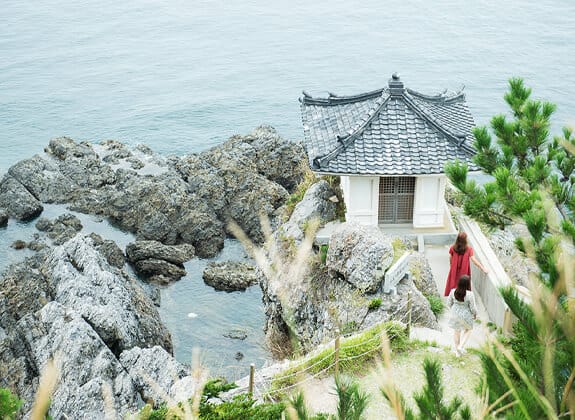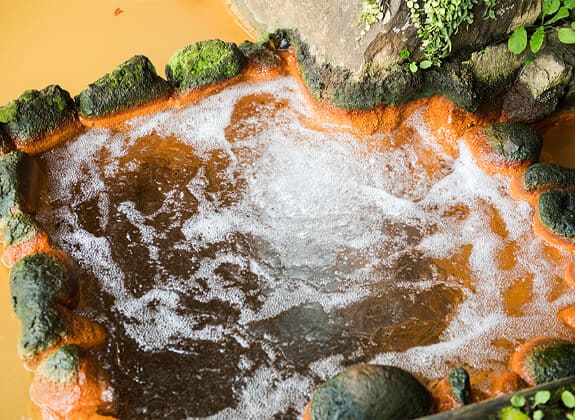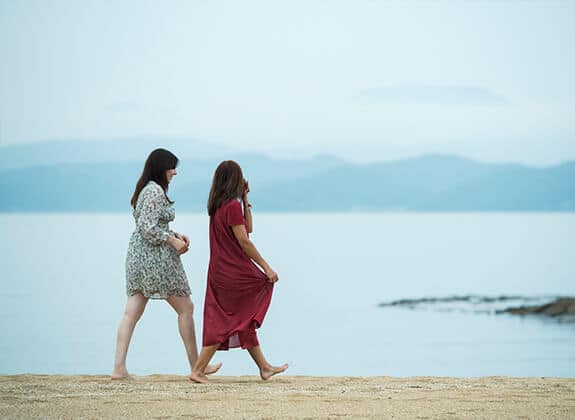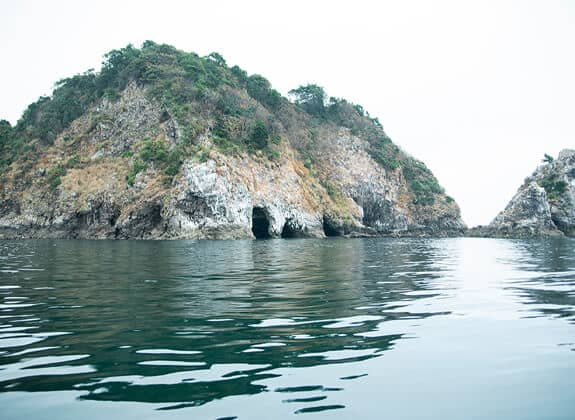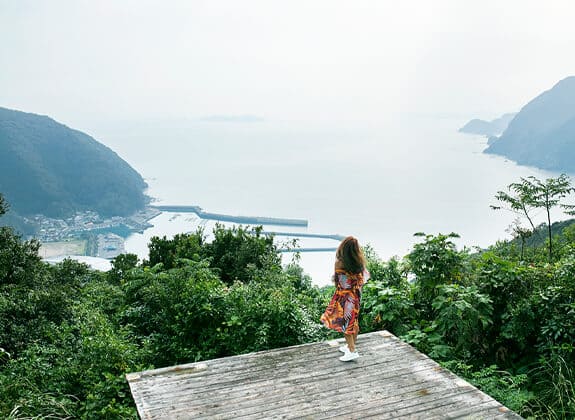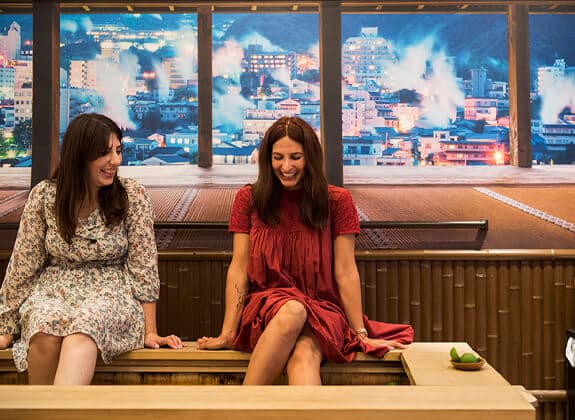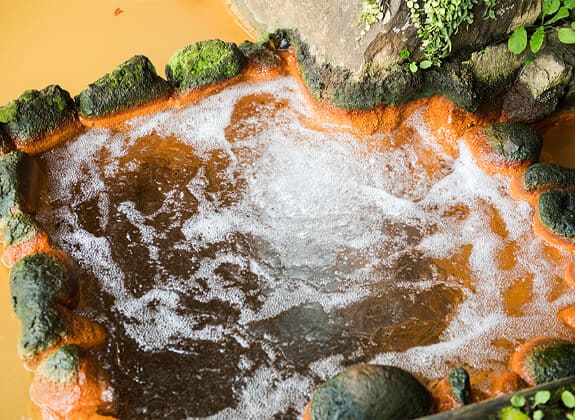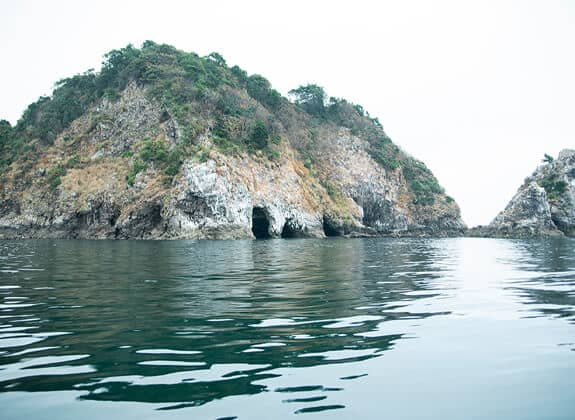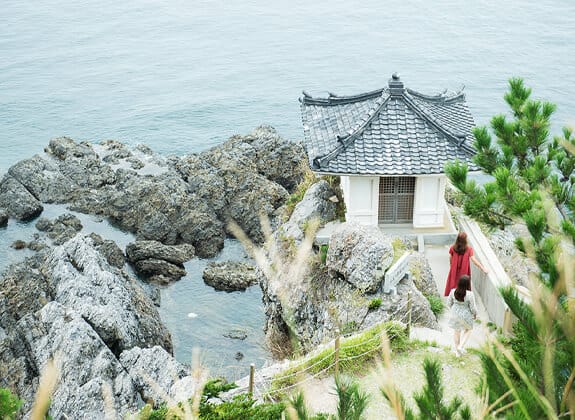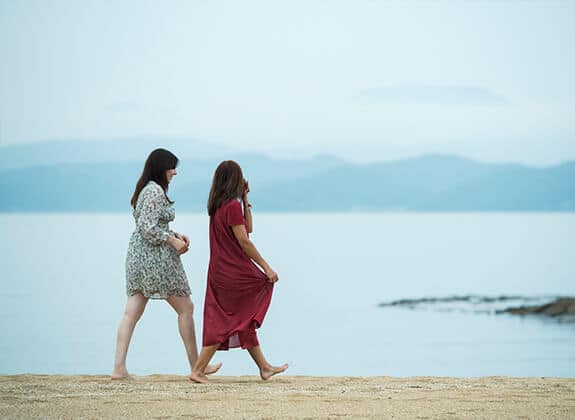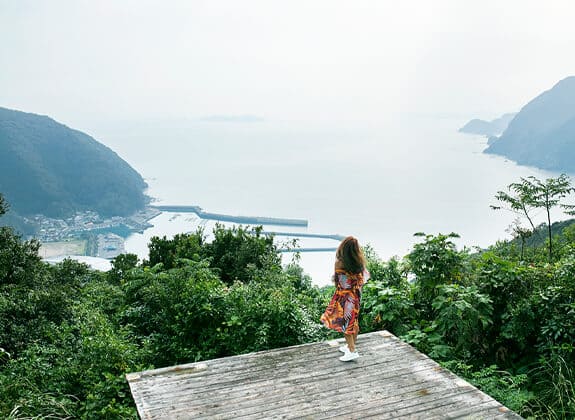 September 2019
This Trip's Itinerary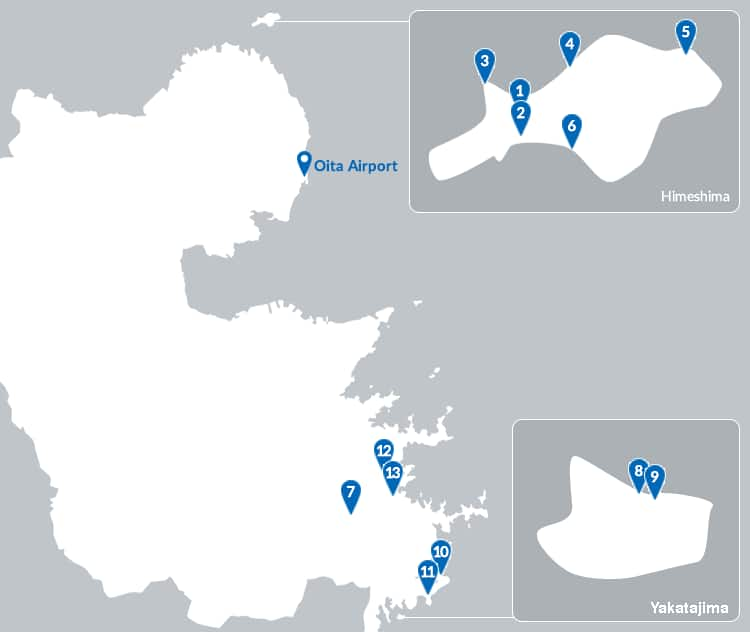 Oita Airport
Himeshima Tiger Prawn Farming Corp.
Restaurant Himenoya
Sennin-do Temple
Ukisu Crater
Hyoshimizu Onsen
Himeshima Beach
Farm Stay Kawachin-chi
Goto Hiougigai
Yakatajima Guest House
Marunisuisan Corp.
Takahira Lookout Park
Kojinomori
Tsunesan
Oita Airport
Transport Information
Getting to Oita Airport, the gateway to Oita
Tokyo:Approximately 1 hour 40 minutes from Haneda (Tokyo International Airport).
Osaka:Approximately 1 hour from Itami (Osaka International Airport).
Aichi:Approximately 1 hour 15 minutes from Nagoya (Chubu Centrair International Airport).
Getting to the various attractions and locations from Oita Airport
The locations listed are served by buses with departure/arrival times that conveniently align with flight schedules.
These include the Airport Express Bus, the Yufuin Express Limousine, the North Liner, and South Liner.
Come to Taste
Oita Gourmet by ANA