02


Bounties of Mountains and Forests
Encounter foods within the great cycle of time
and a richly living environment provided by the mountains
Oita has mountains both large and small, including Mt. Futago, Mt. Hiko, and the Kuju Range. The mountains have fostered a diverse culinary culture that has benefited from their plants, animals, and microorganisms. The food-related skills created over time are about more than just raising productivity. They are also vital wisdom for a way of life rooted in the land. It was mid-fall when we visited Oita this time, as the mountains started to take on autumnal tints. In a profound culinary journey, we crossed mountains and valleys and went deep into forests, in search of seasonal ingredients.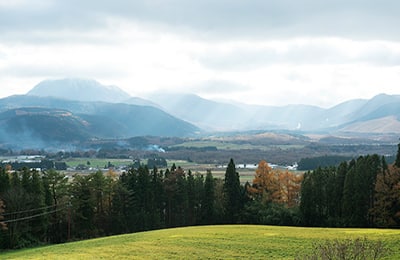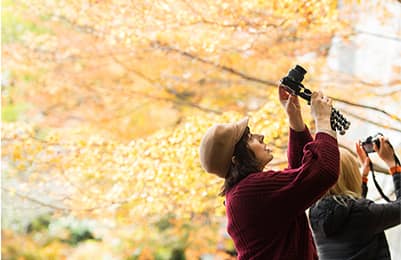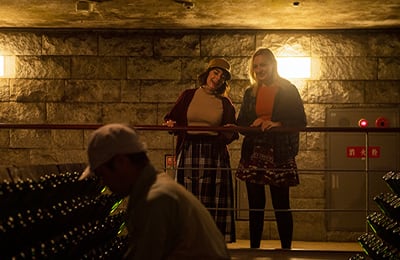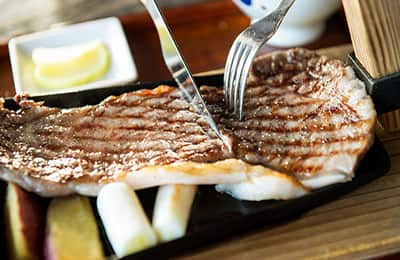 Usa, the birthplace of specialist karaage restaurants, and Nakatsu, holy ground for karaage, have been building a popular culinary culture for over half a century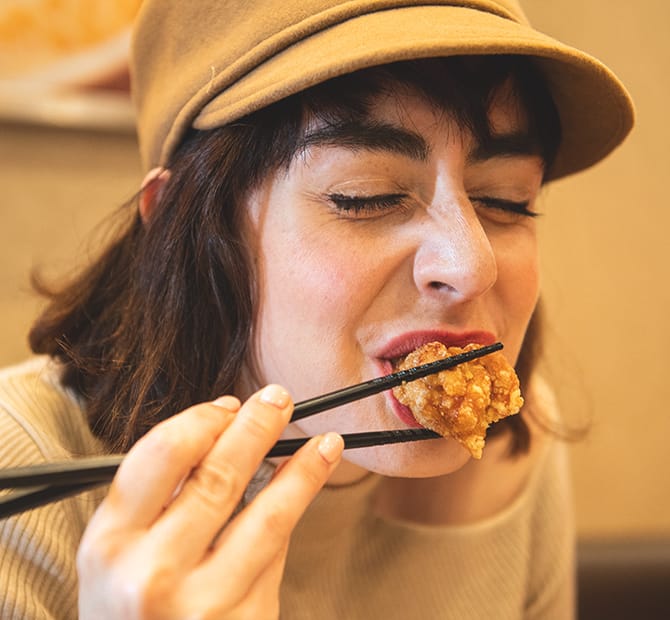 The chicken juices which burst out from within the crisp and fragrant batter are accompanied by the scents and flavors of shoyu (soy sauce), garlic, and ginger. The flavor and sensation they form together are the truest pleasure of karaage fried chicken. The cities of Usa and Nakatsu in the north of Oita Prefecture each have karaage fried chicken as their local specialty. The basic method for making karaage, which is to dredge pieces in starch and fry them in hot oil, was well suited to Japan's post-war situation, with basic foods in short supply. It was the wisdom of ordinary people to enjoy locally-caught fish that way. Then, chicken meat and karaage came together in this land, which is home to many chicken farms.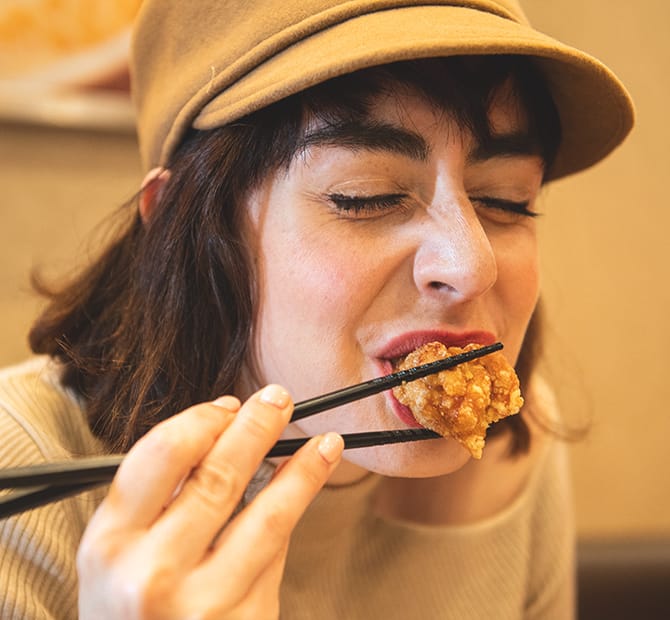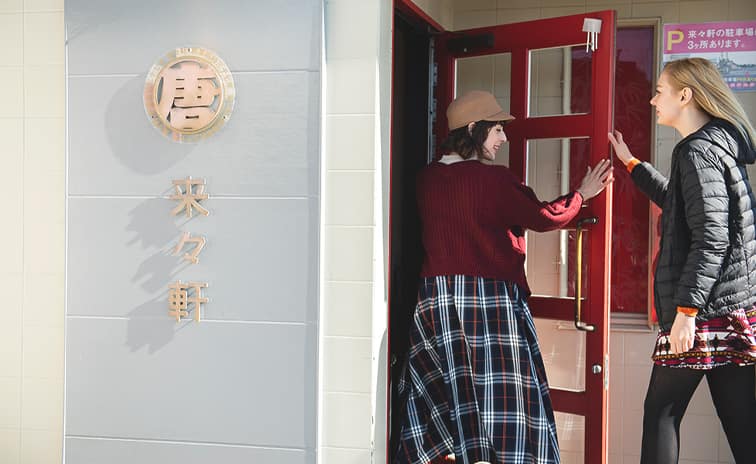 We visited Rairaiken in Usa, Oita, a city known as the birthplace of specialist karaage restaurants. A monument in front of the restaurant commemorates the birthplace of karaage. Fukuda san, the second-generation proprietor, says, "My father developed the idea of karaage fried chicken and founded the restaurant in 1964. The base back then was flour, salt, and pepper, but we've made gradual improvements to reach today's shoyu and garlic sauce." The combination of the fragrance of shoyu and garlic with the smooth mouthfeel, free of excess oiliness, keeps diners reaching for more.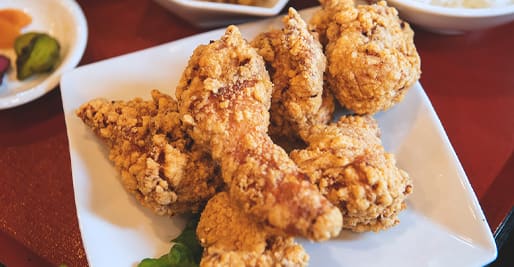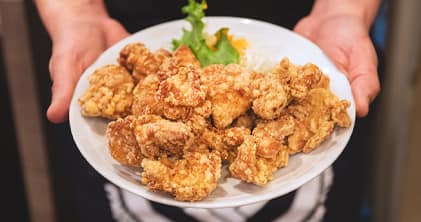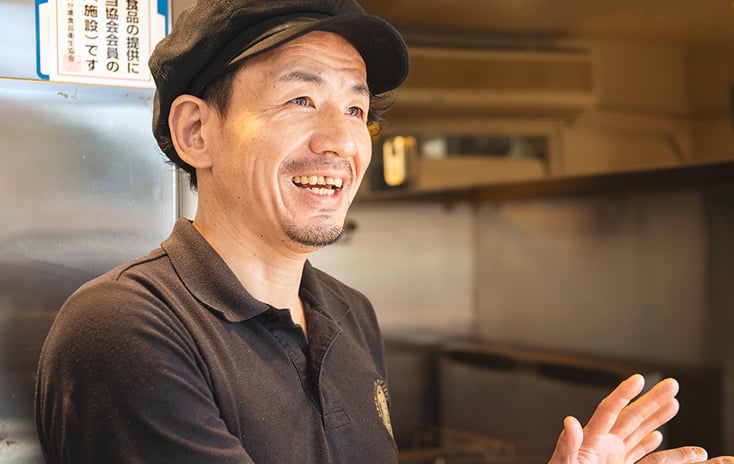 The enthusiastic proprietor explains that the modern worldwide trend of health consciousness is making people think again about what they allow into their bodies, so we are developing additive-free, No MSG (free of the food additive monosodium glutamate), gluten-free sauce. He told us of his dreams of creating ever-evolving karaage that more people would grow to adore.
Rairaiken
The restaurant is combined with the karaage-specialist "Tenkatori", which serves take-out. The menu also includes favorites like ramen noodles and gyoza dumplings.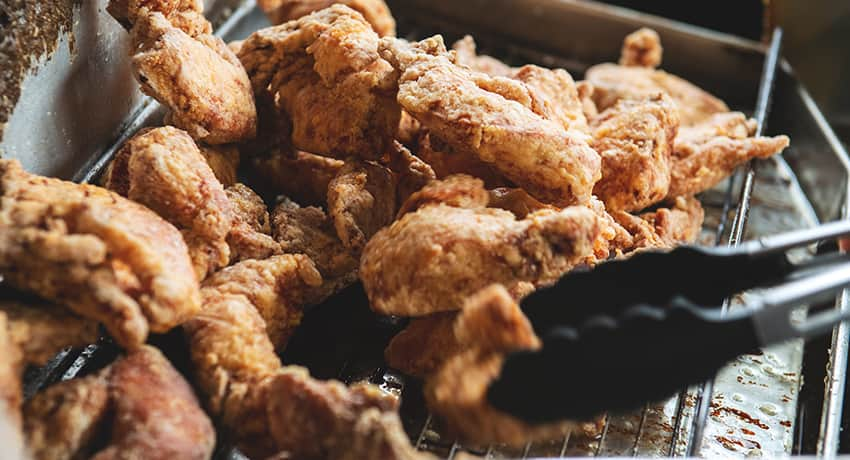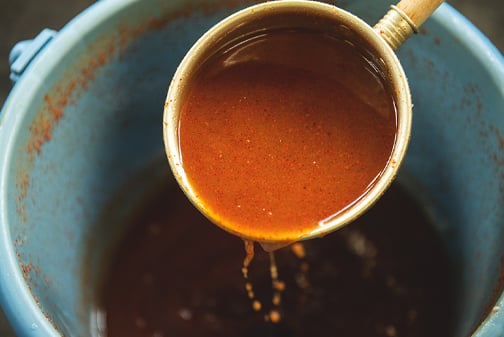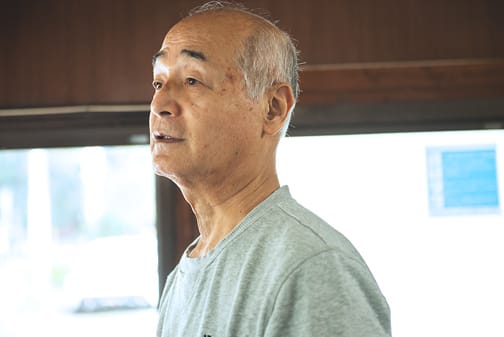 Nakatsu in Oita is a special kind of place, recognized by the Japan Karaage Association as "the holy ground of karaage". Murakami Shokudo lies to the south of Nakatsu's city center, on the far end of a steep gorge and a tunnel. Murakami san, the second-generation proprietor, says, "My parents, who ran a chicken farm in the area, founded this restaurant in 1968. We still season the chicken with the same recipe they used back then."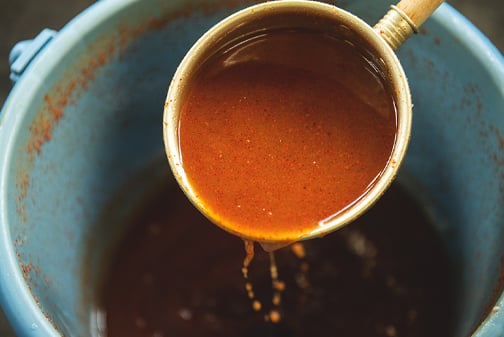 That spirit comes across in the menu, in which the karaage set meal is the sole option. Karaage made with chunky cuts of chicken melts in the mouth from the moment you taste it, and its umami and piquancy stir the appetite.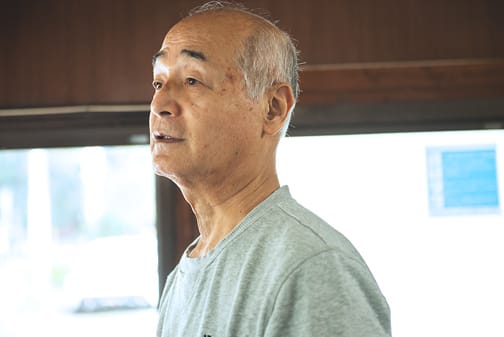 "The sauce is based on shoyu, and includes ginger and garlic, apple, white pepper, chili powder, ajinomoto, mirin sauce, sesame oil, and Japanese sake. We use it to season the cut chicken, then sprinkle salt," says the second-generation proprietor (recipe reproduced with permission). The karaage served at Murakami Shokudo, unchanged for over 50 years, uses ingredients that are available anywhere to create a flavor that nobody can mimic.
Murakami Shokudo
The restaurant's look, against a backdrop of the precipitous Yabakei Gorge, is the last word in spare simplicity. Like its karaage, it has all extraneous elements stripped away.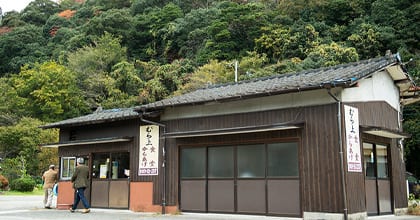 Murakami Shokudo
The restaurant's look, against a backdrop of the precipitous Yabakei Gorge, is the last word in spare simplicity. Like its karaage, it has all extraneous elements stripped away.
Patient research and refined sensitivity in pursuit of wine flavors only this land can offer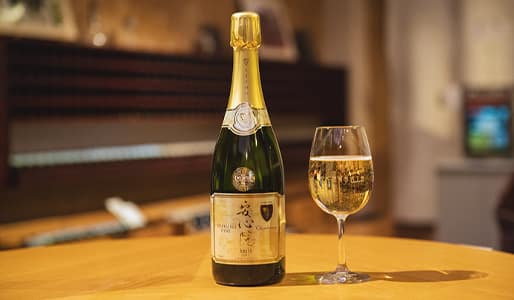 In Ajimu, which stands amid the mountains between Usa and Beppu, Ajimu Budoushu Koubou makes the most of the stark temperature difference between day and night, and the basin topography, to cultivate grapes and improve their varieties. We spoke with Masuda san, who makes wine here. Sanwa Shurui Co., Ltd., which started out making Japanese sake and is headquartered in Usa, moved its wine division here in 2001 to operate its winery. "At first, we didn't know what variety would suit this land, and what its brewed characteristics would be, so we planted many grape varieties, and identified their suitability. I personally trained at a winery in Australia for a year, and put the skills I learned to use."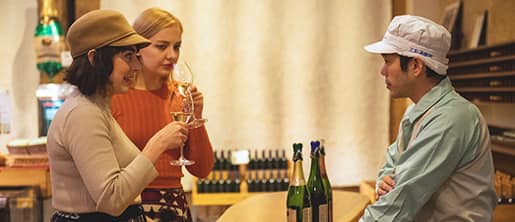 "We recommend Albariño white wine. It was only possible because, while Albariño is a variety grown in Spain and Portugal, the climate of Ajimu is similar." Masuda san says, "The nose is clear and characteristic, with notes of apricot and white peach". Asked about other characteristics wines, he offers "Shokoshi". "We make it from a grape variety hybridized with wild vines, so it has a full body and deep color, with a nose reminiscent of Japanese pepper and other elements. It's also accessible for people not generally fond of red wine. This grape variety only exists in Japan."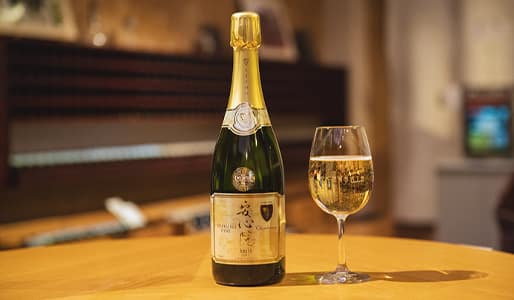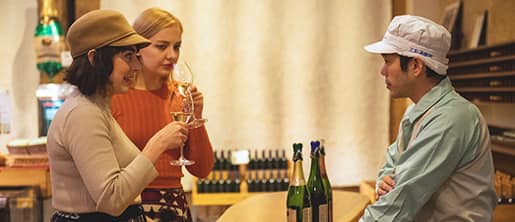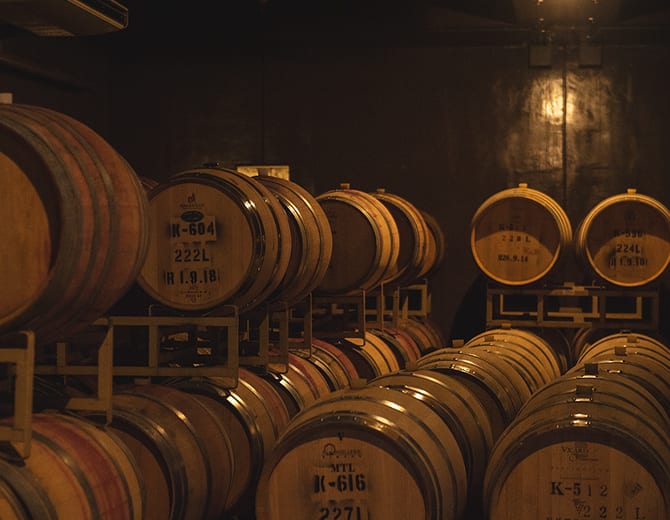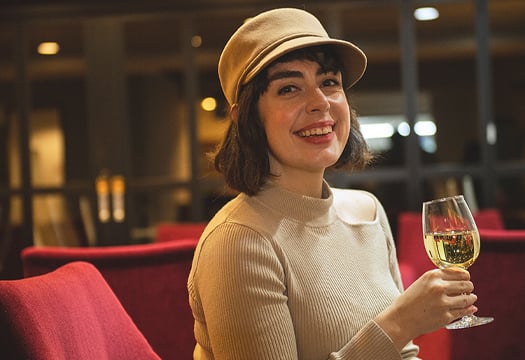 Masuda san says that today's climate change puts wineries in a difficult position, as they can't forecast the coming climate. "The regions where wine can be made are changing around the world. Kyushu hasn't been affected yet, but if the temperature range narrows, red wine will not gain its proper hue. All we can do is keep in close touch with the climate and environment, as we search for the best thing at each moment." Masuda's attitude of everyday challenge, in search of flavors, varieties and production methods that only this land can produce, stands out in his every word.
Ajimu Budoushu Koubou
Visitors to this winery can view the extensive lineup, brewery, storehouses, vineyards, and more.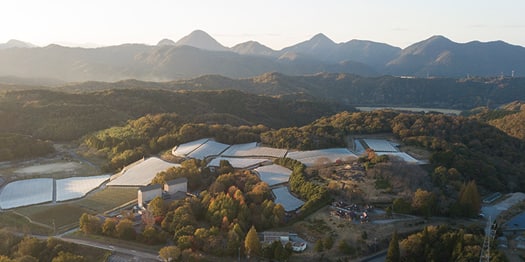 A whole town engaged in Ume growing for over 50 years.
Taking the time and trusting the barrels
Next, we headed to Oyama, a town that grows ume (Japanese apricot) amid the mountains of Hita City. We visited Umeshu Gura Oyama, which brews umeshu liqueur using only ume grown by local farmers. Umeshu is a liqueur containing ume extract, produced by placing fruit picked from ume trees in containers with sugar and distilled spirit, and pickling them together. This brewery has been working in collaboration with Tejima san, an umeshu brewing adviser, to develop its manufacturing process and search for the secret of its delightful flavor. Tejima san says, "We buy around 30 tons of unripe green ume, which are harvested around June by 30 farmers under contract in Oyama, and pickle them in tanks with sugar and alcohol for about a year. Then we separate the fruit out and store the liquid for another two years to produce the finished product." Every product they create has won awards since they took the Gold Prize at the National Umeshu Show in 2015.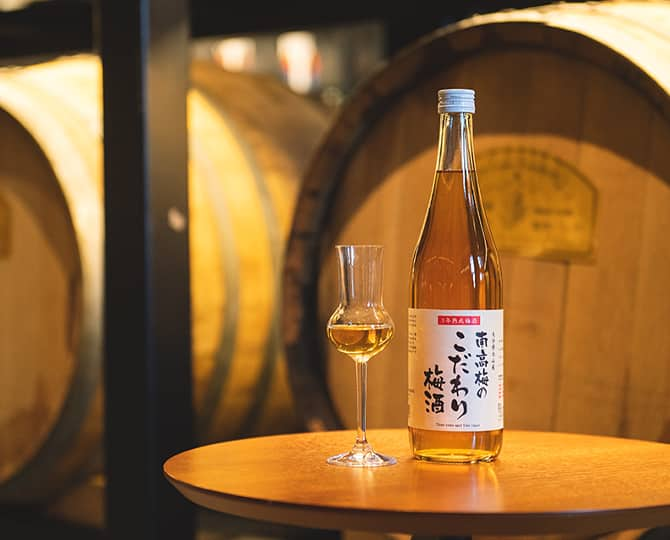 A shop in front of the brewery offers a range of umeshu products, as well as umeboshi ume pickles, picked ume fruit, jams and syrups, and more. Tejima san happily recounts, "Other than umeshu, we process as much as possible of the ume grown in the region, to market as finished products. In the storehouse next to the shop, we take umeshu that has pickled in tanks for three years and mature it for a further two years. That creates an umeshu variety with deeper flavor, accented with the fragrance of wood." Tasting the umeshu, we found it to have a nose with a rich, deep fragrance that spreads out from under the sweet and tart flavors. "Earlier maturation is more efficient, but like wine, it takes time to bring out this depth and flavor. The fact is, we're still studying why that is."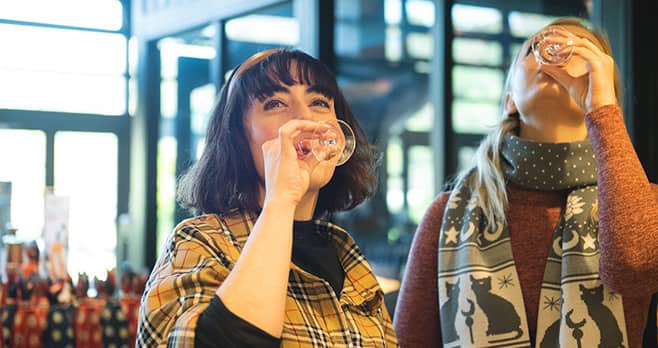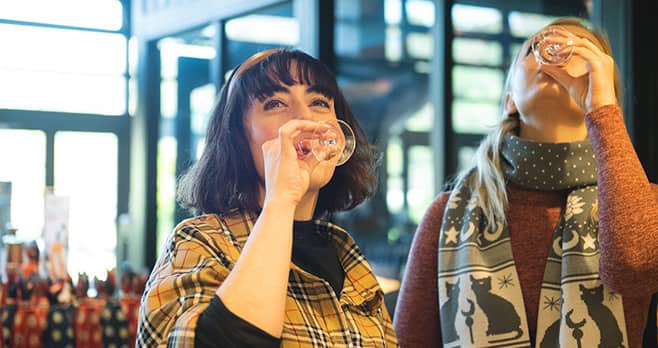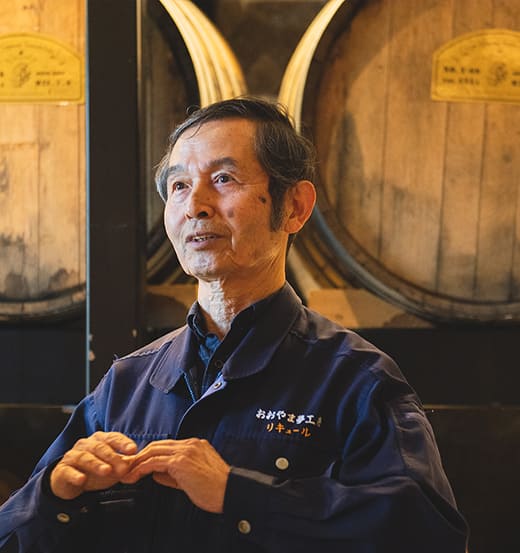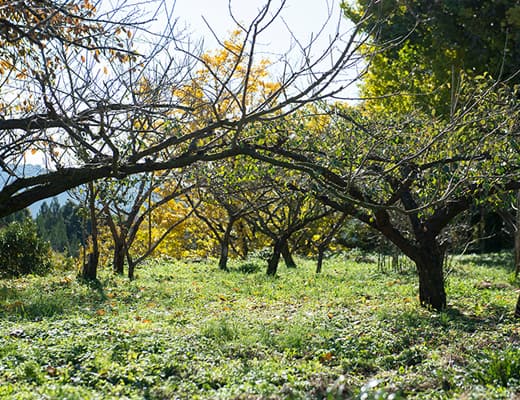 Umeshu Gura Oyama
This umeshu brewery, operated by Oyama Yume Kobo, was built in partnership with Nikka Whisky. The whole region is covered with ume flowers in the blossom season.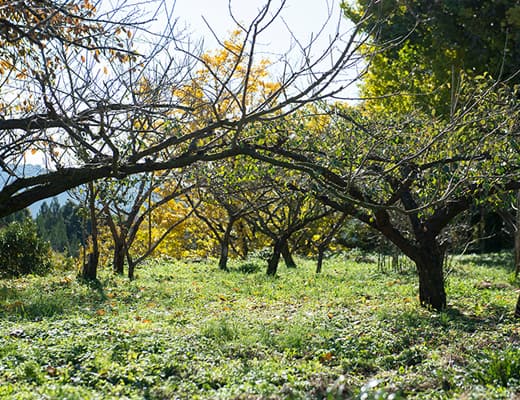 Umeshu Gura Oyama
This umeshu brewery, operated by Oyama Yume Kobo, was built in partnership with Nikka Whisky. The whole region is covered with ume flowers in the blossom season.
Circulation within nature, and economic circulation,
found by looking face to face at living things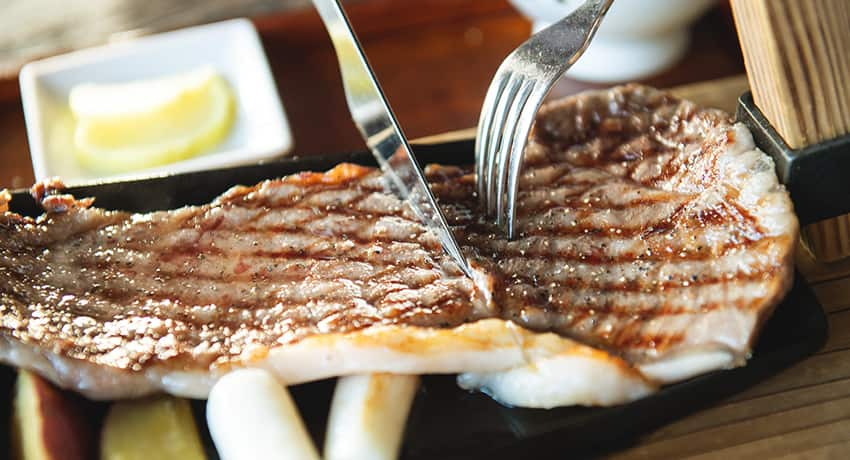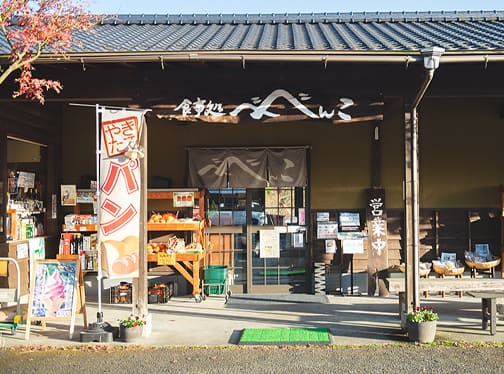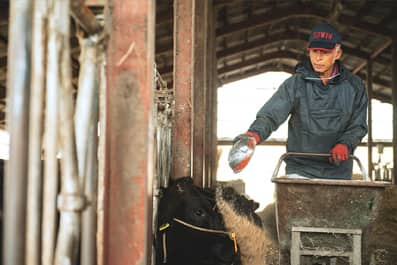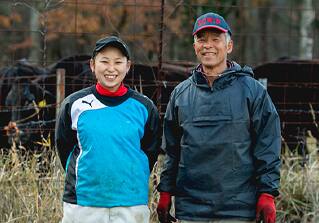 Bebenko is a restaurant directly managed by Washizu Bokujo (Eagle Farm). It commands a majestic view of the Kuju mountain range and Mt. Ofuna from its location on the highway close to the highlands, in the Tano district of Kokonoe Town. Diners here can enjoy steak set meals made with the beef of Bungo cattle, raised on the farm's pasture, and local Koshihikari rice. Other delights include soft blueberry ice cream. Cutting into the steak, fresh from the grill and still sizzling enticingly, we tasted the soft texture and rich flavor of Bungo beef. The relationship between the steak sauce and the beef was exquisite.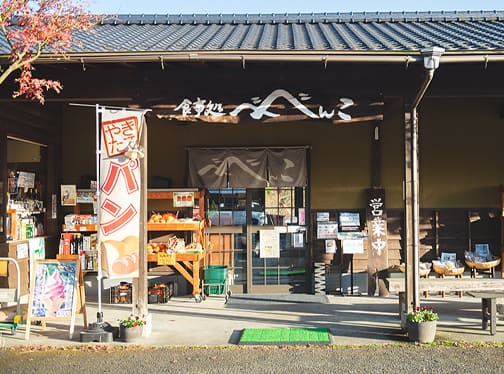 Eagle Farm, which manages Bebenko, uses land opened up in 1889 by ancestors of Washizu san, the farm's current representative. Cattle raising on the farm dates back to 1953 when his grandfather began it. Washizu san says, "Within our area of about 10 hectares, we have land for pasture and for growing fodder and other crops, as well as cattle barns. We also work with local farmers to exchange the fertilizer we produce in the cattle-raising process for fodder grass and straw. The exchange turns what was previously discarded into resources and generates a cycle within the region." Other than formula feed, the farm provides all the animal feed it needs from its own land.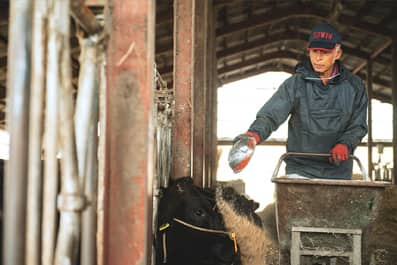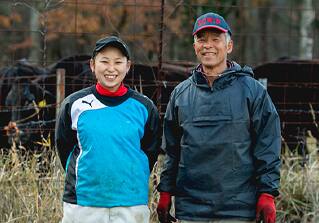 "Using our extensive land, we let the cattle pasture freely on the mountainside in the summer. Freedom from stress is the most important thing for the cows' health. We also raise mothers and calves together as much as possible. Early weaning is more efficient, but it's important to draw on the nurturing abilities of the mother cow." Eagle Farm is searching for its own ideal form, in order to make the most of the current environment and resources of the region.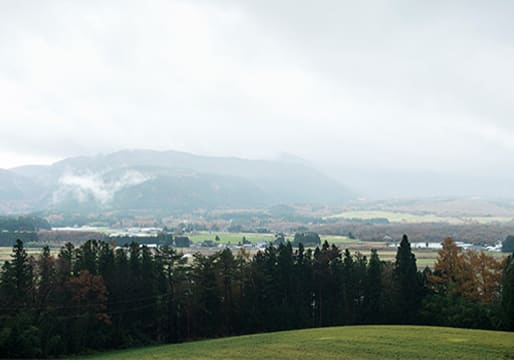 Restaurant Bebenko
Standing on high ground, this restaurant has an unbroken view across the expansive pasture. Inside, vegetables and other produce are grown by local partner farmers are also on sale.
The environment where Oita,
Japan's biggest producer of dried shiitake mushrooms, grows such delicious shiitake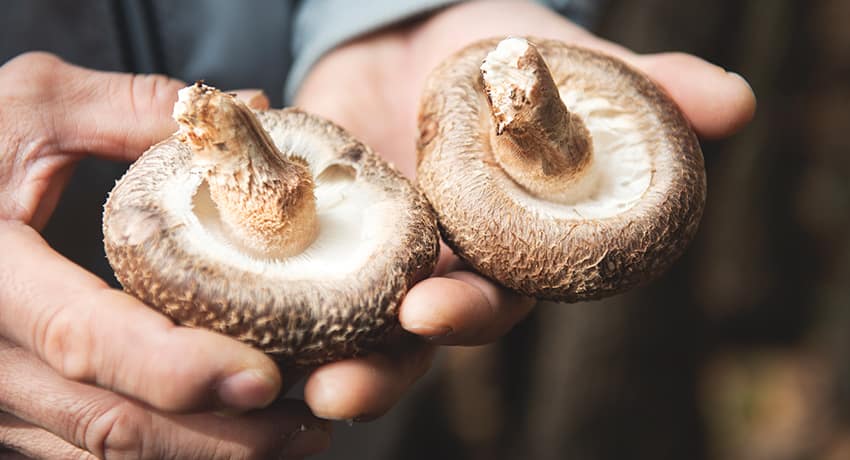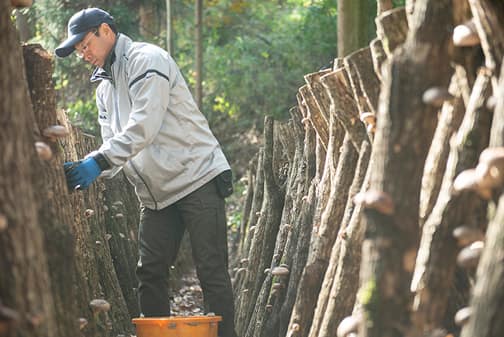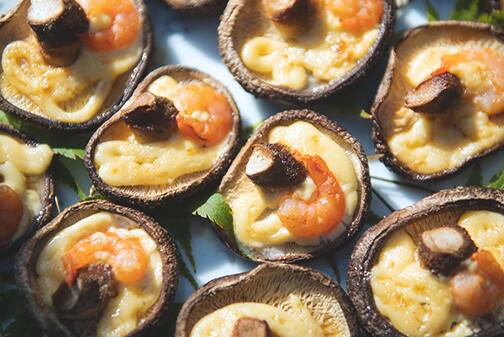 Oita is also Japan's biggest producer of dried shiitake mushrooms. Takeda City, where we visited a shiitake farm, is one of the leading shiitake-growing areas, even within Oita. The farm has genboku log beds of oak logs arranged on both sides of a road to grow shiitake on. It's a delightful spot, with trees dappled with light falling through leaves. According to the farm's owner, "An environment suitable for shiitake must have the right sunlight, humidity, and temperature, all together. It doesn't work if it's too dry, or too cold. This area was originally rice paddies, but we planted the land deliberately with a selected mix of broad-leaved and deciduous trees of varying heights to develop it as a shiitake farm." Shiitake of all sizes were growing on the log beds. We plucked plump, fist-sized shiitake and put them into baskets.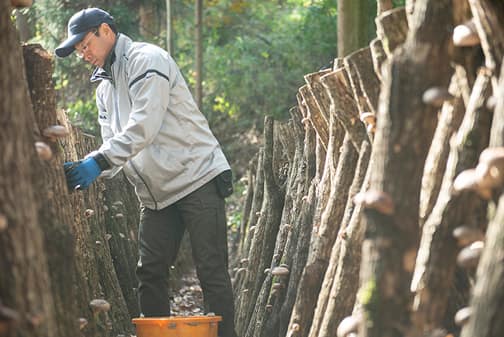 "Harvest seasons are spring and fall. Shiitake that grow on sweet oak sap have a subtle sweetness that makes them ideal for soup stock. Compared with raw shiitake, dried ones have nearly 10 times the amounts of vitamin D and other nutrients. We don't use chemical fertilizers on our farm, so our customers can enjoy the unchanged taste of the natural ingredients," says the owner, while grilling the fresh-picked shiitake on the spot, over a charcoal fire. He says, "There are lots of tasty ways to eat shiitake, besides charcoal grilling." We certainly enjoyed the farm's pleasant atmosphere to the full while savoring the sweetness and profound fragrance of these mushrooms in the dishes he prepared, including dumpling soup with shiitake, and mochi rice blended with shiitake.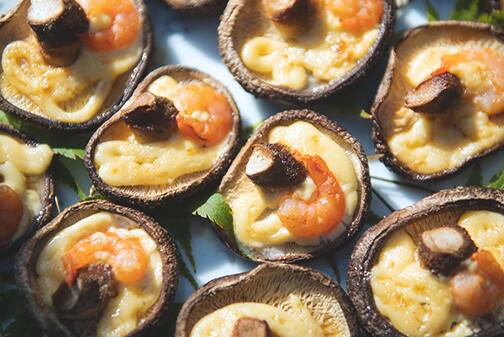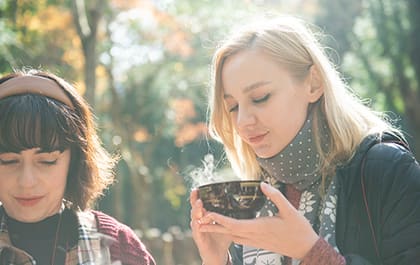 A natural way of life, adapted to the seasons,
which one can only experience in the Japanese countryside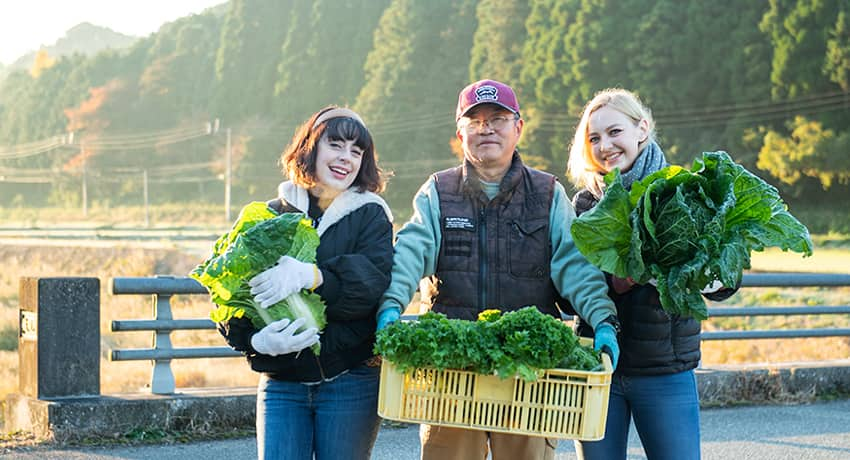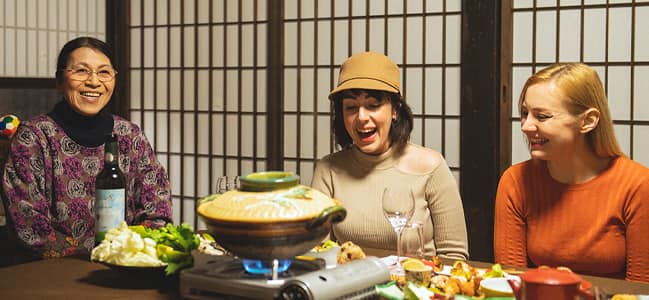 Ajimu is the cradle of farmstays in Japan. We visited "Hyakunen-no-Ie (which means "hundred-year house") Tokieda, where Mr. and Mrs. Tokieda have been taking in boarders since 1996. As soon as we arrived, we were taught how to make "Yaseuma", a regional dish of Oita. We kneaded wheat flour and glutinous rice flour together into a dough, which we rolled out into rectangular strips, boiled, and sprinkled with sugar and kinako (soy flour) to finish. Its chewy texture is perfectly complemented by the fragrance of the kinako. Masako Tokieda, smiling brightly as she prepares dinner, says, "I have to do all I can to make the stay worthwhile for people who come all this way out into the countryside."
The dinner table held an array of local Oita produce, served alongside wine from Ajimu Budoushu Koubou. Dishes included shabu shabu of sea eel and vegetables (the onions and Chinese cabbage were home grown), yubeshi of yuzu citron (a blend of yuzu, miso paste, and nuts, first steamed and then exposed to cold), tofu cutlets, and yuzuyose (yuzu set in kanten jelly), as well as an array of items prepared from seasonal vegetables. After explaining each in detail, Mrs. Tokieda said, "I make my own miso paste too. I feel that when we study how to offer hospitality, and get good reactions from our guests, it refines our hearts." That feeling is conveyed in every one of the dishes prepared with such respect for the ingredients.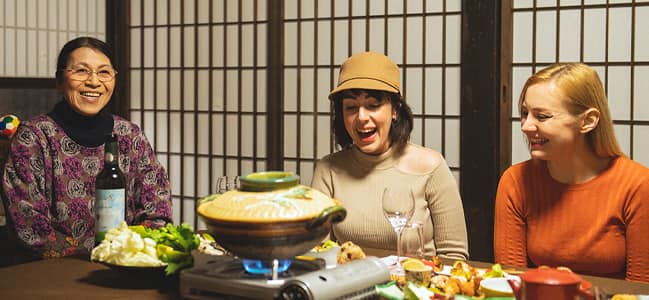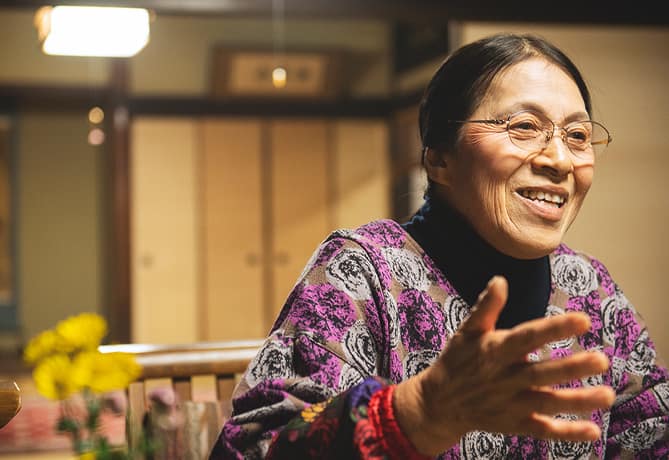 "It's still difficult for women like me, who live in rural Japan, to speak out and assert ourselves in society. In Europe, mothers can go into business for themselves, selling their home cooking and process goods like handmade cookies and jam. They make people happy that way, and that generates a connection with society. Here in Japan, I want to serve the flavors of our home in Ajimu, so that all kinds of people will be delighted by tastes they can only find here. That is my bliss."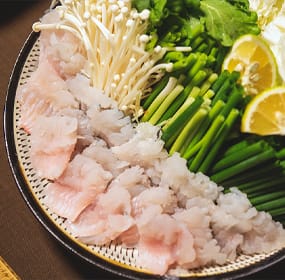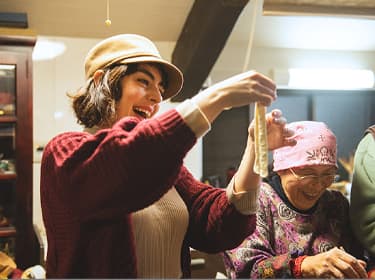 The next morning, we stepped out with Mr. Tokieda to the fields in front of the house. They were growing a diverse range of vegetables, including Chinese cabbages, potatoes, burdock roots, daikon radishes, wasabi leaves, chrysanthemum leaves, carrots, sword beans, chili peppers, taro roots, sweet potatoes, garlic, and Manganji green peppers. I recalled Mrs. Tokieda's words of the night before: "Facing real-life means treasuring the soil so that we can harvest good vegetables." That means spending time and effort together with nature. I could feel that such a way of life still exists in this land.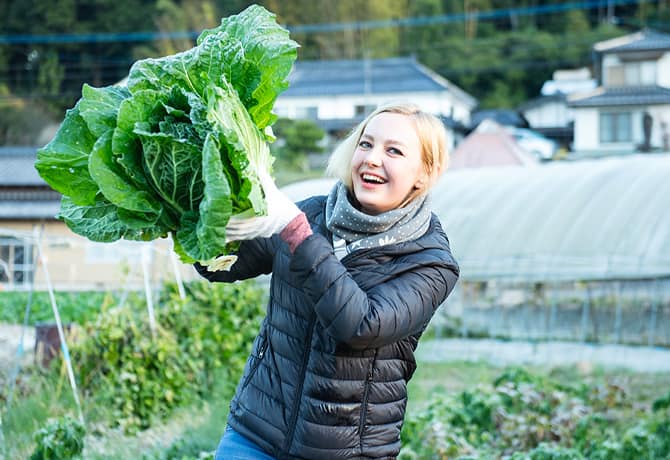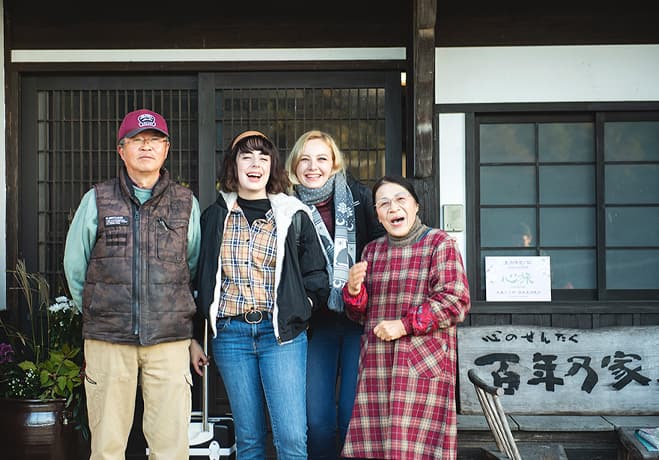 "Hyakunen-no-Ie" Tokieda
This farmstay home, made from a rice granary that was built around 200 years ago, operates for one group of guests per day.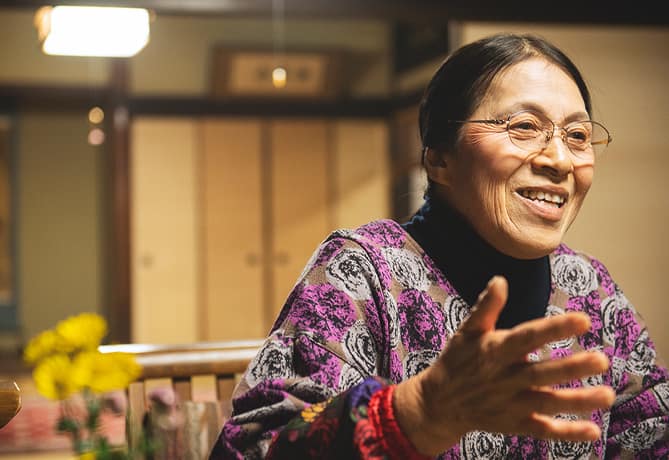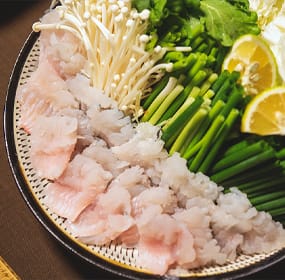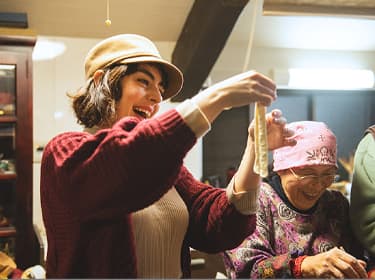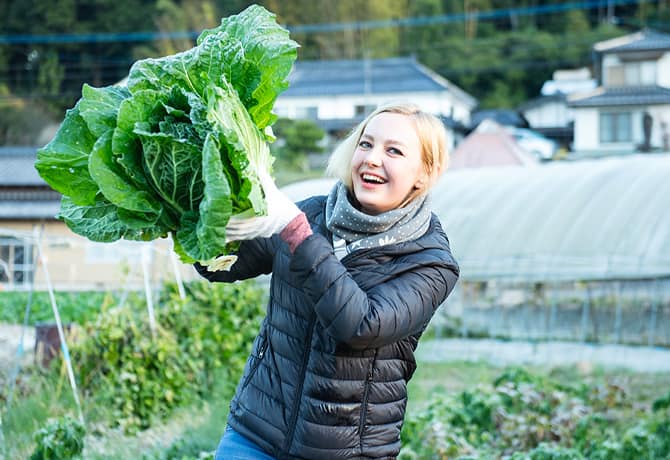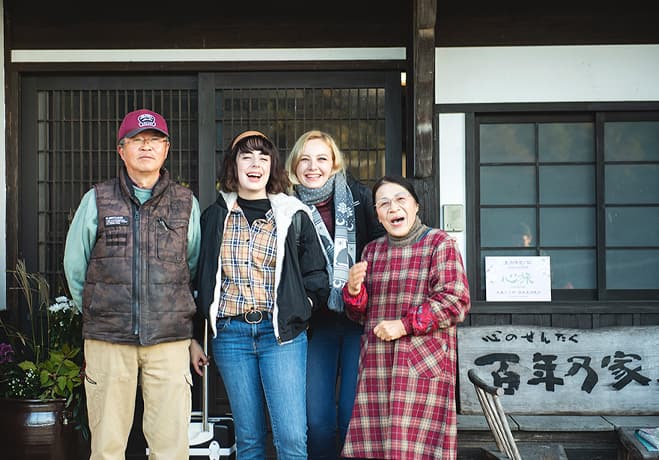 Things To Do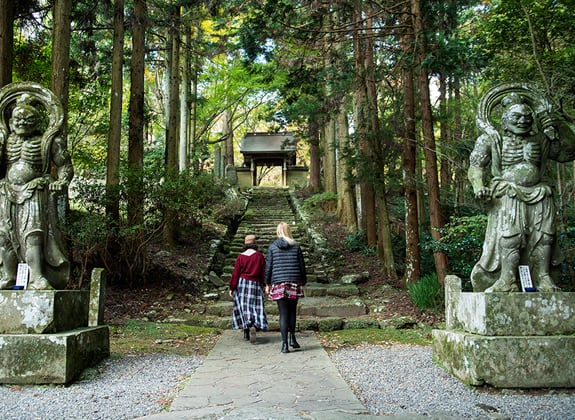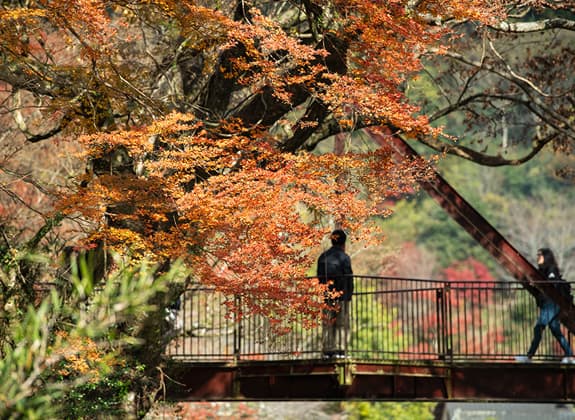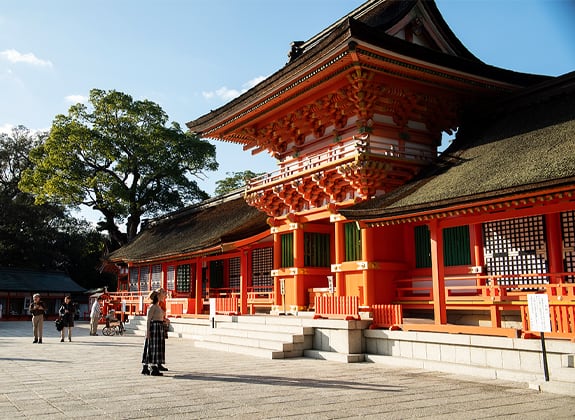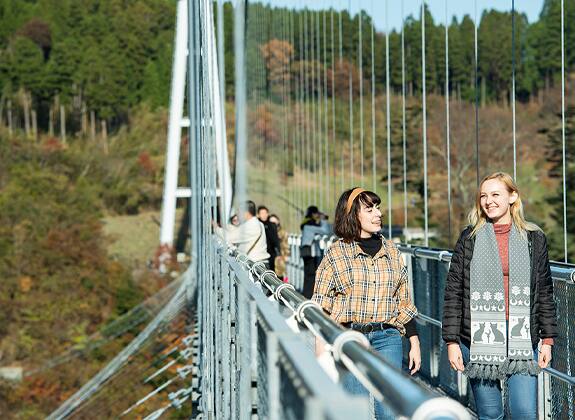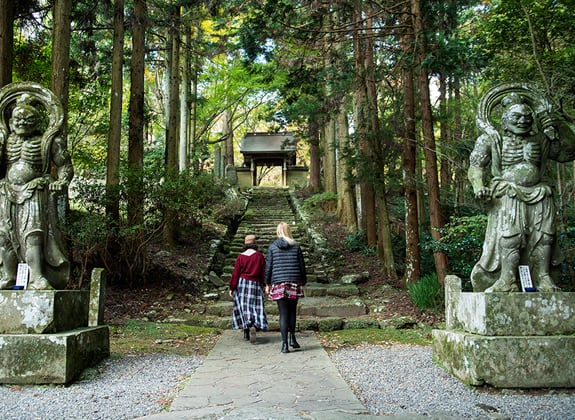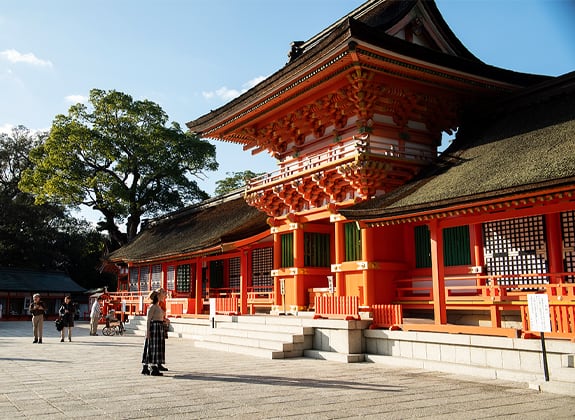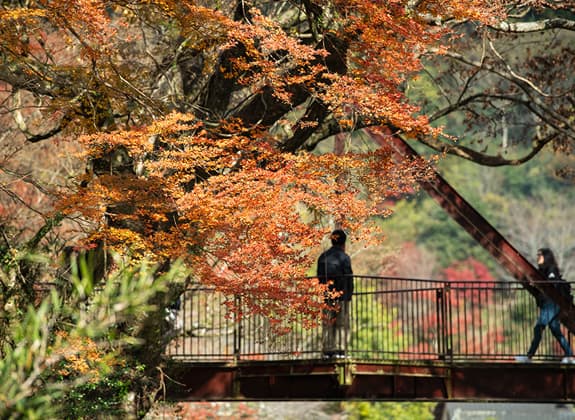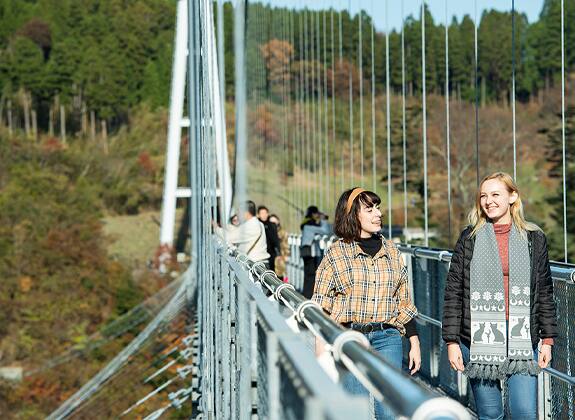 November 2019
This Trip's Itinerary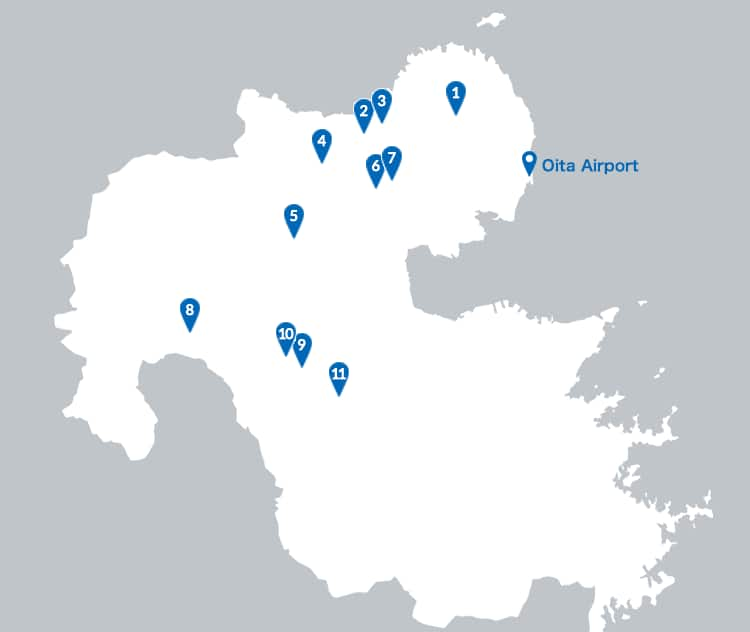 Oita Airport
Futago-ji Temple
Rairaiken
Usa Jingu Shrine
Murakami Shokudo
Shin-Yabakei Gorge (Panoramic viewpoint)
Ajimu Budoushu Koubou
"Hyakunen-no-Ie" Tokieda
Umeshu Gura Oyama
Farmhouse Restaurant Bebenko
Kokonoe Yume Otsurihashi Bridge
Shiitake Farm
Oita Airport
Transport Information
Getting to Oita Airport, the gateway to Oita
Tokyo:Approximately 1 hour 40 minutes from Haneda (Tokyo International Airport).
Osaka:Approximately 1 hour from Itami (Osaka International Airport).
Aichi:Approximately 1 hour 15 minutes from Nagoya (Chubu Centrair International Airport).
Getting to the various attractions and locations from Oita Airport
The locations listed are served by buses with departure/arrival times that conveniently align with flight schedules.
These include the Airport Express Bus, the Yufuin Express Limousine, the North Liner, and South Liner.
Come to Taste
Oita Gourmet by ANA