Tokyo Sakura Tram (Toden Arakawa Line)

"Tastes of JAPAN by ANA" is a regional vitalization project that collaborates with the different prefectures in Japan to present the Land of the Rising Sun in all of its diverse glory.
Tokyo Sakura Tram (Toden Arakawa Line), the one and only streetcar left in Tokyo
Tokyo Sakura Tram is the only streetcar left in Tokyo, running between Minowabashi Station and Waseda Station (12.2 kilometers; 30 stations). For many years, the tram has been a familiar presence in the community as a convenient way of transportation. Along the tram line are great spots for seeing cherry blossoms and roses as well as historic and cultural venues, shopping arcades from good old days and many other varied and attractive areas that give you a sense of nostalgia.
The origin of the name "Tokyo Sakura Tram"
Cherry blossoms (sakura) are symbolic of Japan and Tokyo. There are many spots for viewing cherry blossoms along the Toden Arakawa Line, which is why the line was nicknamed the "Tokyo Sakura Tram." You can enjoy not just cherry blossoms but also other seasonal flowers from the tram window. Take advantage of the one-day pass for unlimited use. Why not take a flower appreciation day trip using a one-day pass?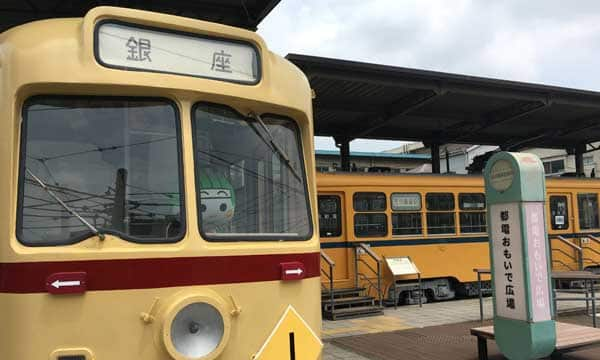 Toden Omoide Hiroba (Toden Memorial Square) for checking out old-type trams
Located adjacent to Arakawa Shakomae Station, the Toden Omoide Hiroba displays two precious old-type trams in a space arranged in the image of a station in the olden days. Displayed inside one of the cars is a diorama that evokes the atmosphere of Tokyo in the 1950s and 1960s as well as old photographs. Come see the classic trams which were operating in their heyday.
Minowabashi Reminiscence Hall with tram diorama and precious treasures of Toei Transportation
The Minowabashi Reminiscence Hall is an information facility for Toei Transportation. Located close to Minowabashi Station, the facility gives out convenient information on using the Toden Arakawa Line and Toei Transportation. In addition to displays of a diorama with track-side motifs and several of Toei Transportation's precious treasures, special Toden goods suitable for souvenirs are also on sale.
Location
Name
Tokyo Sakura Tram (Toden Arakawa Line)
Web Sites
https://www.kotsu.metro.tokyo.jp/eng/services/streetcar.html
Address
8-33-7 Nishiogu, Arakawa-ku, Tokyo
Business Hours
From the first tram at around 5:00 to the last tram at around 23:00
Please see the website for details.
Inquiries
TEL: 03-3893-7451 (Arakawa Train Office)
Admission
Normal fare:
Adults: 170 yen (cash), 165 yen (IC card); Children: 90 yen (cash), 82 yen (IC card)
Toden one-day pass:
Adults: 400 yen; Children: 200 yen
Others
Toden Omoide Hiroba (Toden Memorial Square):
Business Hours: 10:00 to 16:00 on Saturdays, Sundays and holidays (including substitute holidays)
Closed: year-end and New Year's holidays (December 29 to January 3)
Minowabashi Reminiscence Hall:
Business Hours: 10:00 to 18:00
Closed: Tuesdays and Wednesdays (open if it is a holiday), Year-end and New Year's holidays (December 29 to January 3)