Watch the spectacular view of Mount Fuji from Yamanakako Flower Park
With a panoramic view of a field of flowers against the magnificent Mount Fuji, Yamanakako Flower Park is located on the highlands at an elevation of 1,000 meters near Lake Yamanaka, the closest lake to Mount Fuji. Starting with tulips in the spring, sunflowers, cosmos, and various more flowers cover the fields as Mount Fuji also changes its appearance every season. The huge park is best to go around on rental bicycles. Enjoy the natural collaboration of the fresh breeze, scenery of Mount Fuji and field of delicate blossoms.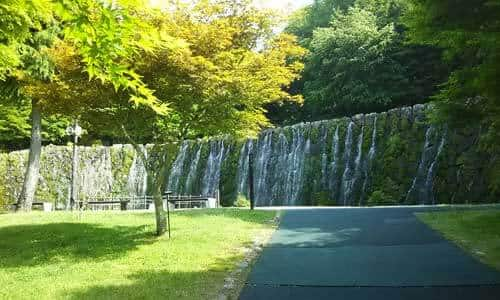 Seiryu-no-Sato water park
Seiryu-no-Sato is a family-friendly water and flower theme park consisting of facilities including the water zone, grass field, and the all-weather greenhouse Floral Dome. The diverse water sites include the Myojin Waterfall, an amazing spectacle measuring 10 meters tall and 80 meters wide, and a large water wheel with its splashing sounds evoking a nostalgic feeling. At the lava tree mound underground observation zone, see the fascinating lava tree mounds from over 1,000 years ago.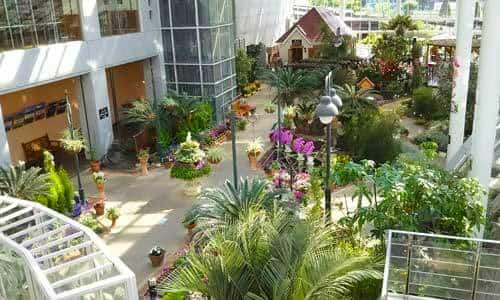 As you enter the two-story greenhouse, beautiful flowers of the European garden welcomes you. In addition to observing the flowers, there are numerous ways to be acquainted with nature through such exhibits as the ecology of plants and the world seen through the eyes of insects, as well as an area to experience an authentic English garden. There is also a comfortable cafe inside, so enjoy relaxing in the spacious greenhouse surrounded by flowers.
Watch the rare "Diamond Fuji"!
From around December 1 to January 15, a rare natural phenomenon known as "Diamond Fuji" can be seen from the Yamanakako Flower Park. The spectacle occurs in the instant when the sun meets the tip of Mount Fuji and glistens like a diamond. This phenomenon can be observed at sunset around 15:20 to 15:40 in the park, and the amazing sight is truly as beautiful as a diamond. After sunset, enjoy the park's bright illuminations, another winter tradition of the Yamanakako Flower Park.
Location
Name
Yamanakako Flower Park
Website
https://www.yamanashi-kankou.jp/foreign/english/spot/p1_4280.html
Address
1650 Yamanaka, Yamanakako-mura, Minamitsuru-gun, Yamanashi
Access
Approximately 30 minutes by bus from Mt. Fuji Station on the Fujikyu Railway
Approximately 5 minutes' drive from the Yamanakako IC on the Higashi Fujigoko Road
Business Hours
April 16 to October 15: 8:30 to 17:30
October 16 to April 15: 9:00 to 16:30
Closed
Every Tuesday during December 1 to March 15 (Except for year-end and New Year's holidays)
Inquiries
TEL: 0555-62-5587
Admission
Seiryu-no-Sato: Admission fee varies depending on the season. Please see the website for details.
All other areas are admission-free.