A stretcher is available for customers who cannot sit upright or need to lie down during the entire flight due to illness, injury, or other conditions. A customer using the stretcher will be required to wear belts with body facing up for the entire flight.
The seats are separated by curtains and due to safety reason, it may being pull up during takeoff and landing.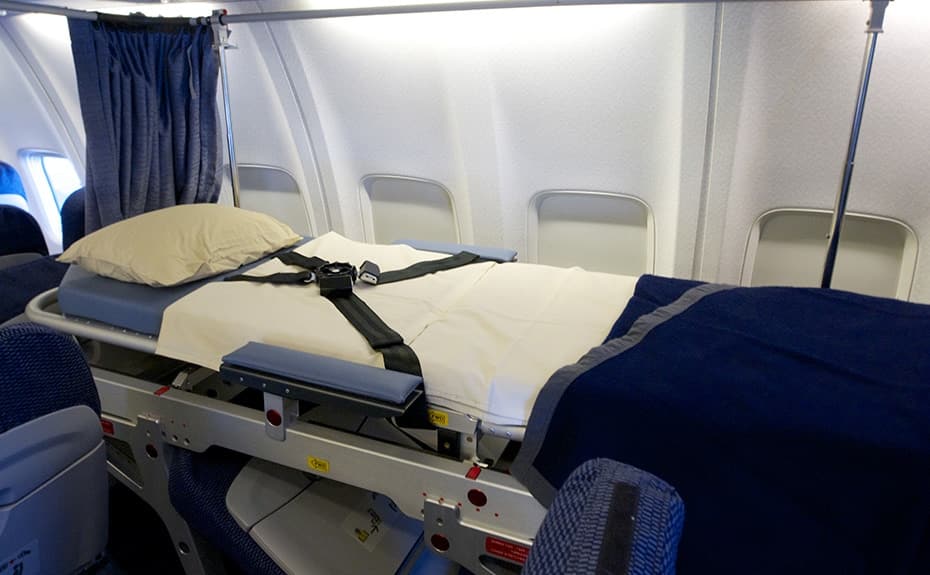 When you make a reservation, please inform us what type of assistance you require.
Request deadline;
48 hours before departure for Japan domestic flights, 96 hours for international flights
Reservation for a stretcher must be made with ANA Disability Desk at least 48 hours before departure for Japan domestic flights, 96 hours for international flights.
Let us know your destination, departure date and flight number; we will contact you later for confirmation.
Please note that we may not be able to confirm your reservation due to installing conditions as well as lack of seat availability. In those cases, we may offer other options to travel by asking a condition of customer.
A stretcher may not be available for certain aircrafts.

A stretcher surcharge is required besides the applicable fare for both the passenger and escort.
An arrangement of ambulance or stretcher taxi must be done by customer.
For an international flight, we may ask for additional information in advance for customs, immigration and the quarantine purposes.
Please contact ANA Disability Desk for detail.
A stretcher passenger must be escorted by a physician, nurse, or a doctor-approved person.
A medical certificate is required.
A stretcher passenger must be certified by his/her doctor that the passenger is fit to travel by air using a stretcher. Please check MEDIF (Medical Information Form) for further information.
In case you need to use medical equipments on board, please notify us contact in advance.
Please come to the check-in counter no later than 60 minutes before the departure for Japan domestic flights, and 120 minutes for international flights.
Because check-in, security check and boarding procedure may vary by each airport, we will give detail information after the reservation is confirmed.
Our airport staff will assist you at each airport.