Amenities
Amenity goods service varies depending on the route.
Notice

New First Class and Business Class Amenities From March 1, 2019!
We provide a range of amenity goods to ensure your comfort in-flight.
Feel free to ask cabin crew for details.
Amenity goods service varies depending on the route.

Sample image.
Ultimate comfort through the light and smooth textures.
Softness, lightness, insulation, and breathability are the deciding factors for a comfortable sleep.
Our new comforter is made using Nishikawa proprietary techniques to improve insulation, and features feather down. Furthermore, the new pillow is airy and fluffy, and boasts high-quality Hungarian white duck down for a pleasant rest. The bedding set comes complete with a soft TENERITA blanket and 100% pure organic cotton lounge wear.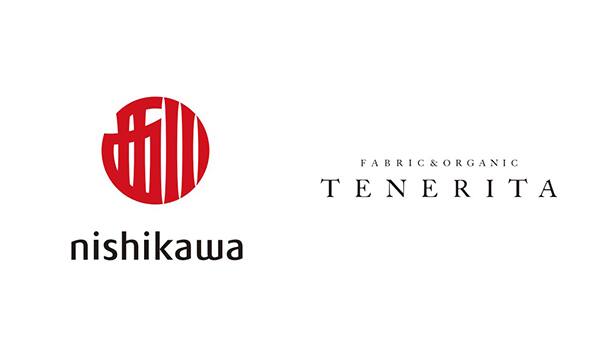 Bed Pad, Comforter, Pillow, Blanket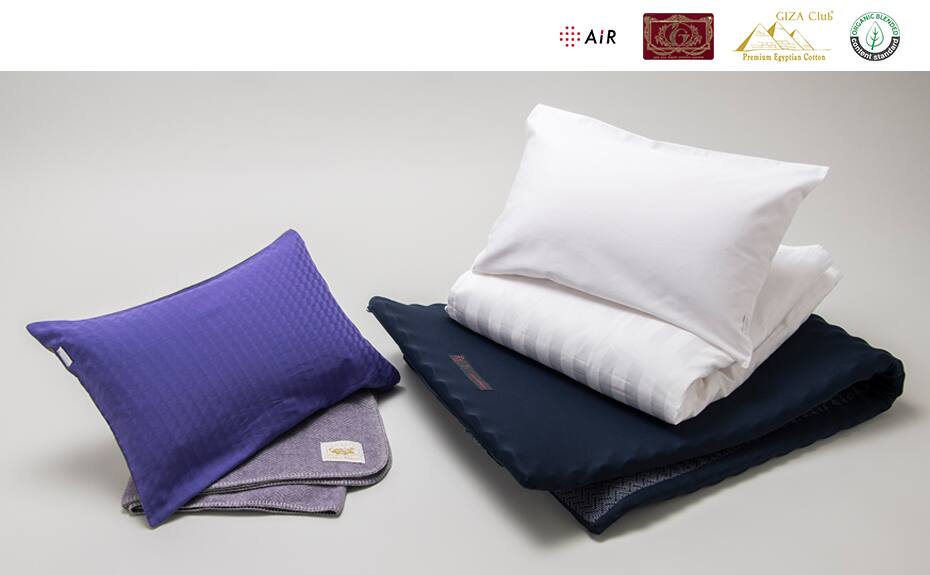 Nishikawa AiR is favored by many athletes while they travel abroad.This conditioning mattress disperses the pressure placed on your body through a unique, three-layer structure, maintaining a favorable sleeping position and promising a good night's rest.
AiR's excellent design is praised both inside and outside Japan, winning various design awards around the world.
Passengers can enjoy a pleasant sleep with our Nishikawa comforter. Produced with Nishikawa Sangyo's fresh up process, this feather down comforter offers an additional insulation. Encased in a 100% pure Egyptian cotton cover, our comforter is soft to the touch and ensures a good night's slumber.
The fresh up process involves fluffing up the down using hot steam, cooling it down and removing any impurities or fibers, and then selecting only the finest pieces.
Made with high-quality Hungarian white duck down, our fluffy and airy pillow has excellent moisture absorbency so that passengers can enjoy a pleasant sleep without feeling stuffy. The pillow case boasts 100% pure cotton and is soft to the touch, ensuring a good night's slumber.
The TENERITA blanket is made from safe, high-quality organic cotton that has passed international standards. With the front side of the blanket made of the finest cashmere, it features both the breathability of cotton and the insulation of cashmere. Made from excellent-quality materials, this soft and light blanket delivers comfort.
This eco-friendly knitted top and bottoms set is made entirely from organic cotton.
Soft to the touch, this stylish wear offers a comfortable fit. The accompanying storage pouch also makes it easy to carry to the set around. Customers are free to take these items home with them.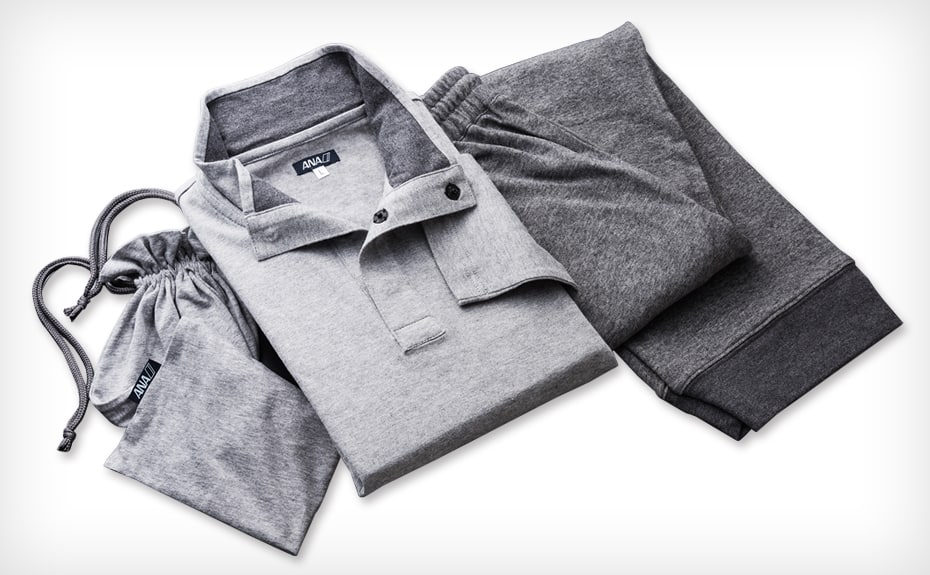 ---
We also offer below items for your relaxation throughout the journey.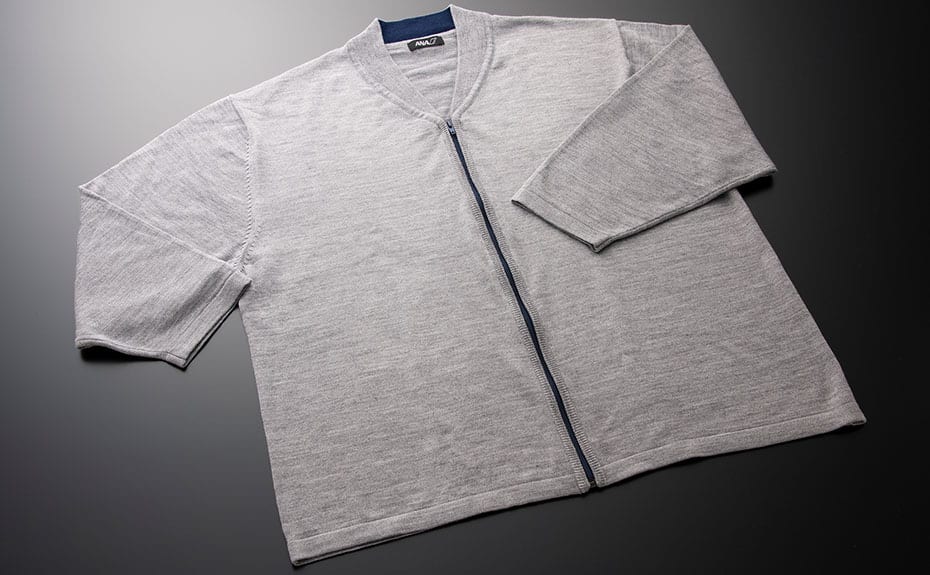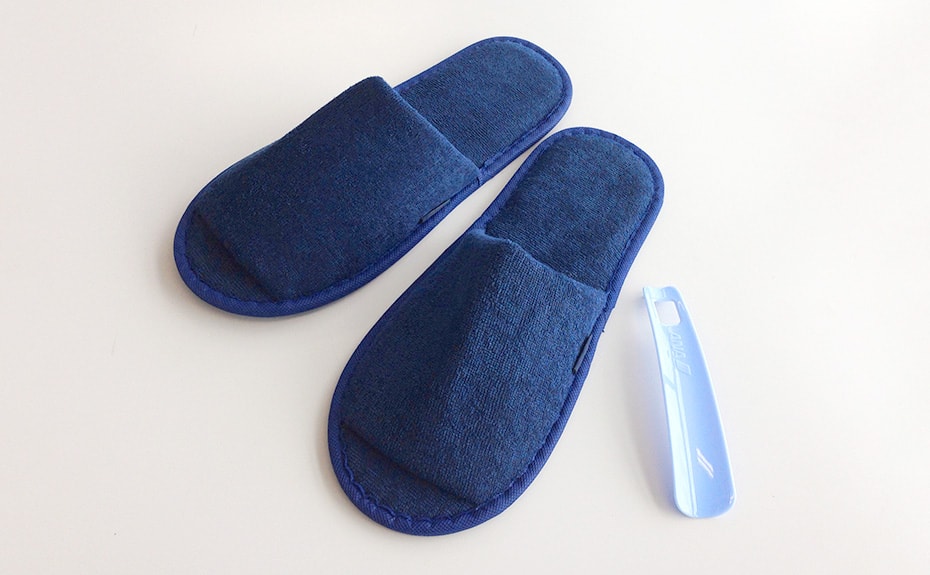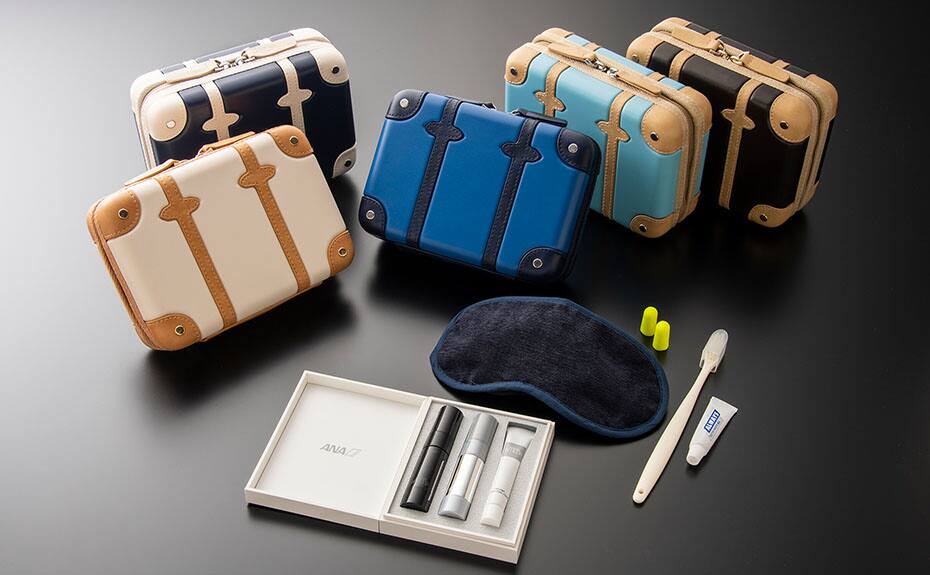 A premium amenity kit with the finest products is prepared to each passenger, to ensure you have a more pleasant journey on our long-haul flights.
ANA Original Globe-Trotter Pouch

THE GINZA ESSENCE EMPOWERING set

CREAMY CLEANSING FOAM (face wash) 5 g

ESSENCE EMPOWERING (DAY) 5ml

ESSENCE EMPOWERING (NIGHT) 5ml

Tooth brush set, eye mask, ear plugs
The shape and color of the pouch available may vary depending on the time of year.

The new amenity kit will be rolled out from March 1, 2019 starting with flights departing from Japan.
Health care (free rental)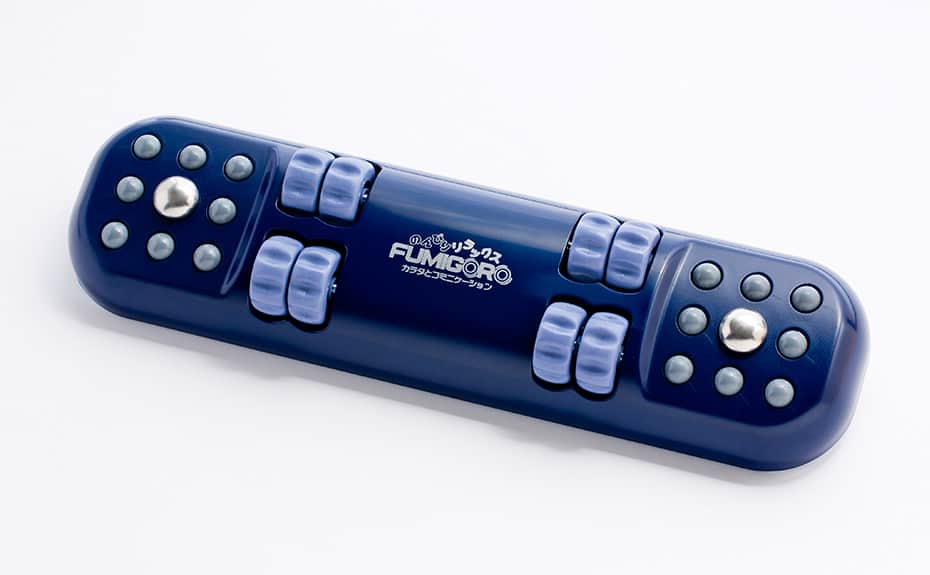 post card, ballpoint pen, memo pad
Mouth wash, face & body sheet, leg refresh sheet, comb, socks and pocket tissues have been prepared onboard. Feel free to ask cabin crew for details.
Content is subject to change without prior notice. Your choice may not always be available.