ANA Future promise Reduction of CO₂ emissions Achieving net-Zero Emissions from Aircraft Flight Operations - Utilization of SAF
The ANA Group has set a goal of achieving net-zero emissions from aircraft operations by FY2050. To achieve our goal, "utilization of SAF" is essential. In this article, we will explain in simple terms what SAF is and how it is related to CO₂ reduction.
Video overview of the article.
SAF is an acronym for "Sustainable Aviation Fuel".
The SAF that ANA procures is made from "waste cooking oil" such as used tempura oil, and "animal and vegetable fats and oils" such as fatty parts (so-called lard) after making processed meat and vegetable residues (scraps of sugar cane, corn, etc.). Originally, it was called "biofuel" because it was made from biomass, but technological progress has expanded the choice of raw materials and it is now called SAF because jet fuel can be produced from non-biomass sources such as exhaust gas. In addition to this, various companies are developing technologies to produce it from waste paper pulp, algae, and municipal waste.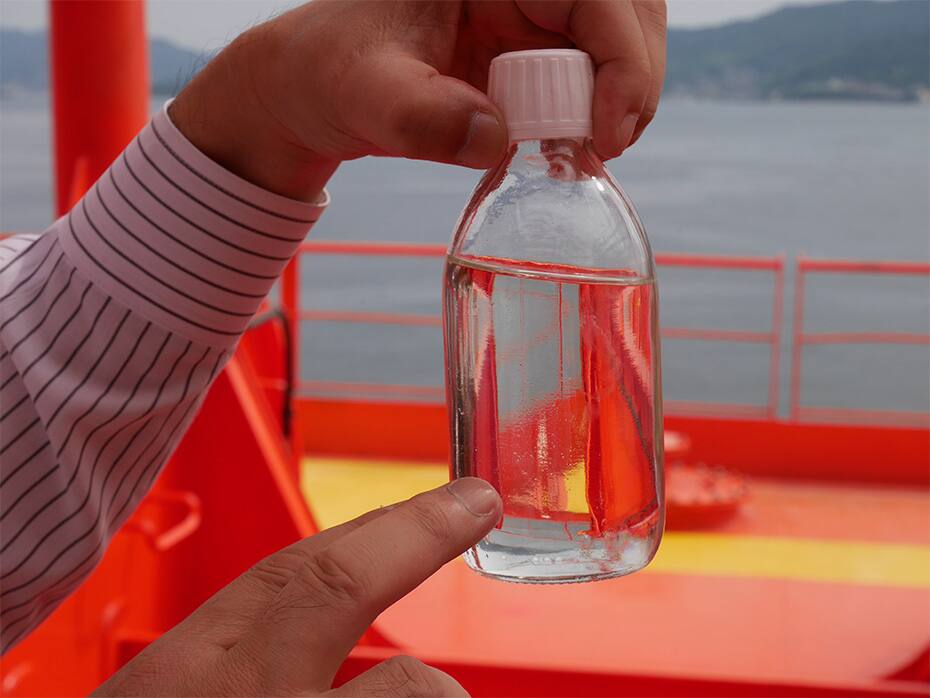 The clear liquid in the container is SAF.
How does the use of SAF contribute to CO₂ reduction?
There are many different raw materials for SAF, but one thing they all have in common is that they recycle carbon from the earth's surface. In comparison with fossil fuels, the process of not digging carbon out from the underground has the effect of suppressing the increase in atmospheric CO₂ concentration, and reduces CO₂ emissions by an average of about 80% at all stages, from collection of raw materials to manufacturing, transportation, and use.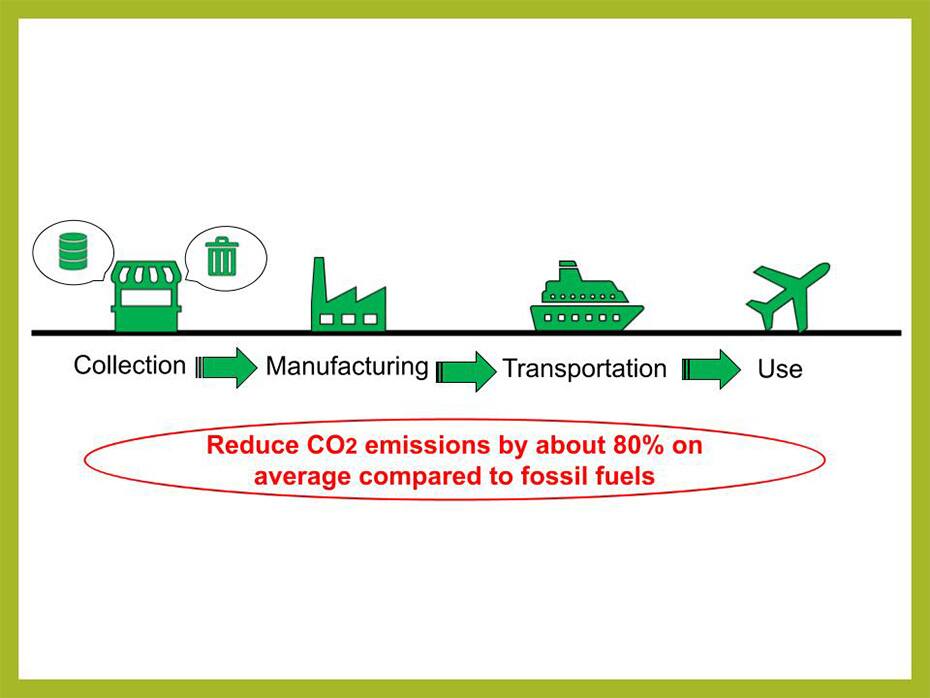 Why is it so hard to increase the number of flights that use SAF?
The goal is to be able to produce SAF domestically and have a stable supply. In achieving net-zero emissions from aircraft flight operations by FY2050, Japan's SAF requirements are estimated to be up to about 23 million kiloliters, but to reach this goal, cooperation among various players and government support are essential.
Toward the mass production and spread of SAF in Japan, the ANA Group is working to resolve issues together with the Ministry of Economy, Trade and Industry (METI), the Ministry of Land, Infrastructure, Transport and Tourism (MLIT), the Scheduled Airline Association of Japan, the Petroleum Association of Japan (PAJ), the New Energy and Industrial Technology Development Organization (NEDO), and airport fueling operators.
In addition, the demonstration project to synthesize liquid fuel from carbon dioxide and hydrogen, which is being promoted by six private companies, was adopted as a "FY2021 Project to Promote the Construction of a Carbon-Circulating Society Model through the Recycling of Carbon Dioxide" by the Ministry of the Environment.
On the other hand, mass production of domestically produced SAF is expected to take some time, and ANA has concluded a memorandum of understanding on procurement with NESTE, one of the world's leading SAF manufacturers headquartered in Finland, in order to secure a stable supply for the time being.
Prior to this, commercial-scale SAF was procured from NESTE in October 2020, and a series of flows (supply chain) from import, quality control, and delivery to the airport were established jointly with NESTE and ITOCHU Corporation. As a result, SAF has been secured in sufficient quantity to be used for regular flights, and we will continue to procure SAF to be produced in Singapore by NESTE from 2023 onwards.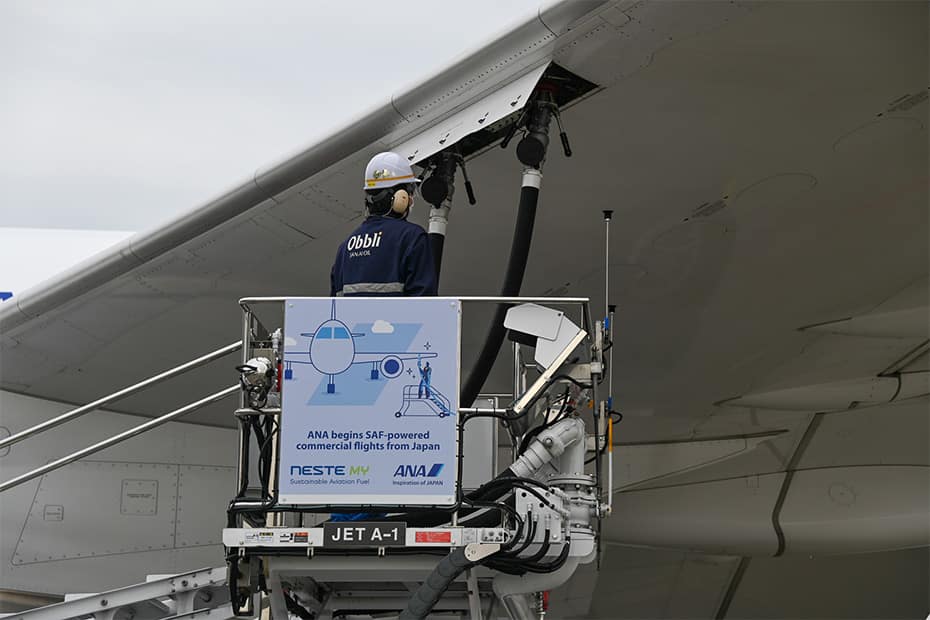 SAF being supplied to an airplane: the process is no different from conventional refueling operations.
ANA's initiative to utilize SAF
The GHG Protocol*, an international standard for calculating and reporting greenhouse gas emissions, requires companies to reduce CO₂ emissions not only directly, such as by burning fuel and using electricity, but also indirectly through the entire value chain, including the transportation of products, private use, and disposal.
In October 2021, ANA launched the "SAF Flight Initiative: For the Next Generation," a new program aimed at reducing CO₂ emissions in air transportation through the use of SAF and contributing to the reduction of CO₂ emissions for all customers who use ANA for cargo transportation and employee business trips.
Through this program, leading companies in various industries that use ANA can receive a CO₂ reduction certificate approved by a third-party organization by paying a portion of the SAF cost, thereby contributing to the reduction of CO₂ throughout their value chain.
In addition, the more the CO₂ emissions are reduced throughout the value chain of each company, the more the corporate value of each company will be enhanced and the more SAF will be mass-produced and spread, which is expected to create a virtuous cycle for the economy and the environment.
For more information on the "SAF Flight Initiative: For the Next Generation", click here.
The GHG Protocol is an organization co-sponsored by the World Resources Institute (WRI) and the World Business Council for Sustainable Development (WBCSD).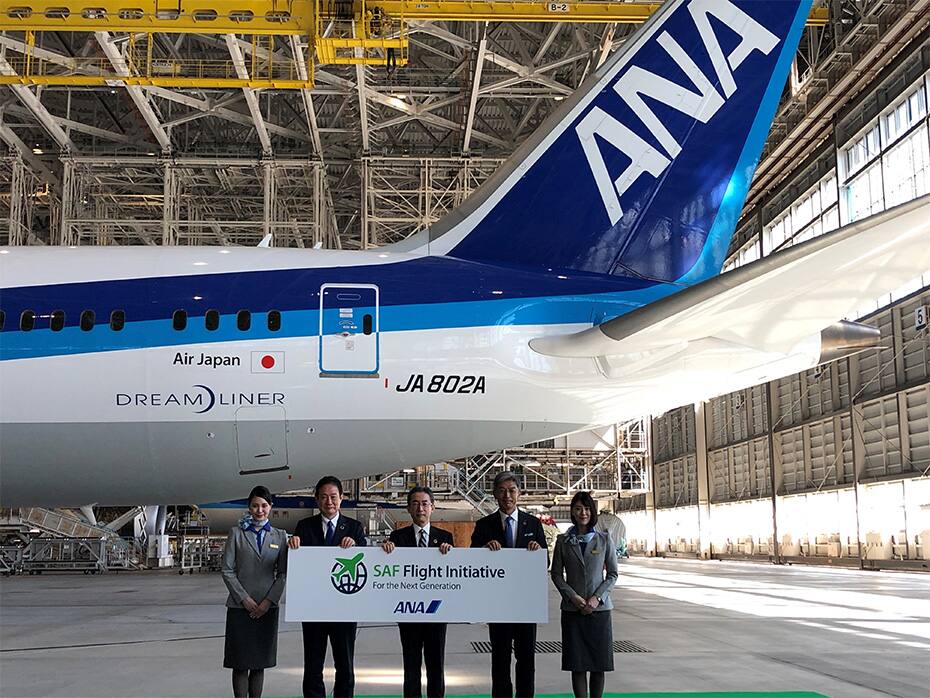 Through the utilization of SAF, the ANA Group will continue to aim for net-zero emissions from aircraft flight operations by FY2050.