The ANA Group hereby establishes a Human Rights Policy ("the Policy") based on the International Bill of Rights (the Universal Declaration of Human Rights and the two International Covenants), the International Labor Organization Declaration on Fundamental Principles and Rights at Work, the Ten Principles of the United Nations Global Compact, and the United Nations Guiding Principles on Business and Human Rights, and will promote efforts for the respect of human rights.
ANA Group Policy on Human Rights
The ANA Group's Social Responsibility Guidelines is a code of conduct that provides us with a clear understanding of what is expected of every Group executive and employee in relation to human rights. This enables them to make the right decisions and to take the right actions in our day-to-day jobs.
<Social Responsibility Guidelines>
ANA Holdings Inc. has published a statement to comply with Section 54 of the UK Modern Slavery Act 2015. Please refer to the link for details.
Structure
Our Chief CSR Promotion officer, director in charge of Corporate Communications, Legal & Insurance, is responsible for overseeing our human rights activities in ANA Group. CSR Promotion Officers/Leaders at each company and department are assigned to report its progress on human rights activities to the Chief CSR Promotion officer. The Human Rights Policy and our progress on activities are reviewed at the Group CSR promotion Committee.
Training and Education to Our Group Employees
During the fiscal year 2015, the ANA Group continued to provide human rights education when training new employees and newly appointed managers. In addition, by incorporating human-rights-related curricula into its new employee training and education for those who have been employed outside Japan, the Group aims to provide its employees with an opportunity to learn about topics ranging from global trends in human rights to examples from their surrounding environment, thereby ensuring that they recognize the importance of engaging in their daily duties with full consciousness of the human rights of various stakeholders.
In fiscal year 2015, we trained our group employees on human rights. Our e-learning course consists of two parts: basic and advanced, and 91.1% and 92.0% of the employees participated each course respectively for a month. We will continuously provide the e-learning training in fiscal year 2016.
"ANA Alert", our Compliance Reporting System, accepts concerns and potential instances on non-compliance with the Human Rights Policy and ANA Group's Social Responsibility Guidelines. It is available to all executives and employees, including temporary personnel. The privacy of the counselor and the caller is protected, with the assurance that no punitive measures will be taken against those who seek consultation or cooperate in confirming facts. The Group has also commissioned consultation services at external institutions.
Human Rights Due Diligence
To fulfil our responsibilities in regard to respect for human rights in accordance with procedures described in the Guiding Principles on Business and Human Rights mentioned above, the ANA Group will establish a system of human rights due diligence and implement this in an ongoing manner. Due diligence is an ongoing process whereby a company preventively investigates and identifies issues, corrects these through appropriate procedures, and discloses externally progress and results of its activities in order to prevent or mitigate any negative impact on human rights the ANA Group may have on society.
<Essential components of Human Rights Due Diligence>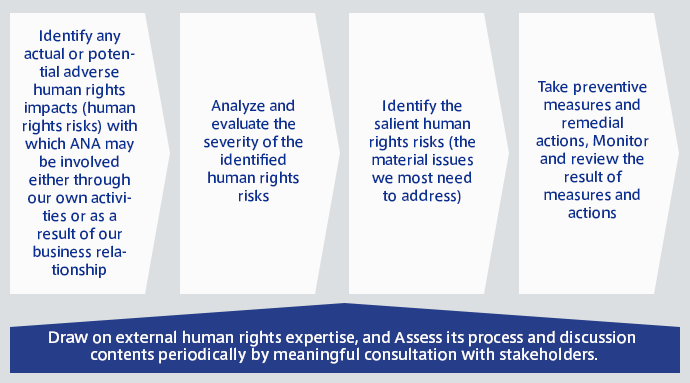 In the fiscal 2016, we have started to roll out our Human Rights Due Diligence Programme across ANA Group's business activities. At the end of the fiscal year, we will have a better understanding on what our human rights priorities should be. We understand that human rights situations are dynamic and we need to repeatedly conduct our Human Rights Due Diligence based on the up-to-date data and knowledge of human rights. Our progress on Human Rights Due Diligence Programme will be reported on our website regularly.
With Our Business Partners
We are also aware that we are expected to promote CSR measures not just in our own business activities, but throughout the entire supply chain, which includes suppliers, manufacturers and contractors. As per the ANA Group Purchasing Policy, a Supplier Management Policy and CSR Guidelines have been shared with our business partners. The CSR Guidelines were formulated with reference to ISO26000, a set of international guidelines for CSR, and cover subjects including "Respect and observe international norms on human rights and labor. This policy plays an important role in choosing purchasing and transaction partners, and we have been proactively working to gain their understanding and cooperation through measures such as regular CSR monitoring surveys to follow up on their initiatives.
Dialogue with External Experts and NGO/NPOs
In fiscal year 2014, we conducted dialogue sessions on the theme of human rights and diversity with external experts. These sessions provided us with extremely valuable opinions with regard to the latest human rights trends within the aviation industry as well as a better idea of the issues to be addressed by the ANA Group. We continued our dialogue to understand further on human rights issues with external expert on Diversity and Inclusion and international NGOs in fiscal 2015. In fiscal 2016, we will periodically engage with external experts and NGO/NPOs to take a step further on Human Rights Due Diligence and we will improve our information disclosure on the activities.