ANA Group's Recognition of Opportunities and Risks
Opportunities and Risks with Executing Business Strategies
Pursue sustainable growth, responding to changes in the global business environment
The ANA Group is being presented with many business opportunities that can be exploited in achieving future growth, including the slot expansion at Tokyo metropolitan area airports to take place in light of the upcoming Tokyo 2020 Olympic and Paralympic Games as well as anticipation surrounding measures for stimulating inbound travel demand and initiatives for supporting the development of a Japan brand.
However, we also cannot deny the presence of risks that threaten to adversely impact global air transportation demand,such as those arising from uncertainty regarding domestic and overseas political and economic trends.
The ANA Group aims to maintain an accurate understanding of the opportunities and risks pertaining to its strategies. This understanding will thereby enable the Group to pursue sustainable growth through aggressive and speedy management and a resilient corporate constitution allowing for effective responses to changes in the global business environment.
Opportunities and Risks from Executing Business Strategies
The ANA Group has identified important management issues (materiality) based on its management philosophy, medium-term management strategy, and the Group's strengths (Figure 1). The three initiatives of Environment, Diversity & Inclusion (D&I) and Regional Revitalization were identified at the end of fiscal year 2015, and in fiscal year 2016, we further examined the issues by having dialogues with related NGOs/ NPOs and experts based on global developments (Figure 2).
As the international community is increasingly interested in how Japanese companies engage in human rights in view of the upcoming 2020 Tokyo Games, we will reaffirm its importance and will further strengthen our efforts.
In addition, in the context of economic growth of Asia and expanding our airline business globally, we will focus on regional revitalization in overseas service areas as well and apply those efforts in our activities (Figure 3).
Figure 1 Diagram of Materiality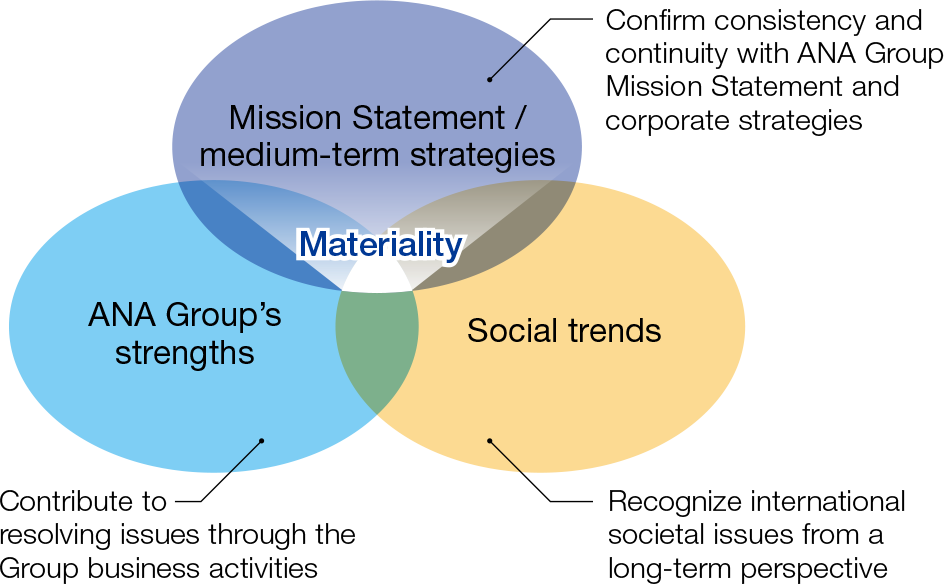 Figure 2 Steps for Examination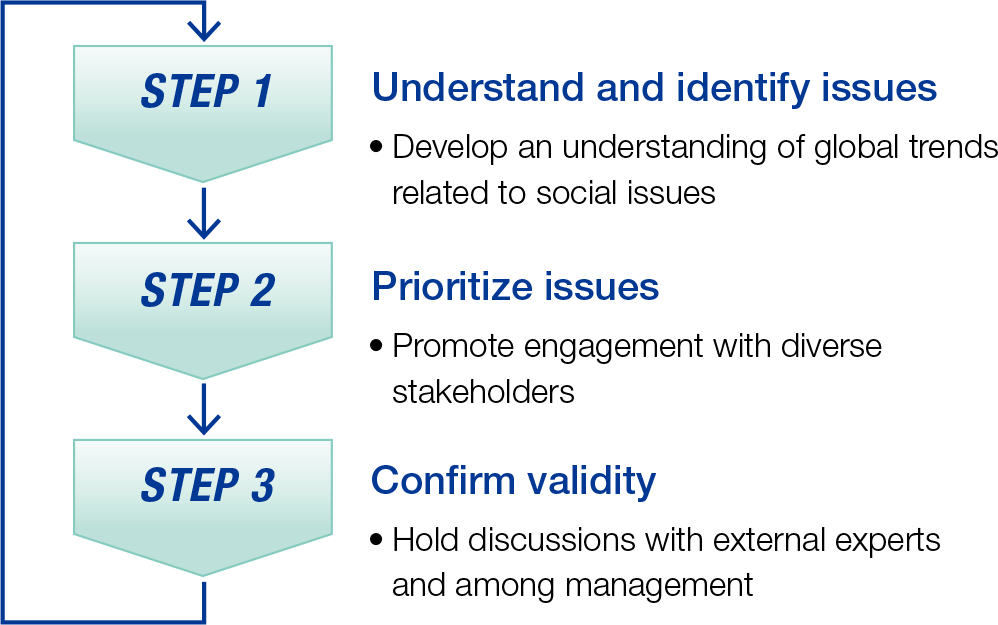 Figure 3 Materiality for the ANA Group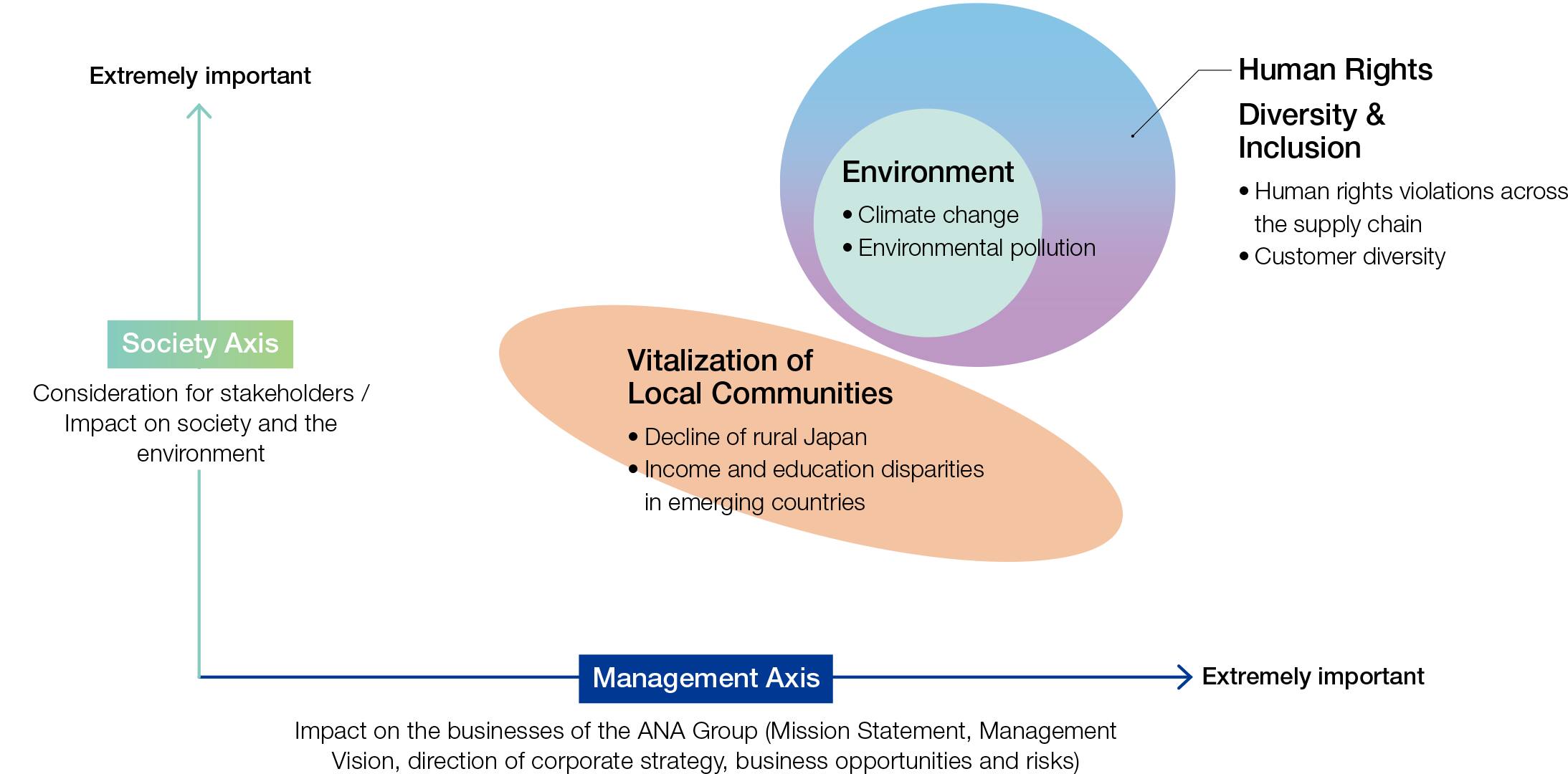 ANA Group's Efforts in Consideration of ESG Criteria
The ANA Group conducts its business activities from a long-term perspective in consideration of Environmental, Social and Governance (ESG) Criteria. We will focus on material issues identified from the perspective of how both society and the ANA Group will be impacted, and by creating economic and social value to achieve sustainable growth of the Group. Our goal is to contribute towards sustainable development goals (SDGs) as a global company.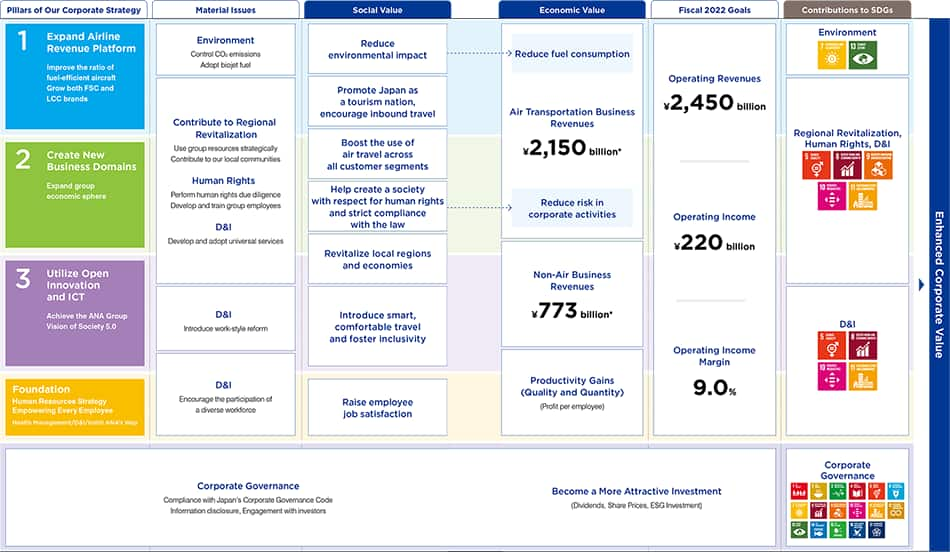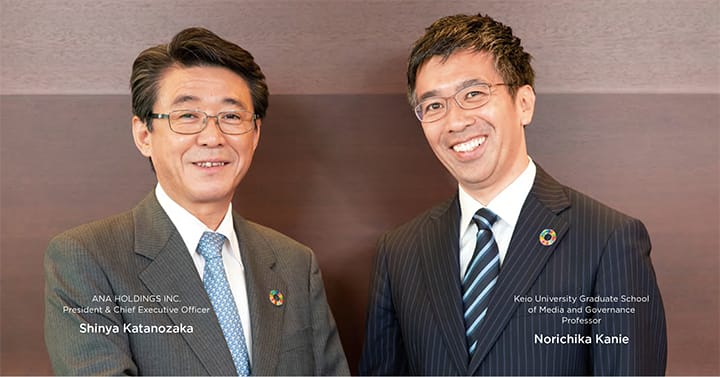 Discussion:The ANA Group Corporate Activities and SDGs
Society expects businesses to do more with regard to the environment, society, and governance (ESG). At the same time,the ANA Group has committed to doing its part to achieve the Sustainable Development Goals (SDGs) on a global level.
We invited Professor Norichika Kanie from Keio University Graduate School of Media and Governance to talk with Shinya Katanozaka, president & CEO of ANA HOLDINGS INC, about the relationship of business activities and the SDGs, as well as expectations of the ANA Group. Prof. Kanie is one of the foremost authorities on the SDGs, participating in expert committees in Japan and around the world. He is also heavily involved in education and promotion of the SDGs.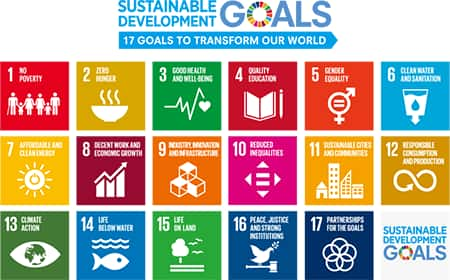 SDGs and ESG: A Changing Environment and Social Perception
Katanozaka:I recognize that SDGs and ESG are two significant movements among Japanese companies and important issues for corporate management. In addition to being expected by society, some investments are measured whether the corporate management concerns ESG. SDGs and ESG now represent very important factors in corporate value creation.
Kanie:I see that not only companies but also the general public is more aware of the importance of sustainability these days. This movement will only grow faster as it becomes part of corporate behavior. Sometimes, a movement encounters a breakthrough event resulting in unexpected exponential growth.I feel the same will happen for SDGs and ESG.Although the SDGs are goals meant to be accomplished by the year 2030, some could be achieved by the Tokyo 2020 Olympic and Paralympic Games. This is particularly true for goals that enjoy a high level of public interest, including support for the disabled, the empowerment of women in society, and regional revitalization. A mega event such as the Olympic and Paralympic Games accelerates social change.
Katanozaka:Recently, I had an opportunity to talk with a Paralympic athlete, and she mentioned the difficulties she encounters when traveling by airplane. It was very eye-opening to me. As we improve access through universal services, we must understand and remain aware of the standpoints of our diversifying customer base.
Kanie:Experiencing an event like the Olympic and Paralympic Games can change perceptions and society. I think companies can use the SDGs as an effective tool in corporate activities. For example, developing the air travel more accessible and stress-free makes your contribution to SDG 10, Reduce inequality within and among countries, more visible. I'm confident that more people will choose ANA for air travel and investment because of your efforts for sustainability. I also encourage you to track and disclose increases in passenger numbers, and changes in customer feedback toward the ANA Group.

Katanozaka:The ANA Group sets numerical targets for strategic material issues, checking our progress on an annual basis.For example, we monitor data related to several issues, including controlling CO2 emissions, with which every airline company struggles, limiting CO2 emissions across all business locations,and increasing the number of women in management roles.
Kanie:That's wonderful. Due to their earnest nature, Japanese companies tend to focus on setting and achieving numerical targets. SDG targets are a bit more optimistic. SDG targets are set to higher hurdles to make everyone aim together. These targets inspire employees, motivating them to be happy and energetic in their work. I think setting and working to achieve goals that are a little less binding could make the process more enjoyable.
Creating Social and Economic Value through Contribution to the SDGs
Kanie:Some view the SDGs simply as a matter of ethics or good practices. But, the world will not take action if the SDGs are not connected to behavioral economics or corporate profits.Higher profits attract more people, making it a sustainable activity in a real sense. International agreements on sustainable development so far have highlighted environmental concerns.These agreements required additional costs and became a burden to the companies. The main feature of the SDGs is that they include social value and economic value in addition to environmental concerns. It's important to recognize that economic issues have both environmental and social aspects.
Katanozaka: I agree that the concept of sustainability is very important. Growth and sustainability are critical elements in CSR,the 10 principles of the United Nations Global Compact (UNGC),and the 17 targets of the SDGs. Companies are meant to reward their investors with growth. Ongoing profits allow for social contribution,so sustainability is an extremely important key concept. I believe it is important to inform investors about our initiatives related to sustainability, the environment, and other social issues.
Being a component member of the Dow Jones Sustainability World Index and the Dow Jones Sustainability Asia Pacific Index is a great motivator, as is our selection as a Nadeshiko Brand. Ratings agencies tend to give considerable weight to ESG investment; for example, green bond is likely to become an important topic this year.
Initiatives Contributing to SDGs
Kanie:As a customer, I am very familiar with your in-flight meals. I'm curious about your initiatives related to food loss*1.I assume this corresponds to SDG 12, Ensure sustainable consumption and production patterns. It's not just a matter of assigning an initiative to a particular SDG.I think you would be best served to demonstrate how working toward a goal leads to achievement of an SDG over time.
*1.

Food loss is also known as food waste. Unsold, expired,or leftover food items that could have been consumed,but have been disposed instead. Estimated food waste in Japan accounts for 6.46 million tons per year. This is almost double the volume of food aid assistance delivered worldwide by the World Food Programme. (Source:Ministry of Agriculture, Forestry and Fisheries)

Katanozaka:Our food loss initiative was prompted by a suggestion from the ANA Singapore city / airport office about unused in-flight snacks that can keep for a certain period of time.In October 2016, we partnered with a local catering company and a nongovernmental organization (NGO) to donate unused in-flight snacks to local childcare centers. Being overseas provides easier access to information about global trends. This insight can lead to specific programs, which contribute to progress toward the SDGs.If every one of the more than 40,000 ANA Group employees embraced the SDGs, their new ideas could do more than just contribute to SDG progress; they could also lead to valuable business opportunities.
Kanie:One of the best aspects of the SDGs is that they can be advanced from a bottom-up approach. Fostering initiatives distributed across an organization is better than having them imposed from the top down. The process might be similar to people bringing business ideas together to share and build on.
Katanozaka:The ANA Group identifies the Environment,Human Rights, Diversity and Inclusion, and Regional Revitalization as four material issues. Initiatives in other areas tend to receive less attention, so we need to broaden our base. In July 2012, the ANA Group started a forest preservation project called ANA Forest of the Heart in Minamisanriku, Miyagi Prefecture. That project continues to this day, not only contributing to post-disaster recovery,but also to new businesses that sell products made using the forest timber. I think it is important to include economic recovery and local employment in the equation, helping businesses grow profits and recover investments.
Kanie:Although the SDGs are global targets, on closer inspection, they represent issues that can be addressed locally.Combining two or more together can even stimulate ideas for potential projects, serving as a source of innovation.
Katanozaka:We believe the ANA Group can contribute directly to about seven of the 17 SDGs through our business activities.But, there could be other ways to contribute as well. For example,there are nearly 9,000 cabin attendants at the ANA Group who can use their positions to observe and note passenger behavior to prevent human trafficking via aircraft. We are working to raise their awareness and share the importance of this awareness. The SDGs include room for such innovation.
Kanie:That is absolutely correct. Changing awareness changes behavior.
Expectations of Top Management
Kanie:The first step is to set goals, but companies shouldn't be too rigid. I think it is important share a vision of the end target with employees. Set aspirational goals that excite the world. If you analyze the data collected through your air transportation business,I believe you will uncover surprising ways you already contribute to the SDGs. It is important to disclose this information, too. As an ANA customer, I hope the ANA Group can find ways to provide an even higher degree of transparency in disclosures.
Katanozaka:Thank you very much for your wonderful advice.I view SDGs, ESG, and CSR in a wider sense as an intrinsic part of management. Looking more closely, I think we will find that these principles hold true for the planet, for humankind, and for all living things. The ANA Group has made progress step by step in our CSR initiatives. However, we still have much more to do. I commit to demonstrating leadership in working with the more than 40,000 group employees in daily, concentrated efforts toward making a positive difference in the communities and market sectors we serve across the world.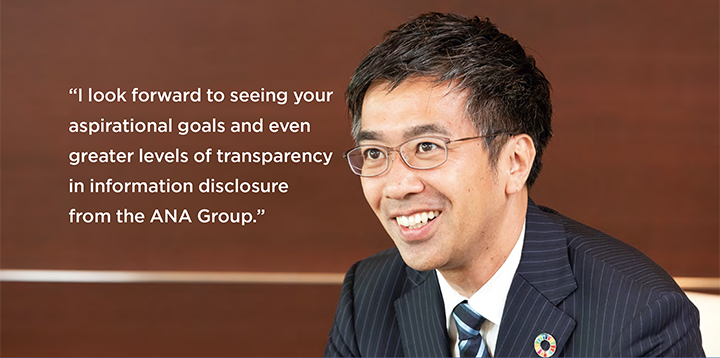 Materiality (Important Issues )